Task Management Software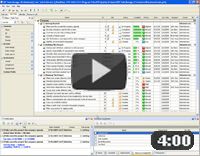 Authorization

TESTIMONIALS
"...This is an excellent program. I'm so glad that I stumbled on to this when researching for task management programs. Very low learning curv, quite flexible, and the price is right. Tried at least 20 other programs, either too complicated, too expensive, or poor documentation..."
Chad Lindsey -
Honolulu, HI
MORE FEEDBACKS

Advertising Schedule Checklist

| | |
| --- | --- |
| | This Advertising Schedule Checklist is created to help those who wish to promote their brands or products through consistent advertising that is a key to business success, but even the most creative advertisement can appear useless if it does not reach the target audience. This Checklist will assist you in learning types of advertising schedules, and organizing your advertising campaign to suit appropriate time. |

---

| | |
| --- | --- |
| Order 750 checklists in MS Word and PDF printable format at $49.99 USD only. | BUY NOW! |

Templates of Advertising Media Schedule:

Continuous advertising schedule – appearance of ads with regular periodicity, so that potential consumers of this product or service are continuously reminded of it, even during periods when its sales are predictably insignificant or unlikely. The point of this marketing strategy is to make consumers constantly reminded of the brand;
Flighting advertising schedule – a media scheduling pattern that implies running significantly more commercials during certain time intervals, while less advertisings (down to no advertising messages at all) during other time periods. This strategy maximizes the impact of advertising by massive demonstrating it during key strategic periods of time;
Pulsing advertising schedule – media scheduling method that combines basics of flighting and continuous scheduling patterns. There is certain activity of commercials during all periods of the schedule, but there are periods in which the intensity of advertising is considerably heavier than during others;

Methods for Scheduling Advertising Campaigns:

Flighting (Burst) Campaign: also called a wave method, it means concentrated advertisements with the intention of providing a massive impact;
Continuous Campaign: it is associated with reminder campaigns to support mature brands and products, as it extends the time frame of the commercial message over a long period of time (via continuity of the message). It works well for the goods or services with stable demand (or with a long purchase cycle). Continuity can be:

Rising continuity: this method is used when the advertising spins around a particular event;
Falling continuity: this scheduling pattern may follow up an initial marketing burst to launch a new product or service (as well as to inform about a product modification);

Pulsing Campaign: A combined pattern (between the burst & continuous), so a comparatively low level of media activity is maintained over certain periods of time, following with periodic increases. It is often associated with seasonal or other influences on customer activities. Types of pulsing advertising media schedules:

Steady pulse – certain preset periodicity, for example decrease of commercials during the day, following up with increasing at the evening;
Seasonal pulse – advertising campaign aspires to meet seasonal peaks of customer activity by appearing prior to buying seasons;
Period pulse – a regular pattern to serve long-term life cycle products;
Erratic pulse – the commercials are scheduled irregularly, or randomly;
Start-up pulse – concentrated media scheduling that is for launcing a new product;
Promotional pulse – one-time massive effort to serve promotional themes;

Advertising Schedule, Marketing and Organization:

Set a sustainable budget for your campaign;
Selecting right media channels to reach the target audience;
Selecting right time and schedule to introduce your advertising to target audience;
Selecting recurrence pattern for your advertising (frequency and duration);
If your budget allows, you may allot your commercials across several channels:

Radio advertising schedule: the most of active buyers today listen to radio stations while they are driving their cars or sitting in a public transport, so the most appropriate hours to broadcast your commercials to a wider audience are peak hours when people are moving to/from work;
TV advertising schedule: make sure that your ads are scheduled to appear in time of programs with adequate public ratings so your message reaches significant segments of target viewers. Of course, the evening prime time is the most valuable period;

Deal with the media companies representatives to find out variants for placing your advertising appropriately and to ensure proper repetition of your commercials;
Deal with producers of commercials, design concept and align advertising ...




---

| | |
| --- | --- |
| Order 750 checklists in MS Word and PDF printable format at $49.99 USD only. | BUY NOW! |

.

CentriQS Tasks Management Solution

Looking for multi-user task management software? Try CentriQS complete task management solution for planning, tracking and reporting tasks, projects, and schedules. Increase productivity of your small business or office by better organizing your employees' tasks and time.

FREE Download CentriQS
CentriQS -15% OFF
All-in-one business management software
for small and midsize enterprises

---

VIP Task Manager
Multi-user project management software
to plan, schedule and track project tasks.

---

VIP Checklists
More than 750 ready-to-use to-do lists
to plan your personal and business life

---

VIP Team To Do List
Professional task management software
to make and send team todo lists by email

---

VIP Organizer
Personal time management software
to organize time at home and at work

---

VIP Simple To Do List
Simple and effective to-do list software
to plan daily chores, trips, wedding, etc.