Task Management Software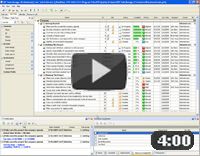 Authorization

TESTIMONIALS
"...This is an excellent program. I'm so glad that I stumbled on to this when researching for task management programs. Very low learning curv, quite flexible, and the price is right. Tried at least 20 other programs, either too complicated, too expensive, or poor documentation..."
Chad Lindsey -
Honolulu, HI
MORE FEEDBACKS

Business Continuity Plan Checklist

| | |
| --- | --- |
| | A business continuity plan describes how to keep an organization operating and deal with business recovery in order to ensure further existence and development of the organization. In this Business Continuity Plan Checklist you will read on how to plan for continuity of your business. |

---

| | |
| --- | --- |
| Order 750 checklists in MS Word and PDF printable format at $49.99 USD only. | BUY NOW! |

Business Policy.

Overview. Before you can plan for business continuity, you need to have a foundation for your plan to define, approve, communicate and integrate the plan into your organization's business environment. The business policy is the basis for business continuity. Develop the following components to state your business policy.
Purpose, or what destination your company strives to reach.
Goals, metrics and responsibilities required to meet policy compliance.
Penalty for policy non-compliance.
Leadership statement defining the executive management team responsible for oversight, implementation and quality assurance of the policy.
Certification statement defining what skills and knowledge human resources should obtain to meet policy compliance.
Support statement defining people (the support team) who assist with meeting policy compliance requirements.

Governance.

Overview. Establishing control over business continuity planning (BCP) means creating governance structure in the form of a committee to ensure senior management commitments and define roles and duties. Consider the following roles and duties for members of the committee.
Executive Sponsor. This person has overall responsibility for the BCP committee. Executive sponsor elicits senior management's support and ensures that adequate funding is available for your continuity planning effort.
Coordinator. The coordinator estimates funding requirements, develops the business policy, oversees the continuity planning processes, ensures effective participant input, establishes teams and defines their duties, coordinates appropriate training, and tests and audits the business continuity plan.
Security Officer. This person works with the coordinator to ensure that all aspects of BCP meet security requirements of your company.
Chief Information Officer (CIO). CIO closely cooperates with the coordinator and security officer to plan for effective and harmonized continuity of your business.
Business Unit Representatives. Experts from departments of your organization provide input to the continuity planning process and assist in analyzing results of the business impact analysis.

Impact Analysis.

Overview. Analyzing business impact means identifying the company's critical services or products, prioritizing these services or products for continuous delivery or rapid recovery, and estimating impacts of potential disruptions. Let's review each of the activities in detail.
Identify critical services or products. You must determine what goods or services are critical to business success of your company. A product/service becomes critical if it forms a significant part (more than 20%) of the company's revenue once it's sold to the consumer (end-user). You need to define such products/services and collect them into an inventory.
Prioritize critical products or services. The inventory of critical products/services is designed but not prioritized yet, so you can't figure out which products/services have the highest impact to the company's success. You can prioritize critical products/services by determining impact of product/service disruption to loss of revenue, additional expenses and intangible losses. Then you need to order the inventory by prioritized products/services.
Measure disruption impact. The impact of a disruption to a critical product/service determines how long your firm could function without the product or service and how long your customers would accept product/service unavailability. You can use failure analysis to measure the impact and also identify the time period that a product/service is unavailable before the impact is felt.
Define areas of potential revenue loss. It's necessary to determine which procedures and processes supporting product/service delivery are involved in revenue generation. If you detect that such procedures and processes are inoperable then most likely your company loses revenue. For example, your customers can't access product catalogues of your online shop because the website is unavailable or includes broken links.
Identify additional expenses. If a process or procedure supporting a critical product/service is inoperable, how many additional expenses will it entail? You need to answer this question by estimating financial losses and defining legal responsibilities of your company to customers.

Continuity Planning.

Overview. Planning for business continuity means mitigating risks of business failure, determining recovery options and creating a plan of actions to be taken in case your company has to deal with product/service disruption.
Mitigate risks. Threats and uncertainties are identified by the business impact analysis. Moderating risks is a process of developing ...




---

| | |
| --- | --- |
| Order 750 checklists in MS Word and PDF printable format at $49.99 USD only. | BUY NOW! |

CentriQS Tasks Management Solution

Looking for multi-user task management software? Try CentriQS complete task management solution for planning, tracking and reporting tasks, projects, and schedules. Increase productivity of your small business or office by better organizing your employees' tasks and time.

FREE Download CentriQS
CentriQS -15% OFF
All-in-one business management software
for small and midsize enterprises

---

VIP Task Manager
Multi-user project management software
to plan, schedule and track project tasks.

---

VIP Checklists
More than 750 ready-to-use to-do lists
to plan your personal and business life

---

VIP Team To Do List
Professional task management software
to make and send team todo lists by email

---

VIP Organizer
Personal time management software
to organize time at home and at work

---

VIP Simple To Do List
Simple and effective to-do list software
to plan daily chores, trips, wedding, etc.