Task Management Software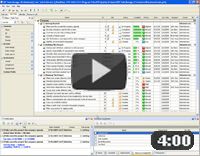 Authorization

TESTIMONIALS
"...This is an excellent program. I'm so glad that I stumbled on to this when researching for task management programs. Very low learning curv, quite flexible, and the price is right. Tried at least 20 other programs, either too complicated, too expensive, or poor documentation..."
Chad Lindsey -
Honolulu, HI
MORE FEEDBACKS

Business Disaster Preparedness Checklist

| | |
| --- | --- |
| | This Business Disaster Preparedness Checklist will be helpful to all business owners who wish to get ready for possible hardships caused by emergency: ceasing their business operations temporarily and possible business relocation, planning safety and survival of their employees and infrastructure, and then, once a disaster quiets down, recovering their business. |

---

| | |
| --- | --- |
| Order 750 checklists in MS Word and PDF printable format at $49.99 USD only. | BUY NOW! |

Designate Vulnerabilities and Threats:

Make a list of probable disasters that may strike your business and damage its assets:

Severe storm;
Earthquake;
Fire;
Flood;
Electrical or other utility outage;
Tsunami;
Tornado;
Spill of hazardous substances;
Terrorism;
Cyber attacks;

Assess their probability (considering history, official prognosis, past experience, statistics, age, condition and design of the business facilities you have) and the damage they may cause to your enterprise and its business activities;
Conduct a business impact analysis to elaborate potential emergency scenarios;
Prioritize your risks and identify which ones are of the highest probability in your location;

Business Disaster Planning:

Aspire to learn more as possible about disasters that your business is most likely exposed to:

Their reasons, impact and effects;
What specific hazards they entail;
Protective actions;
Warning and communications procedures;
Evacuation guidelines;
Equipment and supplies to be useful in emergency;

Contact your insurance provider and check how your policy covers the most probable disasters. Learn what it will cost to enlarge a list of disasters covered by your insurance policy;
Plan evacuation: make sure that all employees can be evacuated from the premises safely;
Review your key personnel files and identify their skills which can be helpful in an emergency: first aid, technical skills, crisis management, etc;
Identify and route a shelter where the employees can be evacuated to if a disaster strikes:

Post a plan of evacuation routes and assembly points;
Show primary and alternative routes to follow out of the building;
Develop escape plans for all departments and explain them to employees;
Assign a person in each department to administer the escape plan;
Exercise escape at least once a quarter;

Keep a list of emergency phone numbers in the office, especially including those which are not well-known enough, such as poison-control center;
Establish and maintain emergency management organization:

Assign emergency coordinators from the key staff members;
Make sure everyone in the staff is trained to follow emergency plans;
Promote employee personal and household disaster preparedness;
Acquire emergency supplies and assemble emergency response kits;
Organize staff training in first aid and CPR;
Keep at hand all the contact details of employees, building managers, etc;

Establish a phone or voice mail number for staff for checking in after an emergency;
Create procedures for the staff to cease operation safely. Identify what utilities need to be cut-off prior to a disaster and who is responsible for doing this (for example using utility valves and shutoffs for electricity, gas, water, heating and air conditioning);
Define and plan how the most valuable assets of your business can be protected against damage in a case of disasters. Consider investing into damage-preventive systems;
Identify what items can be safely evacuated in a case of emergency (some important documents, corporate seal, etc). Provide special instructions on evacuating these items to the key employees responsible for them, but remember yet that exposing people to life and health threatening risks because of business needs is illegal;

Business Disaster Recovery:

Identify vendors and other resources that will be helpful in a case of business resumption, keep their contact details within an easy reach;
Prepare a list of equipment, supplies, forms and other business items which are required for business continuity. Make sure you have a stock at your alternative location if any;
Additionally see our Business Resumption Checklist;
Maintain regular back-up procedures to facilitate recovering:

Back up the company's business data to an offsite facility (storage) once every week;
Plan a temporary work location: a place where you can deploy your business in a reduced manner (or alternate sites for full-scale relocation of the business);
Copy important business records and store them in a safe place;

Develop specific plans for emergency response...




---

| | |
| --- | --- |
| Order 750 checklists in MS Word and PDF printable format at $49.99 USD only. | BUY NOW! |

CentriQS Tasks Management Solution

Looking for multi-user task management software? Try CentriQS complete task management solution for planning, tracking and reporting tasks, projects, and schedules. Increase productivity of your small business or office by better organizing your employees' tasks and time.

FREE Download CentriQS
CentriQS -15% OFF
All-in-one business management software
for small and midsize enterprises

---

VIP Task Manager
Multi-user project management software
to plan, schedule and track project tasks.

---

VIP Checklists
More than 750 ready-to-use to-do lists
to plan your personal and business life

---

VIP Team To Do List
Professional task management software
to make and send team todo lists by email

---

VIP Organizer
Personal time management software
to organize time at home and at work

---

VIP Simple To Do List
Simple and effective to-do list software
to plan daily chores, trips, wedding, etc.