Task Management Software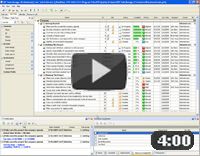 Authorization

TESTIMONIALS
"...This is an excellent program. I'm so glad that I stumbled on to this when researching for task management programs. Very low learning curv, quite flexible, and the price is right. Tried at least 20 other programs, either too complicated, too expensive, or poor documentation..."
Chad Lindsey -
Honolulu, HI
MORE FEEDBACKS

Business Intelligence Checklist

| | |
| --- | --- |
| | In order to be competitive, commercial organizations are ready to make sizeable investments in developing and implementing effective intelligence solutions. They expect early process stabilization and benefits. The following Business Intelligence Checklist will help your company explore possible ways for implementing business intelligence solutions. |

---

| | |
| --- | --- |
| Order 750 checklists in MS Word and PDF printable format at $49.99 USD only. | BUY NOW! |

1. Business Intelligence (BI) Components.

Overview. Basically, intelligence of a business organization is a common term used to describe intellectual and information capacity of the organization. There're two components of business intelligence: HR capacity and information. Both components help access, gather and analyze data required for making better decisions.
HR capacity. This component is managed under the process of talent management. It means that there is some process for revealing, developing and improving human faculties and skills. Talent management helps reach effective management and decision support in various business problems.
Information capacity. This component includes expert advice, knowledge and technology to help managers reach higher efficiency in organizing and implementing business operations.

2. BI Advantages.

Enhanced response and sensitivity toward customers.
A capability to quickly react to market changes and transformations.
Proper identification of customer demands.
Improved business operations.
Optimized use of organizational resources.
A capability to conduct intricate studies for prospecting.
More effective use and saving of wealth.

3. BI through Talent Management.

Make a new employee orientation plan describing how you would orientate new workers into the company's working environment and specific job conditions.
Evaluate competency of existing personnel.
Focus on keeping employee strengths at the cutting edge.
Plan for implementing competency development opportunities, such as training, mentoring, teamwork, job rotation, cross-functional exposure.
Make sure every development opportunity is linked to the strategic goals and objectives of your company.
Set a system of performance metrics for assessing and tracking results of your talent management effort.
Take care of setting up close communications between managers and subordinates.
Involve your workers in monitoring their performance through a system of performance evaluation and control metrics.
Set up accountability for results actually produced by employees.
Use employee feedback for making decisions on improvement.

4. BI through Information Management.

Management Strategy – develop an action plan that describes information management policies, standards and best practices and addresses the following issues:

Data design standards
Data storage best practices
Data deployment best practices
Data security procedures
Metadata standards
HR policy and accountabilities for data management
Change management procedures

Data sharing – use a system of data distribution, dispersion and exception.
Data movement – make an assessment of data movement into, within, and out of your company.
Data security – be sure there are procedures for data backup/recovery in event of operational loss and catastrophic events as well.
Data protection – install a system for protecting information from unauthorized access and use.
Data quality – be sure your company has a capability to efficiently detect, prevent and correct any issues related to information quality.
Data changing – establish a process for managing changes and modifications occurred in data.

5. BI Programme Development.

Set Goals. First of all, you need to determine short- and medium-term goals of the programme. Answer the following questions:

What strategic objectives of your company will the programme address?
Does it relate to the organizational mission/vision?
Can you develop a strategy map showing how the programme eventually improves results/performance of the organization?

Establish Baseline. Now you need to create a framework of developing and maintaining the programme. Answer the following questions:

Has your company a capability for monitoring important sources of information?
Does the company use effective information collecting methods?
How does the company store data?
What are statistical parameters of this data? (e.g., how many random variations does it contain?)
Does your organization use a system for measuring information efficiency?

Manage Cost and Risks. You need to estimate financial consequences of BI implementation. Answer these questions:

It there a need to increase expenditure because of your BI initiative?
What is the risk of failure for the initiative?
Can you convert the risk into financial metrics?

Manage Customers and Stakeholders. Now you need to determine who will benefit from successful implementation of your BI initiative and who will pay for it. Try to answer these questions:

What people and/or organization have a stake in the BI implementation project?
What people and/or organization will benefit directly from this initiative?
Who will benefit indirectly?
What are quantitative and qualitative benefits?
How can you monitor and assess customer benefits?
How will customers pay for their benefits?

Set Metrics. It is required to decide on a range of metrics for assessing each piece of information being gathered. Answer the following questions:

Can you determine if your BI project can be measured quantitatively and qualitatively?
Can you establish key performance indicators?
Can you define and use industry standard metrics for your project?
How many metrics need to be monitored?
What kind of system can be used for monitoring?
Can metrics be standardized and benchmarked against performance in other, competitive organizations?

Monitor Results. The final step is to track and monitor results created by your BI programme. Answer these questions:

Can you assign a person who will monitor results and ensure whether ...




---

| | |
| --- | --- |
| Order 750 checklists in MS Word and PDF printable format at $49.99 USD only. | BUY NOW! |

CentriQS Tasks Management Solution

Looking for multi-user task management software? Try CentriQS complete task management solution for planning, tracking and reporting tasks, projects, and schedules. Increase productivity of your small business or office by better organizing your employees' tasks and time.

FREE Download CentriQS
CentriQS -15% OFF
All-in-one business management software
for small and midsize enterprises

---

VIP Task Manager
Multi-user project management software
to plan, schedule and track project tasks.

---

VIP Checklists
More than 750 ready-to-use to-do lists
to plan your personal and business life

---

VIP Team To Do List
Professional task management software
to make and send team todo lists by email

---

VIP Organizer
Personal time management software
to organize time at home and at work

---

VIP Simple To Do List
Simple and effective to-do list software
to plan daily chores, trips, wedding, etc.