Task Management Software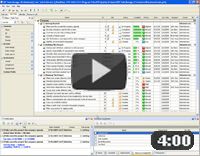 Authorization

TESTIMONIALS
"...This is an excellent program. I'm so glad that I stumbled on to this when researching for task management programs. Very low learning curv, quite flexible, and the price is right. Tried at least 20 other programs, either too complicated, too expensive, or poor documentation..."
Chad Lindsey -
Honolulu, HI
MORE FEEDBACKS

Employee Relocation Checklist

| | |
| --- | --- |
| | This Employee Relocation Checklist is designed for managers who wish extending the presence of their businesses at some remote areas through relocating their specialists to new places for creating there local branch offices, developing affiliates, training remote partners or customers, etc. This checklist will help them to deliberate their own workers resettlement system. |

---

| | |
| --- | --- |
| Order 750 checklists in MS Word and PDF printable format at $49.99 USD only. | BUY NOW! |

Employee Relocation Checklist:

Sometimes employees can be relocated to another geographical location by their management, which means a short or long distance travelling within the same country or abroad, getting local lodging, time for adaptation, etc;
There are various purposes for organization to relocate employees, ex: to move closer to their abroad/remote markets, to strengthen workforce in remote locations (branch offices, affiliates, etc), to establish or support a long-term business presence in some prospective, distanced yet areas, to provide international professional assistance to partners or customers, etc;
Every company which deals with regular and frequent employee relocations needs to elaborate their own relocation policy to streamline this practice. Once company deliberates such a policy, it can underlie workers relocation rules stated in terms of employment contracts and other agreements (mobility clause) to prevent legal issues and misunderstandings;
Another type of relocation is when organization invites an employee from another location or country. If a worker comes from abroad, then you need to handle a number of legal challenges and associated paperwork: you will need to prove to your government that there is a deficit of local candidates to do such a job, then to validate visa, long-term stay permissions, etc;
Workers relocation laws are different from country to country, and there is no sole regulation to answer all questions, but the main issue is between employee and employer to be negotiated and stated in employment contract or special agreement;
Employee rights are legally protected by the terms of signed employment contract or additional agreement, so the organization that owns relocation process should religiously follow these documented commitments to ensure employee's proper relocation and welfare (Employee Relocation Package);
Employees don't necessarily want to move, as they have certain social and personal "anchors" – some reasons why employees may don't want to relocate:

They have spouses who have to work locally;
Family situation, like elderly parents who need care;
Young children in education (kindergarten, school, etc);
Doubtful security of the destination where they are offered to relocate to;
Increased travel costs and time;
Considerable property in current location;
Not wanting to leave their current home;

Reasons why employees can be enthusiastic about their possible relocation:

Sure opportunities for career development;
Considerably higher salary or bonuses;
Improving professional and business experience & knowledge in a new region;
Better conditions and quality of life;
Better work-life balance;
Opportunities for personal development (desire to study foreign cultures, etc);
Personal interests (ex: getting closer to family members);

Naturally, younger and proactive employees are more optimistic about a chance of long-term relocations, while elder employees require more profound and beneficial conditions for this;
In order to make the practice of regular workers relocation seamless, the organization needs to keep clear on its strategy and business plans, and have a clear-cut relocation procedure: for example certain fixed term to send Employee Relocation Letter (notification or offering to get relocated), following-up procedures of negotiation & discussion, etc;
In order to ensure appropriate relocation of an employee, the organization should offer him/her appropriate Relocation Package that optionally covers:

Reimbursing worker relocation expenses related to travelling and welfare;
Arrangement of essential documents such as visa, long-term stay permissions, etc;
Organization of accommodation, appropriate transportation, healthcare, etc;
Finding an appropriate school/educational institute for children;
Finding an adequate job for the spouse;
Employing a teacher for the family to learn local language, cultural orientation, etc;

In other words, the main relocation costs for an organization reside in the following:

Employee transportation (airplane tickets, local ground transport, food, etc);
Employee lodging (final destination's accommodation, transit and temporal lodging);
Employee insurance and security (property, healthcare, etc);
Employee social adaptation (hospitality, on-site learning and instructions, etc);

Large organizations and corporations operating internationally (or within extended national areas), manage complex all-round workers relocation programs that include huge investments into welfare of their relocated employees (massive building of ...




---

| | |
| --- | --- |
| Order 750 checklists in MS Word and PDF printable format at $49.99 USD only. | BUY NOW! |

.

CentriQS Tasks Management Solution

Looking for multi-user task management software? Try CentriQS complete task management solution for planning, tracking and reporting tasks, projects, and schedules. Increase productivity of your small business or office by better organizing your employees' tasks and time.

FREE Download CentriQS
CentriQS -15% OFF
All-in-one business management software
for small and midsize enterprises

---

VIP Task Manager
Multi-user project management software
to plan, schedule and track project tasks.

---

VIP Checklists
More than 750 ready-to-use to-do lists
to plan your personal and business life

---

VIP Team To Do List
Professional task management software
to make and send team todo lists by email

---

VIP Organizer
Personal time management software
to organize time at home and at work

---

VIP Simple To Do List
Simple and effective to-do list software
to plan daily chores, trips, wedding, etc.