Task Management Software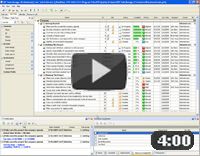 Authorization

TESTIMONIALS
"...This is an excellent program. I'm so glad that I stumbled on to this when researching for task management programs. Very low learning curv, quite flexible, and the price is right. Tried at least 20 other programs, either too complicated, too expensive, or poor documentation..."
Chad Lindsey -
Honolulu, HI
MORE FEEDBACKS

Employee Safety Checklist

| | |
| --- | --- |
| | This Employee Safety Checklist is a brief document that is designed to help you in creating your organization's own safety policy to obtain a number of cost-saving advantages and other competitive benefits. This Employee Safety Checklist will explain you some essential elements of safety and will guide you to undertake the appropriate plan. |

---

| | |
| --- | --- |
| Order 750 checklists in MS Word and PDF printable format at $49.99 USD only. | BUY NOW! |

Workers Safety and Health Basics:

When workers stay healthy, the direct and indirect cost-savings and benefits to businesses are really significant, so it is about wholesome competitive advantage of any firm to provide their employees with adequate Employee Safety policy;
Savings reside in the following:

Lower costs paid out for workers' insurance compensations;
Reduced medical expenditures;
Less days-off to be paid out;
Less resources spent for overtime benefits;
Lower expenditures for return-to-work programs;
Lower costs for job accommodations for injured workers;
Lower risks to be obliged to pay out compensation for moral injury;
Lower risks to produce faulty products or services;

Benefits comprise the following:

Increased productivity and enthusiasm of employees;
Increased morale and job commitment;
Better labor and management relations;
Reduced employee turnover;
Higher quality of products and services;
More predictable workforce planning;
Higher return from of investments into HR;
Better image of a company;

On-the-job Safety Guidelines:

Elements of Employee Safety Programs:

Administrative System to manage Employee Safety;

Assign qualified executives to undertake direct responsibility for maintaining on-the-job safety; establish procedures to assess safety parameters and to report about actual on-site state with the safety-related conditions;

Regular Worksite Analysis;

Each workplace is continually analyzed to identify all existing and potential hazards;

Hazard Prevention and Control;

Existing and potential hazards should be mitigated, prevented or controled through special clear-cut lawful procedures including regular qualified on-site expertise, engineering and administrative support, employee's responsibility and managerial approval;

Safety Trainings for Employees, Supervisors and Managers of all levels;

Educate your workers and executives with a help of special Safety Courses that are called to explain the conception of on-the-job safety to prevent any mismanagements;

Safety Commitment and Employee Engagement;

Every individual in the organization has a responsibility to accomplish his/her part of the safety program. The managers and employees should be engaged into creating, discussing, supporting, reporting, learning and carrying out all elements of safety programs, policies, & responsibilities over them, as well as into elaborating and proving amendments as required;

Employee Safety Plan:

Analyze Building Security;

Make sure that all major and secondary working premises comply with the industrial and corporate safety standards, as well as are well-organized and free of defections;

Set up Fire Safety Procedures;

Make sure that your working premises pass fire safety certification: all internal and external doors are in good operating condition, fire extinguishers and emergency stairs are of easy reach, no unsafely stored flammable liquids around, etc;

Spread First Aid Guidelines;

Make sure that in a case of someone's on-the-job injury (or any other emergency) there are special tools, regulated workflow and qualified specialists to mitigate the situation: make sure that Emergency Kits are available and fully packed, and if the employees possess proper skills to use them as appropriate;

Establish Environmentally Safe Office/Workshop;

Make sure that you can maintain clean, healthful, and safe workplaces for your employees. Prevent pollutions, prefer green technologies to be used, and take care of using energy and other natural resources efficiently;

Make sure that your employees know, accept, understand and are trained to obey safety rules, instructions, policy and procedures;
Make sure that all working processes are safety-proved and certified, so any defective tools and other equipment cannot be accidentally used (as there are mechanisms to identify and rectify any defective items ...




---

| | |
| --- | --- |
| Order 750 checklists in MS Word and PDF printable format at $49.99 USD only. | BUY NOW! |

.

CentriQS Tasks Management Solution

Looking for multi-user task management software? Try CentriQS complete task management solution for planning, tracking and reporting tasks, projects, and schedules. Increase productivity of your small business or office by better organizing your employees' tasks and time.

FREE Download CentriQS
CentriQS -15% OFF
All-in-one business management software
for small and midsize enterprises

---

VIP Task Manager
Multi-user project management software
to plan, schedule and track project tasks.

---

VIP Checklists
More than 750 ready-to-use to-do lists
to plan your personal and business life

---

VIP Team To Do List
Professional task management software
to make and send team todo lists by email

---

VIP Organizer
Personal time management software
to organize time at home and at work

---

VIP Simple To Do List
Simple and effective to-do list software
to plan daily chores, trips, wedding, etc.