Task Management Software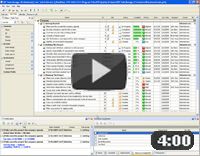 Authorization

TESTIMONIALS
"...This is an excellent program. I'm so glad that I stumbled on to this when researching for task management programs. Very low learning curv, quite flexible, and the price is right. Tried at least 20 other programs, either too complicated, too expensive, or poor documentation..."
Chad Lindsey -
Honolulu, HI
MORE FEEDBACKS

Home Maintenance Checklist

| | |
| --- | --- |
| | This home maintenance checklist will be helpful for everyone who lives in a private house and wants to keep it in a proper condition. This checklist will be helpful even for those who have agreement with special companies undertaking all house maintenance services, because with its help you can check if your house maintenance insurance works efficiently. Content of this household maintenance checklist is grouped according to different halves of a year, so each of the parts contains appropriate seasonal recommendations and tips on maintaining your indoor and outdoor. |

---

| | |
| --- | --- |
| Order 750 checklists in MS Word and PDF printable format at $49.99 USD only. | BUY NOW! |

Maintenance in fall and wintertime:

Prepare your heating system and hot water heaters. Have them serviced by appropriate services, change filters, get your hot water heater drained, flushed to remove sediment, and get it refilled.
Clean your outdoor territory. Clean, repair, and store outdoor furniture.
Check walls and floor in your basement for dampness, cracks and leaks. Seal them with waterproof materials if required. Test your basement sump pump.
Check all cold-water pipes for sweating. Repair if required and wrap them with insulating material to prevent possible freezing in winter.
Check the seals on windows and doors. Remove window air conditioners or wear weatherproof covers on them.
Check weather-stripping on doors and caulk on windows, this kind of protection will make your home warmer and will lower costs by reducing heating bills.
Install storm windows and doors. Make sure all windows function well.
Adjust your vents for better air circulation during the winter months.
Inspect bird and rodent screens for attic vents. Check and clean your air ducts.
Check if your fireplace and chimney require cleaning or repairing.
Inspect and clean humidifiers.
Fall and winter are the most energy-consuming seasons, so in order to optimize house maintenance costs you should create energy-saving plan for your family. For example you may store up your refrigerator, because when it is full it uses less energy than when empty.
Turn your mattresses to winter side. Prepare winter clothing and bedding.
Take down anti-insects screens from windows and wash them.
You can arrange a big cleaning in your home to clear out all summer dust and dirt, clean carpets etc.
Store firewood for a fireplace.
Ensure that downspouts discharge water well away from the house foundation.
Have the roof checked and repaired. Make sure that all outdoor wiring and cables are protected.
Have the house walls checked and repaired. Ensure that all air-leaks are eliminated. Seal cracks in concrete.
Clean gutters, downspouts and vents frequently throughout fall to clean out leaves.
Make sure that all smoke detectors, carbon monoxide detectors and fire extinguishers are in a good state. Replace batteries in appropriate devices as needed, or at least twice each year.
Check if the fire extinguisher is fully charged; recharge or replace if needed.
Stock up canned foods, bottled water, flashlights and candles for a case of winter emergencies.
Ensure that snow and ice removal tools and supplies are easily accessible.

Maintenance solutions for springtime and summertime:

After snow melting check your driveway and sidewalks for any cracks and repair them.
Prepare your swimming pool for hot season, and maintain it through the summertime.
Check exterior appearance of your house to identify defects and damages such as paint peeling, cracks etc. Wash windows and walls, paint and repair outdoor elements if required. Remove any storm windows and replace with summer screens.
Check over the roof for any damages, defects, cracks etc. Repair and waterproof before strong rains. Inspect inside the attic for any water damage. Have your gutters and downspouts cleaned out.
Check visible wiring and cables for wear and damage.
If you go on vacation, check your home's security. Make sure all the locks work well on the windows and doors. Test your fire-prevention and anti-intruder alarm systems.
Clean your icemaker and check if it is workable to supply you with ice-cold drinks during summertime heat.
Inspect, service and prepare air conditioning system. Vacuum-clean air duct grilles and clean bathroom fans.
Replace damaged caulking and weather stripping on windows and doorways.
Prune tree limbs touching or near the roof surface, as well as cut back and trim shrubbery or limbs touching exterior walls.
Deep clean carpets and rugs, clean winter clothes and bedding.
Be sure to clean and service water heating equipment according to the manufacturer's schedule.
Check pipes in basement for condensation or dripping. Inspect your basement for leaks, moisture, termites, and wood rot. Take preventive actions.
If you have a garage, then test garage door, lubricate garage door hardware (door opener motor, chain, etc), ensure that the auto-reverse mechanism is properly adjusted.
Wash patio deck, prepare and take out outdoor furniture.
Get your lawn-mower serviced and its blades sharpen. Install grass-watering sprayers.
Change the batteries on smoke and carbon monoxide detectors as servicing schedule requires.
Use computer program to schedule recurring tasks like servicing your home equipment.
In order to reduce costs for some house maintenance services, you can take a course of special trainings to get skills in servicing and repairing things that do not need any high qualification or professionalism.
Arrange inspection of your tools to make sure that you have all things in a proper order and workable condition.




---

| | |
| --- | --- |
| Order 750 checklists in MS Word and PDF printable format at $49.99 USD only. | BUY NOW! |

CentriQS Tasks Management Solution

Looking for multi-user task management software? Try CentriQS complete task management solution for planning, tracking and reporting tasks, projects, and schedules. Increase productivity of your small business or office by better organizing your employees' tasks and time.

FREE Download CentriQS
CentriQS -15% OFF
All-in-one business management software
for small and midsize enterprises

---

VIP Task Manager
Multi-user project management software
to plan, schedule and track project tasks.

---

VIP Checklists
More than 750 ready-to-use to-do lists
to plan your personal and business life

---

VIP Team To Do List
Professional task management software
to make and send team todo lists by email

---

VIP Organizer
Personal time management software
to organize time at home and at work

---

VIP Simple To Do List
Simple and effective to-do list software
to plan daily chores, trips, wedding, etc.