Task Management Software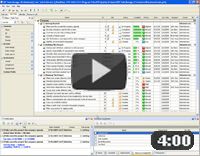 Authorization

TESTIMONIALS
"...This is an excellent program. I'm so glad that I stumbled on to this when researching for task management programs. Very low learning curv, quite flexible, and the price is right. Tried at least 20 other programs, either too complicated, too expensive, or poor documentation..."
Chad Lindsey -
Honolulu, HI
MORE FEEDBACKS

Interview for applicants Checklist

| | |
| --- | --- |
| | This job interview checklist is designed for all job-seekers who want to pass the interview with their potential employer successfully. This checklist is one of the fullest checklists on the Web as far as it contains tips covering all essential aspects, being a complete guide on pre, during and post behaviors, preparations etc. This checklist will help you to make a positive first impression, express your strengths etc. |

---

| | |
| --- | --- |
| Order 750 checklists in MS Word and PDF printable format at $49.99 USD only. | BUY NOW! |

1. Pre interview checklist (what to do in order of being prepared ):

Research the organization (employer) you are going to have interview with.
Make sure you know where it is located and how to get there on time.
Research offered vacancy beforehand and ask some clarifying questions, if possible, before the interview.
Clarify the interview format to make all necessary preparations.
Whether you are a recent graduate or experienced professional, take with you copies of all your diplomas and other essential documents confirming your qualification.
Any documents you may need, such as a passport, social card, driver's license etc.
Think through common questions that you may be asked.
Prepare the most reasonable answers which will show your best qualities.
Take bathe or shower prior to an interview.
Have a good night's sleep to be fresh and quick-witted.
Wear clothing that is clean, pressed, and well fitting.
Follow the appropriate dress code:

Traditional dress code for women includes classic clothing style, conservative makeup, accessories, and jewelry. No extravagancy allowed.
Traditional dress code for men includes accurate business outfit and clean footwear. No sport and casual wearing allowed.

Use subtle perfume /cologne.
Make sure keeping the etiquette basics – clear, polite and literate speech, turning off your mobile phone, no chewing gum etc.
Prepare extra copies of your curriculum vitae (resume)
If possible, prepare references from your former supervisors, colleagues, or clients

2. While interviewing checklist (simple methods to look trustworthy):

Arrive at least 15 minutes earlier, and check your appearance in the mirror.
Be ready to avoid the most common mistakes – asking too much questions, complaining or saying spiteful things about your last employer, being too nervous etc.
Smile, shake hands firmly, sit when you are offered a seat.
Sit up, focus on the interviewer, make eye contact, respond calmly, clearly and honestly.
Demonstrate your enthusiasm, respect and positive mood.
Avoid being too humble as well as too self-assured while representing your knowledge, expertise, and value.
Avoid expressing doubtful opinions, and don't wrangle with your interviewer.
Be short-spoken in your reports and keep them connected to core of the questions – avoid answering to simple questions with fifteen-minute replies.
Have a notebook and a pen to make quick notes when required.
Keep your responses connected to the job you pretend to get – focus on your strengths, talents and skills in connection with the offered job description.
Make sure your resume is typed on clean, plain - colored paper, taking 1-2 pages in length.
When filling a form, write cleanly, think twice what to write, make sure that you filled all necessary blanks.

3. Post interview checklist :

Stand and shake hands.
Thank the interviewer for his/her time.
Emphasize your normal interest in this job, but don't behave like it is the last chance in your life to get a job.
Ask what the next step is ...

---

| | |
| --- | --- |
| Order 750 checklists in MS Word and PDF printable format at $49.99 USD only. | BUY NOW! |

CentriQS Tasks Management Solution

Looking for multi-user task management software? Try CentriQS complete task management solution for planning, tracking and reporting tasks, projects, and schedules. Increase productivity of your small business or office by better organizing your employees' tasks and time.

FREE Download CentriQS
CentriQS -15% OFF
All-in-one business management software
for small and midsize enterprises

---

VIP Task Manager
Multi-user project management software
to plan, schedule and track project tasks.

---

VIP Checklists
More than 750 ready-to-use to-do lists
to plan your personal and business life

---

VIP Team To Do List
Professional task management software
to make and send team todo lists by email

---

VIP Organizer
Personal time management software
to organize time at home and at work

---

VIP Simple To Do List
Simple and effective to-do list software
to plan daily chores, trips, wedding, etc.