Task Management Software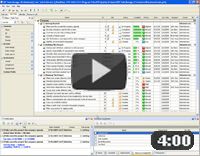 Authorization

TESTIMONIALS
"...This is an excellent program. I'm so glad that I stumbled on to this when researching for task management programs. Very low learning curv, quite flexible, and the price is right. Tried at least 20 other programs, either too complicated, too expensive, or poor documentation..."
Chad Lindsey -
Honolulu, HI
MORE FEEDBACKS

Market Analysis Checklist

| | |
| --- | --- |
| | Market analysis is a regular collection and review of data and findings that relate to current marketing situation influencing an organization. Use the given below market analysis checklist to learn how to create such a document and what steps you can do to analyze your market. |

---

| | |
| --- | --- |
| Order 750 checklists in MS Word and PDF printable format at $49.99 USD only. | BUY NOW! |

The purpose of market analysis.

To launch a process that allows gathering, analyzing and using the key information required for developing a plan
To identify a new market and be ready to enter it
To gain a competitive advantage
To be able to launch a new product/service on the market, considering if there is a need or target audience for the product/service
To promote a business by using the plan

Three steps of market analysis.

Determining and investigating the problem.
Collecting and interpreting information relative to the problem.
Creating a marketing plan

Determining and investigating the problem.

The step of determining and investigating the problem requires a great deal of effort (time and human & financial resources) equivalent to a successful marketing campaign. This step can be taken by answering the questions listed below in this section.
Do you want to market your entire product/service line or its separate part(s) only?
Did you analyze specific marketing strategies in the past two years? If you did, how did the strategies affect your sales? Do you use those strategies currently? How do your rivals market their products?
How much money did you allocate to the marketing strategies? Are you ready to allocate the same amount of money to a new strategy?
Do you use questionnaires to identify a referral source when selling products/services to your customers? Be ready to deploy a database that keeps all the referral sources you have learned from your customers.
Think over the reasons why your customers should choose your product/service. How do you think what makes your product different from competitors' products and why customers choose competitors' products? Do you know how to enhance your current product/service?
Do you know who your customers are? What methods of customer attraction do you use? Do you know how to improve these methods?

Collecting and interpreting information relative to the problem.

Design and use a worksheet where you will keep all the records you make while collecting and interpreting information. Your worksheet can be managed by means of software, such as VIP Task Manager.
There are two methods of collecting information: Qualitative research method and Quantitative research method. Both methods are described below in this section.
Qualitative research method assumes using open-ended questions to receive in-depth answers. The idea of the method is to allocate thoughts of customers to a number of topics without giving them extensive guidelines. For example, the following question can be asked: "What do you think about when deciding on a place to purchase goods for your children?" The method allows customers to give free answers, and a researcher can better understand their responses and shopping habits.
Quantitative research method assumes collecting parametric statistical information to make conclusions. Survey questionnaires are usually used to obtain responses that can be summarized in numbers, like percentages, averages or other usable statistics. For example, a survey questionnaire can have a list of questions aimed at researching percentage of the consumers who purchase tea in grocery stores.
After information has been gathered, a report is due to be submitted by your researchers; then you start interpreting the obtained information and understanding what value it gives. In your project, there should be used only valid information to avoid any sampling and validity issues. Interpreting means you build a matrix that consists of positive and negative questions of the responders, their ideas, thoughts, and opinions. The matrix will let you confront and compare different answers with each other. You will be able to generate new marketing ideas and solve problems.

Creating a marketing plan.

Before designing a marketing plan, you need to make marketing decisions considering the findings collected and interpreted previously. Your researchers provide you with all necessary information, which is usually given in the format of charts. Then you review trends to make marketing decisions referring to your target audience, competitors and market share. If all your decisions are satisfactory (you decide that all the resources, such as time, money and manpower, have been used appropriately), you can develop a marketing plan.
Your marketing plan shows specifics of how you will market your product/service. The plan includes tips and technologies that will help you reiterate the whole process of analyzing the market in the future.
The purpose of the marketing plan is to give you guidance in analyzing your market.
Your marketing plan can be designed and updated by means of analysis tools.




---

| | |
| --- | --- |
| Order 750 checklists in MS Word and PDF printable format at $49.99 USD only. | BUY NOW! |

CentriQS Tasks Management Solution

Looking for multi-user task management software? Try CentriQS complete task management solution for planning, tracking and reporting tasks, projects, and schedules. Increase productivity of your small business or office by better organizing your employees' tasks and time.

FREE Download CentriQS
CentriQS -15% OFF
All-in-one business management software
for small and midsize enterprises

---

VIP Task Manager
Multi-user project management software
to plan, schedule and track project tasks.

---

VIP Checklists
More than 750 ready-to-use to-do lists
to plan your personal and business life

---

VIP Team To Do List
Professional task management software
to make and send team todo lists by email

---

VIP Organizer
Personal time management software
to organize time at home and at work

---

VIP Simple To Do List
Simple and effective to-do list software
to plan daily chores, trips, wedding, etc.