Task Management Software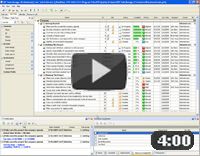 Authorization

TESTIMONIALS
"...This is an excellent program. I'm so glad that I stumbled on to this when researching for task management programs. Very low learning curv, quite flexible, and the price is right. Tried at least 20 other programs, either too complicated, too expensive, or poor documentation..."
Chad Lindsey -
Honolulu, HI
MORE FEEDBACKS

Marketing strategy Checklist

| | |
| --- | --- |
| | As a marketing professional, you can start writing your marketing strategy by creating a market plan outline that help you gather information and organize marketing researches. This checklist will guide you through the process of creating your marketing strategy. |

---

| | |
| --- | --- |
| Order 750 checklists in MS Word and PDF printable format at $49.99 USD only. | BUY NOW! |

Mission statement

Considering your company's objectives and priorities, make Corporate Mission Statement.
Considering your company's capacities and potential, set manufacturing objectives.
Set product development objectives.
With reference to product development objectives, set strategy goals.

Background of your strategy

The strategy is customer-focused and based on customer service.
The strategy produces a high-quality product or service for your customers.
The strategy ensures customer convenience and customer excellence.
The strategy generates innovations in your product or service over time.
The strategy uses speed as a competitive advantage.
Each stage of product life cycle is stated and described in the strategy.
Each element is described in documents and implemented by specific practices.
Use software to manage your strategy.

Market segmentation

Define the overall market trend and how you can follow it in terms of market share and profit position.
Start identifying different segments among existing customers by breaking the customers into groups. Consider grouping by the following characteristics: age, gender, location, income, industry. Each group of customers will be included in your strategy statement.
Use segmenting to identify similarities and differences between your customer groups, so you can more closely match customer requirements and understand what aspects of your sales offer appeal to each of the groups.
Conduct market researches to understand more about needs, tastes and spending habits of different customer groups. Include results of the researches in your statement .

Customers

Define your target audience.
Investigate and identify problems your customers face when trying to find or purchase a product. Generate solutions for the identified problems so your customers will get reasons for buying your products. Add the most efficient solutions to your outline.
Define your customers' price expectations in terms of value, quality and service.
How do you think what you can do to win an order and attract a new customer? What time does it take to win an order?
Define what products of competitors your customers use, so that you can outline your strategy considering new vectors of product development.
Estimate current satisfaction level of customers. Are customers satisfied with products your competitors offer?

Competitors

Conduct marketing surveys to collect and investigate all information on your competitors, so you can rank your business against them.
Define sales pitch of competitors. By knowing their sales pitch, you can better plan your formal or informal presentations of a product to potential customers and initiate selling of the product.
Define kinds of advertisement your competitors use. Where do they advertise and how often?
Define pricing polices your competitors use. Can you say your current pricing policy is better because it is reasonable for customers, profitable for your business, and it also creates the image you want?
Investigate distribution channels your competitors use. Can you say your current distribution channels are more efficient, or inefficient? Are there ways to improve your distribution channels, so your products can be delivered to your customers faster and with fewer costs?
Define how your competitors position themselves. Use matrix to define your position against the competitors.
Instigate substitutes to your products and how much threat they bring.
Define what actions your competitors take to react to threats.
Define what market shares your competitors occupy. What steps can you take to extend your own market share?
Compare competitors to your company in terms of your Strengths, Weaknesses, Opportunities and Threats (SWOT analysis). Use SWOT analysis to identify your competitive advantages and choose appropriate model .

Advertising

Create the advertising concept considering competitive advantages of your product/service, its characteristics to be advertised, and peculiarities of target audience.
Estimate costs for product advertising and promotion and allocate the respective budget.
Determine which advertising media will be most efficient in reaching your target audience and implementing your ideas .
Choose advertising model (AIDA, AIDMA, ACCA, etc.).
Identify the unique selling position that will be included in your advertising message.
Make sure the ads you are going to use allow your customers to answer the question: "Why should I purchase this product or service?"

Making final decisions on execution

Decide on new revenue growth and profits.
Decide on marketing tools and opportunities for new product development.
Decide on pricing policy for existing and new products.
Decide on employing new sales staff.
Decide on models and distribution services...

---

| | |
| --- | --- |
| Order 750 checklists in MS Word and PDF printable format at $49.99 USD only. | BUY NOW! |

CentriQS Tasks Management Solution

Looking for multi-user task management software? Try CentriQS complete task management solution for planning, tracking and reporting tasks, projects, and schedules. Increase productivity of your small business or office by better organizing your employees' tasks and time.

FREE Download CentriQS
CentriQS -15% OFF
All-in-one business management software
for small and midsize enterprises

---

VIP Task Manager
Multi-user project management software
to plan, schedule and track project tasks.

---

VIP Checklists
More than 750 ready-to-use to-do lists
to plan your personal and business life

---

VIP Team To Do List
Professional task management software
to make and send team todo lists by email

---

VIP Organizer
Personal time management software
to organize time at home and at work

---

VIP Simple To Do List
Simple and effective to-do list software
to plan daily chores, trips, wedding, etc.