Task Management Software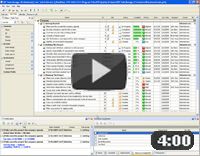 Authorization

TESTIMONIALS
"...This is an excellent program. I'm so glad that I stumbled on to this when researching for task management programs. Very low learning curv, quite flexible, and the price is right. Tried at least 20 other programs, either too complicated, too expensive, or poor documentation..."
Chad Lindsey -
Honolulu, HI
MORE FEEDBACKS

Process Flow Checklist

| | |
| --- | --- |
| | Using process flow charts in business and project management helps managers to plan for successful implementation of workflows, activities and tasks. In this Process Flow Checklist you will find out how to develop a process flow diagram in four steps. |

---

| | |
| --- | --- |
| Order 750 checklists in MS Word and PDF printable format at $49.99 USD only. | BUY NOW! |

1. Process Flow Overview.

Definition. A process flow is a method of representing and documenting steps and procedures in some process. It uses visual tools (flow charts and diagrams) to document inputs of products or any other deliverables. Process flow charts and diagrams are widely used in business management and project management.
Components. A typical process flow includes geometric figures that characterize various pieces of information on a flow diagram. For example, inputs and outputs are usually indicated by ovals; decisions are denoted by diamond boxes; procedures and steps are denoted by rectangles. Relationships between all the components are indicated by lines and arrowheads.
Benefit. Using the process flow in business and project management helps decision makers in resource planning, budgeting, process audit and control, records management, task management, and other fields. The benefit of using process flow charts is that people can visualize a certain process, and decompose it into inputs, outputs, decisions and procedural steps in order to simplify process management and control.

2. Process Flow Chart Development.

Prepare for Development. First of all, you need to determine key tasks and people involved in your process. For example, the Initiation phase of your project can be regarded as a process that is based on the following:

Tasks: Develop a business case, Make a feasibility study, Create a scope statement, Design Project Charter.
People: Project Manager, Sponsor, Customer, Team.

All this information (tasks and people) will serve as inputs for your process flow chart. Inputs will be indicated by ovals. Then you need to show relationships between tasks and people. You can use arrowheads for this purpose.

Develop the Chart. As the input data is gathered, now you can start developing your diagram. You need to determine procedural steps of your process and represent them on the diagram. For example, you determine key steps of your project's development. These steps are:

Develop and approve the project plan.
Create the project schedule and set up durations for project activities.
Design budget and allocate financial resources.
Assign tasks and manage teamwork.
Establish communication between teammates.
Identify and manage risks.
Use milestones to track the project's progress against the schedule.
Reports on the project's status.

All the steps and procedures of your project will be denoted by rectangles on the process flow diagram. Arrowheads and lines should be added to show dependencies.

Make Decisions. When you have outlined procedural steps of your process, you can add decisions to the diagram. Your decisions will be represented by diamond boxes. They will show dynamics of the chart. For example, you include some critical decisions that influence your project's implementation success. You determine the following decisions:

Set or re-set priorities for tasks.
Respond to changes in stakeholders' interests and concerns.
Apply changes to the project plan.
Allocate financial resources to selected areas within your project.
Use contingency plans in case the project is under the risk of failure.
Involve external expert advice in solving certain problems.
Purchase additional equipment and supplies for the project team.

By using arrowheads and lines you can show dependencies between all the decisions made within your project.

Review Results. The final step in developing your process flow diagram is to review and share results. You need to summarize the process and add an appropriate geometrical ...




---

| | |
| --- | --- |
| Order 750 checklists in MS Word and PDF printable format at $49.99 USD only. | BUY NOW! |

CentriQS Tasks Management Solution

Looking for multi-user task management software? Try CentriQS complete task management solution for planning, tracking and reporting tasks, projects, and schedules. Increase productivity of your small business or office by better organizing your employees' tasks and time.

FREE Download CentriQS
CentriQS -15% OFF
All-in-one business management software
for small and midsize enterprises

---

VIP Task Manager
Multi-user project management software
to plan, schedule and track project tasks.

---

VIP Checklists
More than 750 ready-to-use to-do lists
to plan your personal and business life

---

VIP Team To Do List
Professional task management software
to make and send team todo lists by email

---

VIP Organizer
Personal time management software
to organize time at home and at work

---

VIP Simple To Do List
Simple and effective to-do list software
to plan daily chores, trips, wedding, etc.