Task Management Software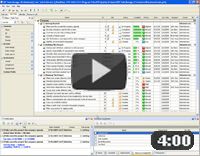 Authorization

TESTIMONIALS
"...This is an excellent program. I'm so glad that I stumbled on to this when researching for task management programs. Very low learning curv, quite flexible, and the price is right. Tried at least 20 other programs, either too complicated, too expensive, or poor documentation..."
Chad Lindsey -
Honolulu, HI
MORE FEEDBACKS

Process improvement checklist

| | |
| --- | --- |
| | This process improvement checklist will be helpful to any organization or business management in order to learn the basics, and it can help them to establish effective and continuous business processes streamlining practice ensuring the highest possible performance, quality, lower costs, and better productivity of their businesses. This checklist explains principles, activities, methods and structure of this procedure. |

---

| | |
| --- | --- |
| Order 750 checklists in MS Word and PDF printable format at $49.99 USD only. | BUY NOW! |

Principles:

The ultimate goal of practice is to reach the best possible balance between the main constraints of the process, so that it consumes fewer resources while produces results of higher (or at least fixed) quality;
Continual monitoring of how the process functions in reality to measure its performance metrics, to detect its fails and problems, to define bottlenecks and risky areas, and to define success rate of particular process segments along with the overall process;
Continual analyzing of the process and its elements to determine opportunities that can be used for increasing its productivity and effectiveness via evaluating these opportunities, planning their feasibility, profitability, investments, impact, effects, and practical ways of realization;
Continual enhancement of the process's body through inventing new ways of streamlining its design, and enhancing its means via purposeful investments into new productive technologies, personnel trainings, cultivating better attitudes, getting ineffective segments re-organized, etc;
Continual process changes evaluation to determine their actual business impact, and to define return on the innovations acquired and optimizations implemented;
Continual process testing using wide variety of modeled situations & tools, and applying extreme scenarios to check stability, consistency and assurance of the process;

Activities (handling and solving problems):

Identifying and locating business process problems via:

Facing defections while practicing business process;
Facing defections while modeling and testing it;
Disclosing fails and possible problems while analyzing process map;

Quantifying problems if detected:

Poor performance metrics;
Resources overspending;
Principal and factual problems (process doesn't meet normal challenges and requirements);

Qualifying problems:

Stable errors (defections of process design);
Occasional errors (risk-related fails, unforeseen contingencies);
Potential and relative problems;

Rating problems:

Critical errors (making the whole process and/or its segments fail);
Insignificant errors (that don't seriously influence the baseline process flow);
Bottlenecks and risky areas (areas fraught with problems in a case of certain conditions);
Ineffective elements (process components that have a significant potential for development for the sake of saving more resources and producing better productivity/results);

Studying, analyzing and identifying opportunities:

Optimizing process schema to eliminate excessive and unnecessary steps;
Correcting errors via redesigning process plan and changing process constraints (basically time, quality, costs);
Avoiding and minimizing process risks;
Bettering elements and tools of the process via implementing new technologies and attitudes;

Evaluating and giving rationale to different opportunities;
Concentrating resources at the most valuable opportunities and developing them;
Continual re-planning, reorganizing and testing the process to streamline it;

Baseline structure:

Determine and take control over the matters of the process which you want to improve (process name, purpose, scopes, controls, products, owner and operational manager, process performance metrics);
Organize a team to improve the process (including process stakeholders and industrial experts);
Study process performance metrics (you can do it, for example, with a help of Benchmarking that is a method of comparing the performance metrics of subjected process against industry's best practices) to recognize its current problems or certain unrealized potential for development;
Visualize the process via depicting its flowchart (schema). This is a step-by-step map including the activities, actions and decisions which take place between the starting and ending points of the process;
Analyze the process's flowchart to research ways for optimizing the process's design by removing its redundant or unnecessary activities, reorganizing consistency of necessary steps;
Analyze the process via using different techniques (see a list in the next section), check fairness and correctness of performance metrics applied on every step of the process, identify process risks, qualify and quantify problems;
Identify and locate problematic process's areas, segments or elements which can be considered as worth/requiring improvement;
Use expertise of project team members to define possible resolutions;
Establish well-defined objectives – examples: making the process cheaper, faster, easier, more productive per rotation, etc;
Run process through Plan-Do-Check-Act cycle (Shewhart-Deming cycle):

Plan: Develop roadmap (identify opportunities, select resolution, set actions and methodologies necessary to implement the change);
Do: Implement and test the change (do a small-scale study defining its success and impact);
Check: Review and analyze the results to identify what you've learned;
Act: Take actions reasoning from what you've learned in the check step (if the change did not work, go through the cycle again with a different plan);

Analyzing techniques:

ICOR (inputs, controls, outputs and resources) is a process analysis methodology for process mapping that defines the inputs, outputs, controls and resources for both the high level process and the sub-processes;
DRIVE is an approach to problem solving and analysis that can be used as part of process improvement (Define, Review, Identify, Verify, Execute);
The Six Sigma technique deals with improving the quality of the process output. This is achieved via removing/reducing factors that may add errors in the end product.
Force Field Analysis is a technique for identifying forces which may help or hamper achieving a change or improvement in the process. Through assessing negative forces, special plans can be developed to overcome them;
Cause & Effect Diagrams for outlining and understanding the inputs & factors affecting the quality of final/intermediate products (CEDAC is a more advanced variant of this method);
Use Brainstorming to generate a large number of ideas;
Statistical process control (SPC) employs statistical techniques to measure and analyze the variation in processes (it ensure that process operates at its full potential to produce appropriate product);




---

| | |
| --- | --- |
| Order 750 checklists in MS Word and PDF printable format at $49.99 USD only. | BUY NOW! |

CentriQS Tasks Management Solution

Looking for multi-user task management software? Try CentriQS complete task management solution for planning, tracking and reporting tasks, projects, and schedules. Increase productivity of your small business or office by better organizing your employees' tasks and time.

FREE Download CentriQS
CentriQS -15% OFF
All-in-one business management software
for small and midsize enterprises

---

VIP Task Manager
Multi-user project management software
to plan, schedule and track project tasks.

---

VIP Checklists
More than 750 ready-to-use to-do lists
to plan your personal and business life

---

VIP Team To Do List
Professional task management software
to make and send team todo lists by email

---

VIP Organizer
Personal time management software
to organize time at home and at work

---

VIP Simple To Do List
Simple and effective to-do list software
to plan daily chores, trips, wedding, etc.