Task Management Software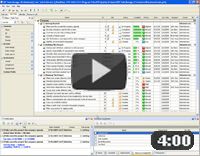 Authorization

TESTIMONIALS
"...This is an excellent program. I'm so glad that I stumbled on to this when researching for task management programs. Very low learning curv, quite flexible, and the price is right. Tried at least 20 other programs, either too complicated, too expensive, or poor documentation..."
Chad Lindsey -
Honolulu, HI
MORE FEEDBACKS

Process Safety Management checklist

| | |
| --- | --- |
| | This Process Safety Management checklist can be helpful for enterprise and business managers of different levels as it can help you to give an all-round definition in your organization to reach a better level of anti-hazard and emergency-prevention policy. This checklist embraces different aspects of on-the-job safety: safety management basics, standards, elements, etc. |

---

| | |
| --- | --- |
| Order 750 checklists in MS Word and PDF printable format at $49.99 USD only. | BUY NOW! |

Requirements:

Clearly defined, well-explained and precisely documented program which expounds safety roles and responsibilities, risks, prevention and mitigation techniques, etc;
Presentation including the process definition, process flow diagram, design criteria, risks & hazards, technical assumptions, references, and safety statements (for example safe upper and lower limits for temperatures, pressures, flows, compositions, etc);
Evaluation and research on the possible negative effects, including those on health and safety, quality of the process's products and results, and the environment (inside and outside of the working premises), if operating beyond of these safe limits;
A set of different established safety-keeping methodologies appropriate to the complexity of the controlled process, and expounded in definite instructions for operators and supporters;
A team of working personnel who are appropriately skilful and possess expertise in engineering (at least basically) and process operations (as appropriate for their positions and duties);
A team of supportive personnel who possess sufficient experience and knowledge to maintain the hazard analysis methodology being used, and to service the process as appropriate;
Appropriate industrial Standards and government regulations have been implemented, introduced, and got working;
Strongly promoted and continually developed process safety culture;
Properly designed, established, regulated, and maintained system which either prevent or mitigate accidents, with elements such as critical alarms and interlocks, pressure relief and venting systems, fire detection, alarming & protection equipment, emergency isolation valves and doors, etc;
Effective manuals studied and understood by everyone who directly participates in the process, and everyone who concerns the process, as appropriate;
Effective Emergency Management system (emergency management strategies, action plans such as emergency evacuation and shutdown plans, specific instructions and requirements are at hands of appropriate staff members);

Elements:

Employee participation;
Process safety information (PSI);
Process hazard analysis (PHA);
Operating procedures;
Training;
Contractor safety;
Pre-startup safety review (PSSR);
Mechanical integrity;
Non-routine work authorizations (hot work permits);
Management of change (MOC);
Incident investigation;
Emergency planning and response;
Compliance audit;
Trade secrets;

Guidelines:

The main tools include the following components to maintain and work at:

Appropriate staff awareness, knowledge and training;
Continuous developing of process safety culture;
Systematic anticipating and prevention of hazardous situations;
Understanding & modeling hazards and their interrelationships;
Ensuring that process and equipment design matches the safety management requirements;

Assign responsibility for maintaining the process safety documentation to a competent clerk(s), establish effective procedures for accessing, managing and changing documents, make sure that all standards and instructions to be followed are properly identified and expounded;
Manage process risks strategically through implementing safe work practices, safety-oriented proceduring and controlling of the process performance operations on every critical step, providing regular trainings to personnel and managers, and conducting regular safety audits;
Improving engineering and administrative controls to develop their better outreach for safety management needs;
Manage technical integrity and reliability of assets to keep their operational readiness;
Conduct regular audits of working facilities,...




---

| | |
| --- | --- |
| Order 750 checklists in MS Word and PDF printable format at $49.99 USD only. | BUY NOW! |

CentriQS Tasks Management Solution

Looking for multi-user task management software? Try CentriQS complete task management solution for planning, tracking and reporting tasks, projects, and schedules. Increase productivity of your small business or office by better organizing your employees' tasks and time.

FREE Download CentriQS
CentriQS -15% OFF
All-in-one business management software
for small and midsize enterprises

---

VIP Task Manager
Multi-user project management software
to plan, schedule and track project tasks.

---

VIP Checklists
More than 750 ready-to-use to-do lists
to plan your personal and business life

---

VIP Team To Do List
Professional task management software
to make and send team todo lists by email

---

VIP Organizer
Personal time management software
to organize time at home and at work

---

VIP Simple To Do List
Simple and effective to-do list software
to plan daily chores, trips, wedding, etc.