Task Management Software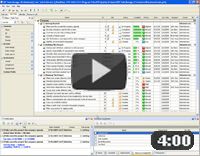 Authorization

TESTIMONIALS
"...This is an excellent program. I'm so glad that I stumbled on to this when researching for task management programs. Very low learning curv, quite flexible, and the price is right. Tried at least 20 other programs, either too complicated, too expensive, or poor documentation..."
Chad Lindsey -
Honolulu, HI
MORE FEEDBACKS

Project Matrix Checklist

| | |
| --- | --- |
| | Project matrix helps combine different types of project data (incl. costs, time, activities, risks, resources, etc.) into a single table to study problems and decisions that define and establish a framework for managing projects. In this Project Matrix Checklist you can read about key items that are included in the matrix of a conventional project. |

---

| | |
| --- | --- |
| Order 750 checklists in MS Word and PDF printable format at $49.99 USD only. | BUY NOW! |

Goals & Objectives.

Communicate with the manager and sponsor of your project to agree on the project purpose.
Determine business drivers through reviewing the business environment your project will operate in.
Be sure that the project purpose follows business drivers.
Review the business case of your project to define what problem to solve by the project.
Analyze the project solution for feasibility and cost-effectiveness.
Define project goals and objectives.
Be sure that project goals and objectives are SMART (specific, measurable, achievable, relevant and time-scaled).
Confirm that every goal or objective is aligned with customer expectations defined in the business case.

Activities.

Define the total amount of work to be performed to complete project goals and objectives.
Create a work decomposition chart (e.g. WBS) to divide the work effort into smaller pieces (tasks and activities).
Develop a phasing plan that explains key phases and stages of your project implementation life-cycle.
Define relationships between key phases and related tasks and activities.
Set activity priorities to define the right execution sequence.
Define (simultaneous) activities and tasks planned for running in parallel.
Develop individual task lists and assign them to team members.

Time.

Create a project time estimate that specifies time required to perform all planned activities and tasks.
Develop individual activity estimates that define working hours required to perform every individual task or activity.
Use those estimates to develop individual schedules and working calendars.
Set milestones for individual schedules and working calendars.
Be sure that every individual schedule/calendar is loaded with necessary human resources.
Develop the project schedule that includes the previous data (project time estimates, individual activity estimates, milestones, resource loading).

Resources.

Create a staffing plan that identifies the need for human resource and explores tools and methods for managing HR throughout the project life-cycle.
Plan for project procurement to define what items to purchase and what contractors to negotiate with.
Develop a cost management plan to explore tools and methods for managing project expenses.
Create a budget sheet that covers all project costs and makes the project ready for implementation.
Identify technological and information resources required for your project.
Make a list of inventories that are necessary to the project.
Develop a resource management plan that includes all the data defined at the previous steps.

Costs.

Establish the cost baseline (an expected amount of project costs).
Identify types and quantity of resources required for your project.
Calculate the total amount of financial resources required to acquire all necessary resources.
Develop a funds request document and send it to the sponsor for review and approval.
Receive the sponsor's approval and get the project ready for launch.
Create a change management plan that explains how to manage cost changes throughout the project life-cycle.

Risks.

Identify types of risks (strategic, operational, compliance, financial, technological) that affect your project.
Use various techniques (e.g. brainstorming, expert interviews, SWOT analysis, questionnaires, surveys) to develop a risk mitigation strategy.
Develop a project contingency plan to define how to act in case some unexpected event happens.
Establish criteria for measuring risks and their impact.
Conduct a meeting to discuss identified risks and make decisions regarding effective risk management.

Build the Matrix.

Create a tabular sheet with multiple rows and columns.
Add the name of your project to the header of your sheet.
Number the rows.
Add titles to the columns, such as Goals, Activities, Time, Resources, Costs, Risks.
Fill in all the rows with relevant information about the key items of your matrix.
Add document history (incl. date created, date last modified, version) to the top of your matrix.
Use the matrix to review your project by the key parameters.
Conduct one or several meetings with the project team and senior...




---

| | |
| --- | --- |
| Order 750 checklists in MS Word and PDF printable format at $49.99 USD only. | BUY NOW! |

CentriQS Tasks Management Solution

Looking for multi-user task management software? Try CentriQS complete task management solution for planning, tracking and reporting tasks, projects, and schedules. Increase productivity of your small business or office by better organizing your employees' tasks and time.

FREE Download CentriQS
CentriQS -15% OFF
All-in-one business management software
for small and midsize enterprises

---

VIP Task Manager
Multi-user project management software
to plan, schedule and track project tasks.

---

VIP Checklists
More than 750 ready-to-use to-do lists
to plan your personal and business life

---

VIP Team To Do List
Professional task management software
to make and send team todo lists by email

---

VIP Organizer
Personal time management software
to organize time at home and at work

---

VIP Simple To Do List
Simple and effective to-do list software
to plan daily chores, trips, wedding, etc.