Task Management Software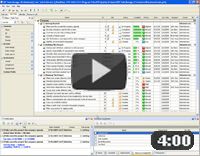 Authorization

TESTIMONIALS
"...This is an excellent program. I'm so glad that I stumbled on to this when researching for task management programs. Very low learning curv, quite flexible, and the price is right. Tried at least 20 other programs, either too complicated, too expensive, or poor documentation..."
Chad Lindsey -
Honolulu, HI
MORE FEEDBACKS

Project Onboarding Checklist

| | |
| --- | --- |
| | The Project Onboarding Checklist is a how-to guide on transferring a project to a new performing organization. You can read the checklist to learn to on-board your projects with minimized risks and increased probability of success. The checklist outlines five steps of the onboarding process. |

---

| | |
| --- | --- |
| Order 750 checklists in MS Word and PDF printable format at $49.99 USD only. | BUY NOW! |

1. Project Onboarding: Overview.

Definition. Project onboarding is a process of managing and controlling the transfer of a project to a new organization. The purpose of this process is to ensure that the organization has a project team understating the degree of alignment and synergy of the project with existing projects.
Key Steps. The onboarding process can be carried out in five steps, such as follows:

Aligning – ensuring that an organization understands the need for transferring a project and agrees the scope and benefits of this project are aligned with its business strategy.
Acquiring – ensuring the organization understands timescales and an amount of resources required for producing the project. Any existing shortfalls should be identified.
Adjusting – verifying that the project team has necessary tools and support required for successful delivery of the project.
Assimilating – verifying that in the project environment there is an appropriate level of interaction with and support from stakeholders.
Accelerating – assisting the team to deliver the project faster while increasing the likelihood of success.

2. Aligning.

Purpose: to make sure your transferring project is in alignment with strategic goals and expectations of your organization.
Review the project's scope, goals, inputs and outputs, success criteria, and benefits.
Confirm that these characteristics remain relevant and consistent with the strategic vision of your organization.
Monitor continued strategic validity and viability of the project once it is admitted for transferring to the organization.
Ensure that any changes occurring within the new project can be support and championed by your project team.
Confirm that strategic revalidation occurs whenever there are changes happening in the organizational context or within the project.

3. Acquiring.

Purpose: through reviewing the project's resource requirements and timescales, ensure your company has the capacity to successfully accomplish the transferring project.
Review the original plan of the project to ensure it contains requirements that can be "embedded" into the existing organizational context.
Initiate necessary changes to the organizational context in case there are any existing shortfalls of the original requirements (it means the company needs to acquire more resources required for the project).
Re-establish the project baseline, including the resource requirements.
Revalidate the project plan.

4. Adjusting.

Purpose: to make sure your project team has necessary skills, tools and support to do the transferring project.
Investigate skills, tools and support used by the original team.
Examine current skills, tools and support of your own team to make sure your people have enough competence and knowledge required for successfully implementing the project.
In case there is a lack of some skills, tools or/and support, provide the team with the missing skill/tool//support through training, re-orientation, re-equipment etc.
Ensure that appropriate methods of authorization and delegation are in place and remain valid so your team can learn and adopt experience of the original team.
When everything is done, verify that your team has all necessary skills, tools and support to do the project.

5. Assimilating.

Purpose: to keep the transferring project within the delivery portfolio identified by the previous steps.
Re-launch or re-initiate the project, considering the changes defined at the previous steps.
Coordinate your team to ensure the project is implemented as desired.
Monitor the implementation status of every change.
Keep stakeholders informed of the implementation status.
In case of any failure or significant deviation from the baseline, develop and apply a corrective action plan.

6. Accelerating.

Purpose: to lead the team to faster project delivery through providing ...




---

| | |
| --- | --- |
| Order 750 checklists in MS Word and PDF printable format at $49.99 USD only. | BUY NOW! |

CentriQS Tasks Management Solution

Looking for multi-user task management software? Try CentriQS complete task management solution for planning, tracking and reporting tasks, projects, and schedules. Increase productivity of your small business or office by better organizing your employees' tasks and time.

FREE Download CentriQS
CentriQS -15% OFF
All-in-one business management software
for small and midsize enterprises

---

VIP Task Manager
Multi-user project management software
to plan, schedule and track project tasks.

---

VIP Checklists
More than 750 ready-to-use to-do lists
to plan your personal and business life

---

VIP Team To Do List
Professional task management software
to make and send team todo lists by email

---

VIP Organizer
Personal time management software
to organize time at home and at work

---

VIP Simple To Do List
Simple and effective to-do list software
to plan daily chores, trips, wedding, etc.