Task Management Software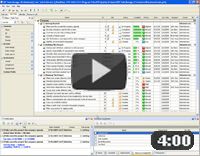 Authorization

TESTIMONIALS
"...This is an excellent program. I'm so glad that I stumbled on to this when researching for task management programs. Very low learning curv, quite flexible, and the price is right. Tried at least 20 other programs, either too complicated, too expensive, or poor documentation..."
Chad Lindsey -
Honolulu, HI
MORE FEEDBACKS

Project termination checklist

| | |
| --- | --- |
| | This project termination checklist will help you to close-out your project correctly. Termination phase is extremely important as every project (doesn't matter if completed successfully or failed) should be properly closed. This checklist embraces many aspects of effective termination, comprising its reasons, modes, and plan for the actual process. |

---

| | |
| --- | --- |
| Order 750 checklists in MS Word and PDF printable format at $49.99 USD only. | BUY NOW! |

Reasons:

Project is completed ahead of schedule and accepted by the sponsors/customers.
Core goals cannot be achieved due to unclear and unrealistic requirements or specifications;
Backgrounds change, so that they don't allow project objectives be completed anymore;
The underlying contract doesn't work anymore due to some critical changes in requirements or specifications, as it cannot be adjusted appropriately;
The project's expected outputs, results and products appear obsolete, so they are not any longer demanded;
Project planning (for example risk management) appears ineffective and counter-productive;
Sudden quit of key stakeholders (for example parent organization does not longer exist), and transition or putting the project on hold is senseless;
Access to critical human resources, tools, funding or materials is suddenly lost;
The project cost significantly increases, so that expected profit becomes critically lower;
Competing project is completed faster and its results are better, than this project is expected to produce (there is no sense to keep developing abortive project);
The parent organization changes its business objectives (policy, mission, strategy, etc), so that project does not match new profile;
Insurmountable problems that can force termination (force-majeure conditions: earthquake, flooding, etc.);
Political problems (lack of organizational management's and/or customer's support);
Project review shows that the project will not help the organization to achieve the desired goals;

Objectives:

Formalizing and documenting wrap-up activities: checking and evaluating results, final project measurements, final reports, collecting client feedback and testimonials;
Finalizing the endeavor without regard to type of project completion (doesn't matter if this is a successful completion, project's complete fail, or premature abandonment);
Reintegrating/accepting/rejecting project results and products;
Doing staff evaluations and redistribution HR to other projects;
Collection, completion and archiving of all project records and documentation;
Documenting vital learnings and issues faced (with their resolutions) for future attempts;
Transferring raw materials to other projects effectively;
Administrative reporting, closing financial issues and final cost summarizing;
Reallocation of funding and other resources to other projects if required;

Modes:

Normal – project that is successfully completed as it was planned;
Premature – project that, for example, is forced towards earlier completion, even through its results don't match all the predefined requirements;
Perpetual – project that is always active (initiating actions on a repeating basis).
Failed – project fails to meet its core objectives due to variety of reasons;
Changed Priority – project loses access to critically important resources, so that cannot be maintained anymore;

Process:

Administrative issues:

Identify a need for project termination;
Identify mode and current project's status;
Elaborate strategies reasoning from mode and current status;

The Customer:

Check, deliver and approve produced outputs and results;
Release and deliver all necessary documentation;
Ensure delivery and installation is accomplished;
Get the final formal acceptance of the project results and products from sponsors/customers;

Ensure completion of work:

Identify remaining work (if something still remains uncompleted, and also plan the necessary project follow-up efforts);
Review essential work packages and activities to find out some open issues;
Support settlement of open issues;
Close out all work authorities and contracts (with vendors, suppliers or customers);
Form up and prepare the transition/support team along with documentation for the upcoming project handover (identify roles for the follow-on maintenance and implementation, warranty period, and customer support scope of the project outputs);

Release resources:

Identify available resources (row materials, funding, equipment, etc);
Return borrowed material and equipment, or renew contacts and redirect them;
Perform team evaluation, and disband or reassign project personnel to other duties;

Financial close out:

Settle all payments (outstanding accounts receivable and payable) and other financial issues (labour, contracts, etc);
Carry out the final project calculations;

Project documentation close out:

Prepare, complete and close all project documentation for a post-project review;
Close all project controlling tools;
Archiving of all project records;

Project analysis:

Perform post implementation analysis (post implementation audit);
Compare proposal to results of post implementation audit;
Identify deviations between the baseline and the actual results;
Study and evaluate different aspects of the project management (staffing, risks, project organization, schedule, costs, quality, configuration, customer expectation and other kinds of functional management);
Ask for feedback of team members, your control board, the customer, and other stakeholders;
Generate the final project reports for your own organization, the customer, other stakeholders;
Prepare the final presentation of the project results and lessons learnt;
Prepare report;
Hold meeting (lessons learnt workshop) – it is arranged by manager who compiles reference materials and shares this information with all attendees;
Make recommendations for future projects;
Project manager sends formal letter signed by key stakeholders to company management to state that project termination is finished and to communicate its results briefly.
Store the example in the inventory of your company to resort to it when closing a project out again.




---

| | |
| --- | --- |
| Order 750 checklists in MS Word and PDF printable format at $49.99 USD only. | BUY NOW! |

CentriQS Tasks Management Solution

Looking for multi-user task management software? Try CentriQS complete task management solution for planning, tracking and reporting tasks, projects, and schedules. Increase productivity of your small business or office by better organizing your employees' tasks and time.

FREE Download CentriQS
CentriQS -15% OFF
All-in-one business management software
for small and midsize enterprises

---

VIP Task Manager
Multi-user project management software
to plan, schedule and track project tasks.

---

VIP Checklists
More than 750 ready-to-use to-do lists
to plan your personal and business life

---

VIP Team To Do List
Professional task management software
to make and send team todo lists by email

---

VIP Organizer
Personal time management software
to organize time at home and at work

---

VIP Simple To Do List
Simple and effective to-do list software
to plan daily chores, trips, wedding, etc.