Task Management Software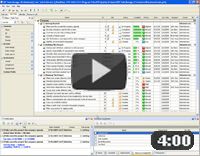 Authorization

TESTIMONIALS
"...This is an excellent program. I'm so glad that I stumbled on to this when researching for task management programs. Very low learning curv, quite flexible, and the price is right. Tried at least 20 other programs, either too complicated, too expensive, or poor documentation..."
Chad Lindsey -
Honolulu, HI
MORE FEEDBACKS

Project transition checklist

| | |
| --- | --- |
| | This project transition checklist explains how to undertake the procedure of handing over the project from its producers (executers) to support or operation team of project's customers, owners or sponsors. It necessary to make sure that a set of essentials processes is established, and the plan is prepared. This checklist will help you to organize and control this procedure. |

---

| | |
| --- | --- |
| Order 750 checklists in MS Word and PDF printable format at $49.99 USD only. | BUY NOW! |

Processes:

Issue Management – when the project progress reaches the phase at last, lots of different problems can arise. Usually, the process of project supporting, implementing or servicing may disclose plenty of issues related to production defections, some miscalculations in design, and unforeseen conditions. It is necessary for the project service/support/implementation team to have effective, well-documented process for collecting, describing and handling these issues.
Risk Management – it is necessary to control risks which may prevent project from successful transition. Different risks related to project's follow-up service/support/implementation should be defined, evaluated, rated and minimized. The team should have the register of these risks, and manage a special journal to record the actual situation, along with using clear instructions on avoiding, minimizing and remedying impact of probable risks.
Quality Assurance – as some serious problems can appear, and then should be identified, located, and investigated, it is necessary to take steps on fixing them and ensuring that these troubles are not only neutralized, but also prevented from repeating in future. For this purpose, the team should have all means and competence to fix issues on-site (ideally), but if it is impossible then you need to organize accurate and responsive support from technical specialists to ensure proper quality of every aspect.
Configuration Management – usually, some new ideas on using certain product's features can appear during the transition phase, as well as some ideas on mild project's configuration. It's ok that some new ideas can arise only on this phase. What is necessary to do is to organize a procedure for evaluating, feasibility study, accepting, and realizing these changes (for example, in a new edition, version, etc), so that the project's scope, quality and security requirements remain secure.
Knowledge transferring management – this process includes all kinds of on-site, on-the-job, and theoretical trainings, preparing and transferring all necessary technical and supportive documentation, creating user manuals or other tutorial materials, and ensuring that knowledge is properly learnt.

Plan:

Basic planning:

Identify the scope of project transition and the owner;
Identify project service/support/implementation team that will undertake further operations (the team which the project should be handed over to);
Identify transition contact (the manager of the receiving workgroup, responsible for the project reception and further project follow-up operations);
Identify methods and controls (how the organization will control and manage the project transition processes to ensure its success);
Create plan template (or take a standard one from organization's inventory);
Meet the transition contact to estimate and agree support/service/implementation terms (see the next section for the list of activities to discuss);

Activities and matters to discuss with transition contact:

Review and agree the schedule and final handover date;
Review and agree responsibilities and tasks of the receiving workgroup;
Estimate and agree requirements and resources;
Review and agree collaboration on the processes;
Review and agree communication mechanisms;
Review and agree plan to be validated and put in progress;

Document templates:

Deliver plan to stakeholders for verification if required;
Review and agree all the supportive documentation required from the side of producers;
Review and agree necessary reporting documentation to be regularly (and finally) delivered by the service/support/implementation team to the owner;

Support team:

Identify the required user supportive documentation and deliver it;
Develop and conduct the trainings required to reach the excellent level of knowledge;
Ensure their representatives attending the project meetings and testing the project's outputs (if possible);

Operations:

Ensure the knowledge transferring activities;
Ensure studying the users and provide necessary supportive/technical documentation;
Prevent any misusing and eliminate any misconceptions;
Ensure complete engagement in testing and providing feedbacks;




---

| | |
| --- | --- |
| Order 750 checklists in MS Word and PDF printable format at $49.99 USD only. | BUY NOW! |

CentriQS Tasks Management Solution

Looking for multi-user task management software? Try CentriQS complete task management solution for planning, tracking and reporting tasks, projects, and schedules. Increase productivity of your small business or office by better organizing your employees' tasks and time.

FREE Download CentriQS
CentriQS -15% OFF
All-in-one business management software
for small and midsize enterprises

---

VIP Task Manager
Multi-user project management software
to plan, schedule and track project tasks.

---

VIP Checklists
More than 750 ready-to-use to-do lists
to plan your personal and business life

---

VIP Team To Do List
Professional task management software
to make and send team todo lists by email

---

VIP Organizer
Personal time management software
to organize time at home and at work

---

VIP Simple To Do List
Simple and effective to-do list software
to plan daily chores, trips, wedding, etc.