Task Management Software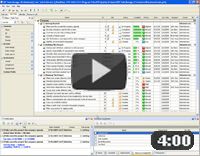 Authorization

TESTIMONIALS
"...This is an excellent program. I'm so glad that I stumbled on to this when researching for task management programs. Very low learning curv, quite flexible, and the price is right. Tried at least 20 other programs, either too complicated, too expensive, or poor documentation..."
Chad Lindsey -
Honolulu, HI
MORE FEEDBACKS

Restaurant Checklist

Restaurant startup checklist will help you identify, plan, and organize many details that take place during planning, investing, and development of any restaurant. The checklist combines small checklists, such as operations, sanitation, and service, to give you complete information about opening and managing your restaurant.

RestaurantChecklist.zip 6,5 Kb

---

| | |
| --- | --- |
| Order 750 checklists in MS Word and PDF printable format at $49.99 USD only. | BUY NOW! |

1. Opening

Considering space of your restaurant facility:

Dining room takes about 40-60 percent of the restaurant's space.
Kitchen space and preparation area take up to 30 percent of the restaurant's space.
Storage space takes around 20 percent of the restaurant's space.
Office space takes 10 percent of the restaurant's space.

Investing in stock start-up inventory

The range of inventory on your stock required to maintain operations in your restaurant for the first year will depend on the kind and size of the restaurant you are going to open. An expected amount of investment can fall between:

$5,000 - $50,000 for food
$3,000 - $19,000 for beverages
$500 - $1,700 for paper products

Hiring employees

Take into consideration that the employees you hire to work in your restaurant will significantly define your restaurant's reputation. Depending on the size and kind of your restaurant you need to select staff considering the following personnel categories:

Manager
Cooks
Dishwashers
Bartenders
Waiting staff
Cleaning personnel

2. Maintenance

Restaurant Equipment

Equipment for kitchen and prep area:

Oven, grill, deep-fryer and steam table
Reach-in cooler and walk-in cooler
Freezer and refrigerators
Sauce pans, stock/soup pots
Baking sheets, pizza screens and baking pans
Spatulas, tongs, chef's knives, pizza paddle, ladles,
Mixing bowls and pasta bowls
Plastic inserts for coolers
Entrée plates, appetizer plates, dessert plates, salad plates
Metal or plastic shelves for walk-in cooler
Cleaning rags and rubber floor mats

Equipment for dining room:

Ashtrays
Cashier stands
Cooking carts
Countertop displays
Dessert dishes
Display mirrors
Menu covers, check holders and reservation books
Peppermills
Serving trays
Signs, menu boards and easels
Table skirting
Tablecloths and napkins
Wine buckets and stands

Cleaning:

Bathroom cleaning:

Scrub shower and stall
Repair water leakage and replace leaking tiles or pipes
Clean shower curtains and liners
Sanitize bathrooms
Clean and disinfect sinks counters, toilets, urinals, and mirrors

Kitchen cleaning:

Wash kitchen hoods
Clean exhaust coolers, fans, and filters
Clean tables
Wash grease traps
Mop and wax floors and wash mats in kitchen and prep area
Vacuum waiting areas
Wash internal & external windows
Brush dust windows, air conditioner vents
Re-fill consumables, including paper products and soap

Safety:

Make sure pest control services are performed regularly by licensed contractors.
Check if first-aid kits are fully equipped with all items, and they are available.
Make sure at least one employee in each working shift is well-trained in administering first-aid.
Make sure your restaurant has obtained all certificates of insurance
Post emergency telephone numbers for medical service, fire emergency service and police on walls and tables, where appropriate.
Make sure all chipped, cracked or broken utensils are taken out of service and discarded.

Inspection

For stock:

All food items are received from approved, certificated and licensed suppliers, in good condition and at proper temperatures
All food items are labeled and stored off the floor
All food items are covered and wrapped
Food storage rooms are clean and organized

For kitchen and equipment:

Food cooking equipment is kept washed and sanitized after use
The sanitizing rinse is done at the 3-compartment sink at the proper concentration
Dishwashers are filled with the sanitizing rinse at the proper concentration and temperature
Kitchen and prep area are kept clean and sanitized
All chemicals are properly labeled and always stored separately from food

For facility:

Walls, floors, and ceilings are kept clean and in good repair
Bathrooms are kept clean and stocked with soap, towels, and toilet paper
Bathrooms are free of insects and disinfected
All dumpster areas in bathrooms are kept clean and organized

For employees:

Your restaurant has the required number of certified personnel
All employees wear clean clothing each working shift
All employees, especially cooking staff and waiters, use hair restraints
All employees always wash their hands before starting work, after using bathrooms, and after breaks
Cooking staff always follows good hygiene practices
All employees do not eat, drink, or smoke at kitchen and prep areas

3. Closing

Talk to kitchen manager to make sure that all food orders are completed and receiving of new orders is stopped
Notify guests who are in dining room of the forthcoming closing
Lock front doors after all guests have left the restaurant
Turn off sound systems and any lights not being used
Make sure cleaning staff tides up dining room, kitchen and prep area
Collect and balance check-out sheets and tip sheets
Close bar and kitchen at scheduled time
Lock your office...

---

| | |
| --- | --- |
| Order 750 checklists in MS Word and PDF printable format at $49.99 USD only. | BUY NOW! |

CentriQS Tasks Management Solution

Looking for multi-user task management software? Try CentriQS complete task management solution for planning, tracking and reporting tasks, projects, and schedules. Increase productivity of your small business or office by better organizing your employees' tasks and time.

FREE Download CentriQS
CentriQS -15% OFF
All-in-one business management software
for small and midsize enterprises

---

VIP Task Manager
Multi-user project management software
to plan, schedule and track project tasks.

---

VIP Checklists
More than 750 ready-to-use to-do lists
to plan your personal and business life

---

VIP Team To Do List
Professional task management software
to make and send team todo lists by email

---

VIP Organizer
Personal time management software
to organize time at home and at work

---

VIP Simple To Do List
Simple and effective to-do list software
to plan daily chores, trips, wedding, etc.