Task Management Software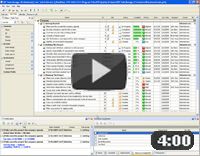 Authorization

TESTIMONIALS
"...This is an excellent program. I'm so glad that I stumbled on to this when researching for task management programs. Very low learning curv, quite flexible, and the price is right. Tried at least 20 other programs, either too complicated, too expensive, or poor documentation..."
Chad Lindsey -
Honolulu, HI
MORE FEEDBACKS

Risk Identification Checklist

| | |
| --- | --- |
| | Without clear tools and methods it is impossible to identify events that may cause risks impeding the achievement of your particular strategy or objective. Such tools help you determine any threats and uncertainties surrounding your project and uncover opportunities that may take your project to a higher level of performance. Use the risk identification checklist to learn more about these tools and methods. |

---

| | |
| --- | --- |
| Order 750 checklists in MS Word and PDF printable format at $49.99 USD only. | BUY NOW! |

Types of Project Risks.

Strategic risks refer to uncertainties with long-term strategic objectives. Strategic risks affect such areas as initial project financing, reputation, changes in the physical environment, etc.
Operational risks concern issues which members of your project team face from day to day. Mitigation of operational risks contributes to reduction of strategic risks.
Financial risks are those risks associated with finances of your project and with all financial transactions made to progress the project. Mitigation of financial risks allows ensuring that there are no serious implications for viability of your project.
Compliance risks refer to uncertainties associated with the need to comply your project activities with documented statements and regulations. Mitigating compliance risks allows ensuring that your project is running in the manner which project stakeholders and customers expect.
Knowledge risks are associated with uncertainties and threats that may impede effective management and control of knowledge resources and communication mechanisms. In your project you may face such knowledge risks as abuse of intellectual property, loss of the key project staff, system malfunction, etc.

Process.

Risk Identification is a process of using approaches to define which uncertainties and threats surround and affect project activities and to document risk characteristics. Software is usually used to manage the process.
Purpose: the process is aimed at determining potential threats and uncovering uncertainties that affect the project and cause its failure or low performance, and at developing descriptions of key risk characteristics to find solutions for eliminating or at least mitigating the probability of risk occurrence.
Approaches: There are a number of methods, techniques and approaches to identifying project risks. In this template, the following techniques have been depicted: Brainstorming, Expert interviews and self-assessment, SWOT analysis, Risk questionnaires and risk surveys.
Tools: to identify risks and manage uncertainties, usually worksheets and forms are used. A worksheet is a document that contains a list of tasks necessary to undertake the process. A form is a formal template that documents descriptions and characteristics of identified risks. Such forms are the basis for creating tables.
Report: the process results in creating list in the form of report that includes descriptions and key characteristics of identified risks. Such a list is used to develop a matrix for analyzing and assessing risks.

Techniques.

Brainstorming. This technique can be used only when all participants of your team clearly understand objectives of your project. A brainstorming session will help activate the creativity of participants to generate a list of potential risks. Your team should work collaboratively to articulate any risks and uncertainties that surround your project. Organization of brainstorming sessions requires special leadership skills and training. If you have enough competencies and experience in managing brainstorming sessions, you can try to lead your team by yourself. Alternatively, you can employ certified trainers and mentors who will take care of necessary preparations for brainstorming sessions.
Expert interviews and self-assessment. This method combines two different processes. The first process assumes that each competent individual of organizational or operating units of your company is given a template that includes instructions to list the key tasks within his/her area of responsibility and the risks that may impede the achievement of these tasks. The second process assumes that each individual is asked to personally assess the risks surrounding his/her area of responsibility by using practical framework categories of risk identification. The two processes result in generating documents to be submitted to a group of risk coordinators who follow up with interviews to clarify issues. When interviewing each individual, the group can use a five-point scale to determine a risk management capability score per interviewee.
SWOT analysis. Strengths, Weaknesses, Opportunities and Threats analysis is a flexible technique often used in the formulation of a strategy. The technique can be applied to identifying risks by analyzing Strengths and Weaknesses of your company. SWOT analysis helps analyze your company's culture, structure, and financial and human resources and identify the core competencies that form the basis for achieving a competitive advantage by the company. The analysis allows determining Opportunities and Threats that are typically not under control of senior management. It helps identify a wide range of political, societal, environmental and industry risks.
Risk questionnaires and risk surveys. This method allows using risk questionnaires that include a series of questions on both internal and external project events to identify risks. Questions on the internal perspective usually address any risks relating to customers, vendors, products, investors, processes, information systems, etc. Questions on the external perspective cover regulatory risks, industry risks, economic risks, market risks, environmental risks, and so on. The method of risk questionnaires and risk surveys is valuable because it helps you think through your project's risks by providing a list of questions around certain threats and uncertainties. The weak side of risk questionnaires and surveys is that questionnaires usually are not linked to your overall strategy.




---

| | |
| --- | --- |
| Order 750 checklists in MS Word and PDF printable format at $49.99 USD only. | BUY NOW! |

CentriQS Tasks Management Solution

Looking for multi-user task management software? Try CentriQS complete task management solution for planning, tracking and reporting tasks, projects, and schedules. Increase productivity of your small business or office by better organizing your employees' tasks and time.

FREE Download CentriQS
CentriQS -15% OFF
All-in-one business management software
for small and midsize enterprises

---

VIP Task Manager
Multi-user project management software
to plan, schedule and track project tasks.

---

VIP Checklists
More than 750 ready-to-use to-do lists
to plan your personal and business life

---

VIP Team To Do List
Professional task management software
to make and send team todo lists by email

---

VIP Organizer
Personal time management software
to organize time at home and at work

---

VIP Simple To Do List
Simple and effective to-do list software
to plan daily chores, trips, wedding, etc.