Task Management Software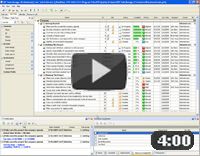 Authorization

TESTIMONIALS
"...This is an excellent program. I'm so glad that I stumbled on to this when researching for task management programs. Very low learning curv, quite flexible, and the price is right. Tried at least 20 other programs, either too complicated, too expensive, or poor documentation..."
Chad Lindsey -
Honolulu, HI
MORE FEEDBACKS

Sales Training Checklist

| | |
| --- | --- |
| | This Sales Training Checklist is a brief document designed to help you in managing qualification improvement of your salespeople to upgrade their skills and attitudes. Its first section is dedicated to development of sales training programs at your enterprise, while the next part of this Sales Training Checklist is about essential sales skills to improve. |

---

| | |
| --- | --- |
| Order 750 checklists in MS Word and PDF printable format at $49.99 USD only. | BUY NOW! |

Developing Sales Training Programs:

You can't teach your salespeople all the selling skills in one day, but you can do this through the long-term consistent programs that cover different areas of making a sale, including some things remaining for self-education to carry out by salespeople;
Identify the specific selling skills you need to sharpen at first. Understand what you want from sales personnel to be able to do after training;
Identify appropriate sales training courses (see the list of possible solutions below), these are common definitions, however, different consulting companies may give their own formulations;
Select the right training suppliers and sales trainer(s). Study their reputation, their attitudes, etc. Employ only qualified training guides who can prove their significant experience in sales;
Identify and prepare tools: training materials, tutorial videos and recommended books, video presentations, charts, training dialog scenarios, video projection system, etc;
Compose training schedules to engage all your sales managers at once or by small groups and to complete the course in adequate terms;
Make sure that all theoretical tips and conceptions are intensively practiced by salespersons both in tutorial environment and with real customers;
Elaborate and promote training techniques that you want to get focused on. For example, try to develop and cultivate an image of your typical salesperson: Competent (expert), Confident (responsible), Commited (a real professional) and Honest executive who is capable of managing long-term relations with clients (customer retention);
Plan and control each sales training's agenda to know how the knowledge of your salesperson progresses over the time;
Demand to include a bigger number of practical training activities into each course, so your salespeople can smoothly link up their newly obtained theoretical knowledge with practice;
Demand the sales training reports after each training course to track if all the salespersons were properly trained, examined and certified;
Regularly delegate your staff members to seminars to better their qualifications;
Establish sales training workshops where more experienced managers can share their skills with less trained personnel;

Possible Sales Training Courses:

Knowledge Training (product/ service/ industry):

What we sell and to whom;
Why our product is the best (advantages);
What issues can be faced when using our product (avoiding any misuse);
What are our target customers and how to approach them;
How to contact our target customers;
Top competitor review;

Effective Communications, the purposes of such a course are:

Cultivating a clear and pleasant speech (good articulation and language);
Developing skills to build correct and clear sentences;
Promoting interpersonal politeness and sales ethics as a profound salesperson's professional instruments to reach and maintain steady interpersonal contacts (business confidence);
Teach your salespersons to initiate, secure, maintain and develop business contacts correctly (to start and keep up dialog) with sales prospects of different types and difficulty;

Formulating and Answering Questions Effectively, the conception of such a course:

Good salesperson is not one who jabbers non-stop about products and services he/she tries to sell (salesman is not just an advertiser or promoter, but a manager who owns the sales process and undertakes responsibility for its results);
Good sales person is one who attentively listens to the prospect and accurately leads him/her (by asking certain suggestive question) to some conclusions that assist the salesperson to make a sale (but these questions should be brief and fully ethical yet);
Such a course is called to teach sales personnel to distinguish different types of questions and to ask only sensible questions while working with clients;
To understand common and corporate philosophy and psychology of questions;
To understand what customers want to know and what you need to know to make a sale;
To know the list of Frequently Asked Questions and how to answer them correctly;

Quick Problem Solving skills:

Capability to invent win-win solutions and meet area of customer's interests without harming our own ones;
This skill is important to a salesperson to let him/her solve any incoming problems quickly (to reach a prospect with an appropriate resolution for their issues and claims);
Ability to solve problems quickly needs a good knowledge and expertise in the business area where a salesman operates, so a salesman should brilliantly know what kind of goods/products he sells and what kind of customers he usually approaches;

Customer Background Investigation:

When you approach a serious corporate customer, it would be ...




---

| | |
| --- | --- |
| Order 750 checklists in MS Word and PDF printable format at $49.99 USD only. | BUY NOW! |

.

CentriQS Tasks Management Solution

Looking for multi-user task management software? Try CentriQS complete task management solution for planning, tracking and reporting tasks, projects, and schedules. Increase productivity of your small business or office by better organizing your employees' tasks and time.

FREE Download CentriQS
CentriQS -15% OFF
All-in-one business management software
for small and midsize enterprises

---

VIP Task Manager
Multi-user project management software
to plan, schedule and track project tasks.

---

VIP Checklists
More than 750 ready-to-use to-do lists
to plan your personal and business life

---

VIP Team To Do List
Professional task management software
to make and send team todo lists by email

---

VIP Organizer
Personal time management software
to organize time at home and at work

---

VIP Simple To Do List
Simple and effective to-do list software
to plan daily chores, trips, wedding, etc.