Task Management Software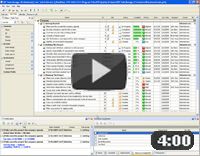 Authorization

TESTIMONIALS
"...This is an excellent program. I'm so glad that I stumbled on to this when researching for task management programs. Very low learning curv, quite flexible, and the price is right. Tried at least 20 other programs, either too complicated, too expensive, or poor documentation..."
Chad Lindsey -
Honolulu, HI
MORE FEEDBACKS

Self assessment

| | |
| --- | --- |
| | This self assessment checklist will be helpful for anyone who would like to conduct the process for better personality understanding and improvement. This checklist can be used by employers and HR specialists for making form to analyze subjected persons in order of studying their approaches on perceiving their actions and the following consequences to take all-round research reflecting personal values. |

---

| | |
| --- | --- |
| Order 750 checklists in MS Word and PDF printable format at $49.99 USD only. | BUY NOW! |

Personal characteristics:

Am I a self-confident person? What does it mean for me to be self-confident?
Am I a generally honest person? What does it mean for me to be honest?
Am I capable to give honest estimation of my qualities, including consideration of my weaknesses?
Do I agree that deeds speak for a person better than words?
Do I think analytically?
How may I describe my level of skepticism?
How may I describe my temperament?
Do I often blame others for my failures?
Do I appreciate others for my success?
Do I agree that the most of our failures we cause ourselves?
Do I perceive myself critically or would I rather criticize others?
Am I ready to accept responsibility for my failures?
Am I ready to share success with others?
Do I want to study something totally new?
Will I explain my displeasure openly or will I rather disguise it?
Am I committed to continual personal development? What does it mean for me?

Communicating and explaining thoughts:

Can I clearly explain my thoughts in writing?
Am I effective in verbal communication with people?
Am I effective in wording when trying to formulate my ideas?
Is it easy for me to find an appropriate approach to specific person?
Do people often ask me to repeat or explain my words?
Is my speech literate?
When I speak to lay people, do I aspire to fill my wording with professional and special terms to look more competent?
Am I polite when speaking?
When I am asked to explain something in details or asked too many question, will I become nervous?
Will I ignore some questions that I don't understand/know how to answer/like?
Do I like to ask different questions?
What is my ethics in asking questions?
Am I effective in asking questions when I need to clarify someone's backgrounds?
Am I a good listener?
Do people perceive me as a "nice guy"?
Did I study on some speech-craft trainings?
Am I attentive to my speech?

Collaborative qualities:

Do I like to advice, help and coach, or would I prefer to concentrate only at my own work?
Do I think that less-experienced people deserve my assistance and guidance, or would I let them to study from their own mistakes?
When trying to assist someone, isn't my help importunate or overwhelming?
Is it easy for me to ask more experienced team members for their assistance?
Do I have a talent to empower others?
If I notice defects in work of my colleague, will I discuss these mistakes with him/her, or will I directly report them to superiors?
Is it easy for me to make a contact with others?
Will I promote my own viewpoint only for the sake of my self-assertion?
Do I often get into conflict situations? If yes, why it is so?
Can I neutralize conflict situations effectively? If yes, what are my favorite methods?
Do I have the same standards for evaluating me and others?
Am I sensitive to the needs of other people?
Is it easy for me to rely on my teammates, or would I better keep everything under control?

Effectiveness in compromising:

Is it easy for me to initiate negotiating with others to achieve common tasks and goals?
Is it usually easy for me to find a consensus on doubtful points?
Can I turn a blind eye to other people's negative features for the sake of common goals?
If some conflict or discussion appears, will I agree to involve more experienced facilitator to solve the issue?
Whether I clearly understand that compromising is a middle way between two extremes (opposite points of view), but not surrendering of my opinion, and not forcing opponents to give up?
How do I think – is compromising a way to find win-win solution, or rather lose-lose one? How can you describe both types of solutions in own words?

Work approaches:

Am I rather committed to stand-alone carrier, like sole free-lancer or entrepreneur?
Am I rather committed to working in a collective (as a part of team)?
Am I committed to continual professional development? What does it mean for me?
Am I a perfectionist?
Is it normal for me to postpone hard tasks?
Would I struggle resolving some non-trivial issue myself, or would I rather ask for someone's expertise to save my time?

Creativity approaches:

Do I often think creatively?
Is it easy for me to generate something new or different?
Do I have a good imagination?
Do I like to perform creative jobs?
Am I open to consider new ideas?
Do I like to experiment with new things?
Do I like to implement innovations even when they are not actually necessary?
Do I often generate useful ideas?
Would I openly share my ideas with others or would I rather prefer to hide my thoughts?
Do I like to develop ideas of other people?
Would I appropriate someone else's idea to position it as my own?
Would I sweep aside ideas from people whom I don't like?
Am I good at solving non-trivial issues?




---

| | |
| --- | --- |
| Order 750 checklists in MS Word and PDF printable format at $49.99 USD only. | BUY NOW! |

CentriQS Tasks Management Solution

Looking for multi-user task management software? Try CentriQS complete task management solution for planning, tracking and reporting tasks, projects, and schedules. Increase productivity of your small business or office by better organizing your employees' tasks and time.

FREE Download CentriQS
CentriQS -15% OFF
All-in-one business management software
for small and midsize enterprises

---

VIP Task Manager
Multi-user project management software
to plan, schedule and track project tasks.

---

VIP Checklists
More than 750 ready-to-use to-do lists
to plan your personal and business life

---

VIP Team To Do List
Professional task management software
to make and send team todo lists by email

---

VIP Organizer
Personal time management software
to organize time at home and at work

---

VIP Simple To Do List
Simple and effective to-do list software
to plan daily chores, trips, wedding, etc.