Task Management Software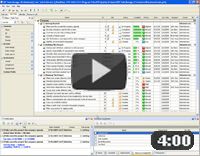 Authorization

TESTIMONIALS
"...This is an excellent program. I'm so glad that I stumbled on to this when researching for task management programs. Very low learning curv, quite flexible, and the price is right. Tried at least 20 other programs, either too complicated, too expensive, or poor documentation..."
Chad Lindsey -
Honolulu, HI
MORE FEEDBACKS

Task Prioritization Checklist

| | |
| --- | --- |
| | This Task Prioritization Checklist is created for those who need to set priorities across their tasks, whether in daily practice or projects. Everyone who has ever studied time management knows that task prioritization management is one of the most essential skills to make you successful in work, and therefore this checklist provides you with a bunch of methods to prioritize your tasks, along with some clear guidelines to follow. |

---

| | |
| --- | --- |
| Order 750 checklists in MS Word and PDF printable format at $49.99 USD only. | BUY NOW! |

Task Prioritization Techniques with examples:

Task Prioritization Matrix:
Creating a simple tabular template divided into four quadrants (so called "Covey's Quadrants") where your tasks can be characterized and placed according to balance between their Urgency and Importance. These Priority Quadrants are:

Quadrant of Necessity (Urgent-Important) – to Manage its tasks as best as you can;
Quadrant of Quality & Personal Leadership (Not Urgent-Important) – to Focus on to achieve your goals faster;
Quadrant of Deception (Urgent-Not Important) – to be Careful with;
Quadrant of Waste (Not Urgent-Not Important) – to Avoid as much as possible;

Task Prioritization Grids and Sheets:
Making a to-do list of tasks, so your action items are arranged in a descending manner: from the top tasks (the most valuable ones for you) and going down to the bottom rows where the less important tasks reside. You can use just your subjective judgment, or a payoff method based on rating each task by the payoff you expect from it versus the time it takes to do it;

Paired Task Comparison Prioritization Method:
The method uses a simple scoring logic to compare and rate your tasks; it works well for small numbers of tasks. You need to list all your pending tasks (let's say you have just four items on the list) and compare them against each other:

1 to 2, 1 to 3, 1 to 4;
2 to 3, 2 to 4;
3 to 4;


Then you record a check mark (a star) against the winner of each pair comparison (against the more important task). The absolute winner (a task that has more stars) goes at the top of your to-do list;

ABC Prioritization Method:
Another simple method, which stands for rating your tasks with ABC marks (you can also use more letters and priority levels if you wish):

A = vital tasks;
B = important tasks;
C = nice to complete someday;



POSEC Task Prioritization Method:
P.O.S.E.C is an acronym that stands for:

Prioritize – define your tasks by goals and make a plan to work on them to add stability and security into your activities (so you know what aims you are pursuing);
Organizing – cope with regular things to keep yourself "afloat" (routine and administrative tasks, addressing and optimizing your data, organizing tools, etc);
Streamlining – some difficult things that you may not be excited about to do, but you have to complete them anyway;
Economizing – tasks that you need to do, they can be even easy and enjoyable, but they're not pressingly urgent yet;
Contributing – tasks without an immediate measurable outcome, some kind of a free-will social contribution (like an extra-time dedicated to serving a client);

Task Prioritization by Time Management:
A simple way of prioritizing your tasks according to just their deadlines: the tasks are equivalent so tasks with the nearest deadlines are placed at the top of the list;

Task Prioritization in Project Management:
In order to prioritize tasks in project management it is necessary to define project's critical path first, so all resources and efforts can be directed at serving these tasks. These vital tasks become the highest priorities, while all other secondary tasks can be prioritized through a series of work prioritization questions and interviews with project stakeholders and executives who will contribute their expertise and opinions.

Tasks Prioritization Plan:

Select the prioritization model suiting your case;
Select appropriate prioritization tools:

The best approach is using an electronic task list (regardless of what software or e-mail system you use, and what method you prefer), we recommend you to try VIP Task Manager (for business and project teams) or VIP Organizer (a tool for individuals);

List all your actions and tasks to create complete overview of items to prioritize;
Determine and record due dates for your tasks and activities;
Figure out which of these planned appointments are just unavoidable – cannot be rescheduled ...




---

| | |
| --- | --- |
| Order 750 checklists in MS Word and PDF printable format at $49.99 USD only. | BUY NOW! |

.

CentriQS Tasks Management Solution

Looking for multi-user task management software? Try CentriQS complete task management solution for planning, tracking and reporting tasks, projects, and schedules. Increase productivity of your small business or office by better organizing your employees' tasks and time.

FREE Download CentriQS
CentriQS -15% OFF
All-in-one business management software
for small and midsize enterprises

---

VIP Task Manager
Multi-user project management software
to plan, schedule and track project tasks.

---

VIP Checklists
More than 750 ready-to-use to-do lists
to plan your personal and business life

---

VIP Team To Do List
Professional task management software
to make and send team todo lists by email

---

VIP Organizer
Personal time management software
to organize time at home and at work

---

VIP Simple To Do List
Simple and effective to-do list software
to plan daily chores, trips, wedding, etc.