Task Management Software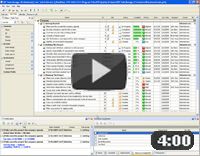 Authorization

TESTIMONIALS
"...This is an excellent program. I'm so glad that I stumbled on to this when researching for task management programs. Very low learning curv, quite flexible, and the price is right. Tried at least 20 other programs, either too complicated, too expensive, or poor documentation..."
Chad Lindsey -
Honolulu, HI
MORE FEEDBACKS

Team Management Checklist

| | |
| --- | --- |
| | Selecting and following a team management approach can be a real challenge for team leaders and managers who want to make their teams more productive and receive better results of teamwork. The Team Management Checklist gives a series of tips and recommendations on how to motivate and train a team, measure team performance, and resolve team conflicts. |

---

| | |
| --- | --- |
| Order 750 checklists in MS Word and PDF printable format at $49.99 USD only. | BUY NOW! |

Motivation

Set only work-related goals. Your team will be better motivated to do a job when it understands the goals to be achieved. Teamwork should be directed only towards achieving assigned and relevant goals which are important to the team and let team members use their skills and abilities.
Introduce a system of effective discipline and punishment. Team motivation and accountability will be increased when the team is highly disciplined yet punishments are fairly assigned.
Create an environment of high expectations. Each member of your team wants to achieve some goal (e.g. promotion, an increase in salary, recognition), so try to support the team and create an environment that contributes to the achievement of their expectations.
Try to satisfy employee needs. When an employee feels satisfaction, his level of motivation gets higher. Do your best to solve issues and satisfy employee needs.
Respond to changes in the work environment. Your team constantly develops and the work environment changes, so new challenges may appear. Your goal is to be able to restructure and reallocate jobs in order to ensure that each team member is assigned to appropriate tasks.
Motivate through rewards. When your team shows higher job performance you need to pay well-deserved rewards. Motivation through giving rewards is one of the most efficient methods of solving problems.

Conflict Resolution

Work on creation of an environment in which all the parties involved in the conflict understand that the goal of your practice is to resolve the conflict, but not to make it more complex and confused.
Make sure all the parties want to resolve the conflict. They should admit that the conflict is a mutual problem, not just a win or lose.
Explore the reasons for the conflict.
Generate possible solutions for the conflict.
Use meetings and group discussions to let the parties to agree on which solution is most appropriate.
Confirm the agreed solution and work on its implementation.
Evaluate the implementation – if the solution failed you should find another solution that could resolve the conflict.
Celebrate your success.

Performance

Set clearly defined and measurable standards of team performance.
Make sure team members have skills and knowledge required to do their jobs. You can develop a system of KPIs to measure performance and skills of your team.
Provide your team with complete and regular information on how team members work and whether they meet the standards. Software (e.g. VIP Task Manager) will be helpful.
Gather feedback from your team in order to get a better understanding of the existing team environment and communicate directly with each team member.
Encourage your team for better results received and higher efficiency achieved – then the team will be interested in continuous improvement and self-development.

Training

Individual and Group training programs. Use both programs to ensure development of individual skills and team-related abilities. Individual training programs help achieve goals and meet any additional needs that an individual may have. Group training programs focus on teaching team members to achieve group-related and shared goals and to work collaboratively.
Develop a team training plan. Use such a plan to outline training goals for a specific group of employees as well as for the entire team. Your plan should be distributed to the team so that everyone knows the goals of team training activities for the next 6-12 months.
Follow the plan. Use task management software to create an electronic version of your team training plan and assign tasks to confident persons (trainers) who will train your team following your strategies.




---

| | |
| --- | --- |
| Order 750 checklists in MS Word and PDF printable format at $49.99 USD only. | BUY NOW! |

CentriQS Tasks Management Solution

Looking for multi-user task management software? Try CentriQS complete task management solution for planning, tracking and reporting tasks, projects, and schedules. Increase productivity of your small business or office by better organizing your employees' tasks and time.

FREE Download CentriQS
CentriQS -15% OFF
All-in-one business management software
for small and midsize enterprises

---

VIP Task Manager
Multi-user project management software
to plan, schedule and track project tasks.

---

VIP Checklists
More than 750 ready-to-use to-do lists
to plan your personal and business life

---

VIP Team To Do List
Professional task management software
to make and send team todo lists by email

---

VIP Organizer
Personal time management software
to organize time at home and at work

---

VIP Simple To Do List
Simple and effective to-do list software
to plan daily chores, trips, wedding, etc.