Task Management Software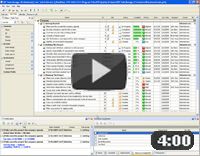 Authorization

TESTIMONIALS
"...This is an excellent program. I'm so glad that I stumbled on to this when researching for task management programs. Very low learning curv, quite flexible, and the price is right. Tried at least 20 other programs, either too complicated, too expensive, or poor documentation..."
Chad Lindsey -
Honolulu, HI
MORE FEEDBACKS

Vehicle Maintenance Checklist

| | |
| --- | --- |
| | An experienced driver knows that before leaving a car park or a garage some critical car systems should be checked in order to be sure of security and proper exploitation of the car. Read the Vehicle Maintenance Checklist to learn how to maintain your car in top condition. |

---

| | |
| --- | --- |
| Order 750 checklists in MS Word and PDF printable format at $49.99 USD only. | BUY NOW! |

Common Advice on Car Maintenance.

Read the driver's recommendations before making any action regarding your car maintenance – this will let you be more confident of the correctness of your actions.
Use task management software (like VIP Organizer) to create and keep your worksheet – this will be the best way to design a plan and keep your car checking tasks on track.
Create a calendar and use it to know when the next visit to the car service station is scheduled. Keep the calendar always in the car.
Record all car exploitation costs. You can create a spreadsheet and log there every dollar spent on maintenance.
Try to visit one and the same car service station because your mechanic will not waste time on learning your car – he already knows your car as you regularly visit the service station.
Listen attentively to what your car mechanic says about issues with the engine, suspension, breaks, or and systems of your car. Following the mechanic's tips will let you keep your car in top condition.

Check Engine Oil.

Check the oil every 4,500 kilometers. If you own an older car, the oil tends to be consumed faster and therefore you should check it more often.
Make a habit to check the engine oil when you get gas.
Check the oil by following recommendations listed in you car exploitation manuals.
Record your oil checks and keep your records on hand.
Keep stickers left by mechanics – at most service stations mechanics leave a sticker on the windscreen showing when the next oil check or replacement should happen.
Note that a good car owner does not wait until seeing the red oil pressure light on the dashboard. You should keep your engine always full of clean oil.

Check Transmission Fluid.

Use a dipstick to check transmission fluid level. Make sure your engine is off, remove the dipstick and wipe it up with a clean rag, then insert it back into position. Remove it again and check the level – Lubricant should be between the "Full" and "Add" marks on your dipstick.
Never check your car transmission system when the engine is on!
Drive your car to your mechanic in case you are not sure about the proper condition of your car transmission.
Close the fill plug if the transmission fluid level is satisfactory. If the lubricant should be added, refer to the driver's guide for more information on adding transmission fluid.
Keep records on all your inspections of the transmission system – task management software will let you make a log each inspection.

Check Radiator.

Check the coolant level in your car radiator.
Check the anti-freeze liquid level in your car radiator.
Make sure there is no leakage from the radiator. If the radiator is punched out there is likely to be a small pool on the ground under the car.
Make a habit to check the level in radiator reservoir container every time you check the engine oil. Make appropriate notes in your schedule when you replace or repair the radiator.
Note that coolants allow your car engine to avoid overheating in hot; Anti-freeze liquids allow the engine to work fine in cold conditions.

Check Tire Pressure.

Use a tire pressure gauge to maintain the car tires.
Use a pressure gauge to measure the tire pressure level in every wheel.
Investigate your wheels - the correct tire pressure level is usually engraved or printed on each wheel.
Check the tire pressure each day when you use your car.
Make sure your wheel disks are not damaged – a bent rim may cause reduction of tire pressure.
Note that your car will show the best performance and be best-driven when the tire pressure is correct. Also, properly maintained tires last longer and reduce petrol use.

Check Suspension System.

Test the front and rear shock absorbers (it should be done with your car on the ground, but not when the car is supported on a hoist) by bouncing each corner of the car. If your car bounces more than 2 times after you have stopped, take a closer look at the shocks – probably there is some problem with the suspension system.
Investigate your car shocks for damaged bushings, broken mounts, and oil on the shock absorber barrel.
Shake the shocks firmly – in such a way you can see if any mount or bushing is not properly tightened.
Check the shocks for substantial fluid – if there is a leaking seal, do not drive your car because without fluid the shocks are ineffective. The shocks should be replaced.
Note that the shocks should be installed in pairs. Read more about shocks replacement in your car manuals.

---

| | |
| --- | --- |
| Order 750 checklists in MS Word and PDF printable format at $49.99 USD only. | BUY NOW! |

CentriQS Tasks Management Solution

Looking for multi-user task management software? Try CentriQS complete task management solution for planning, tracking and reporting tasks, projects, and schedules. Increase productivity of your small business or office by better organizing your employees' tasks and time.

FREE Download CentriQS
CentriQS -15% OFF
All-in-one business management software
for small and midsize enterprises

---

VIP Task Manager
Multi-user project management software
to plan, schedule and track project tasks.

---

VIP Checklists
More than 750 ready-to-use to-do lists
to plan your personal and business life

---

VIP Team To Do List
Professional task management software
to make and send team todo lists by email

---

VIP Organizer
Personal time management software
to organize time at home and at work

---

VIP Simple To Do List
Simple and effective to-do list software
to plan daily chores, trips, wedding, etc.