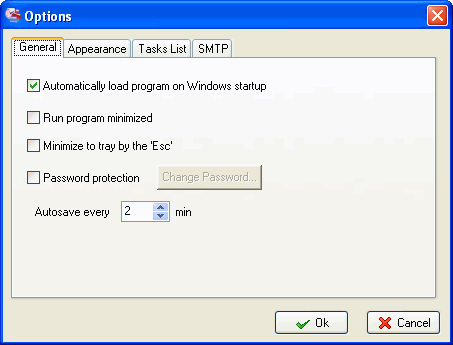 The options dialog is accessed via the [Tools | Options] menu command.

The following general settings for VIP Organizer may be enabled.

Automatically load the program on Windows startup
Enabling this option will launch the VIP Organizer after the system startup.

Run program minimized
Enabling this option will run VIP Organizer minimized on the system task-bar.
Minimize to tray by the 'Esc'
Enabling this option will let you minimize VIP Organizer on the system task-bar by pressing the 'Esc'.
Password Protection
You've got a possibility to protect your database from unauthorized access by setting up a password.

After restarting of the program and later on every time on program's start you'll be asked to enter your password.
For removing the password from the database you should enter the dialogue [Tools | Options] again and uncheck the 'Password Protection' option.
Autosave every ... min
Saves the current database automatically after the specified time interval.


Related topics: