Task Management Software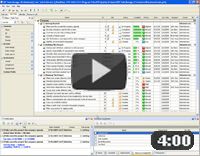 »

Authorization

TESTIMONIALS
"...This is an excellent program. I'm so glad that I stumbled on to this when researching for task management programs. Very low learning curv, quite flexible, and the price is right. Tried at least 20 other programs, either too complicated, too expensive, or poor documentation..."
Chad Lindsey -
Honolulu, HI
MORE FEEDBACKS

Advertising specialist's solution - to do list for Advertising specialist

Advertising specialists (Account Executives) plan and coordinate advertising campaigns for their clients. An advertising specialist communicates with clients to clarify their requirements, obtain details about product and company, budget and marketing goals, and works with other advertising staff in order to discuss, develop and organize advertising campaigns.
Advertising specialist usually works in schedule-focused way, should ensure that all advertising needs are met quickly and accurately, handle contacts with clients through the projects and deal with problems as they arise. That's why advertising specialist should be highly organized and detail-oriented person. Proper task management software can help advertising specialist to organize his/her labor.
Let's take a sample of Advertising specialist's typical to-do-list:

Discuss client's ("Commercial Bank") brief with a team.
Meet Mr. Green (CEO, "Automobiles Company") to present and discuss the plan of advertising campaign.
Check if brochures for "1st Supermarket" are ready, inform PR manager. (Mrs. Bright, tel. 678-76-90).
Check if all planned for this week billboards (for "1st Supermarket") are placed, send report with photos to stakeholder (MrsBright@mail.com).
Schedule and assign tasks to team members.

Task and Time planning solution for Advertising specialist
Advertising specialist may handle dozens of tasks concerning different clients daily, so it is vital to organize his/her intensive workflow, schedule appointments, manage advertising campaigns and keep records on details. The software for advertising specialist should provide capabilities for:

Planning due dates of tasks (for one-time or rarely performed tasks, such as "Meet Mr. Green to present the plan")
Setting recurring tasks (such as "Check if all billboards planned for this week are placed" that should be performed every week, on Friday's morning)
Ranging tasks by priority (for example task "Check if brochures for "1st Supermarket" are ready" can have high priority because this task influence client's business plans)
Setting order of tasks to manage business processes and small projects
Categorizing tasks to represent different clients and project stages
Controlling state of tasks execution to track progress or problems
Setting task reminders

Document management within workflow of Advertising specialist

Software for advertising specialist should allow attachment of documents (various text files, commercial mails, folders with photos, pictures etc.) to tasks. Advertising specialist should be provided with convenient access to files by one click on hyperlink. For example task "Check if all billboards planned for this week are placed, send report with photos to stakeholder" can be supplemented with link to folder that contains these photos.

Assigning advertising tasks to team members, controlling the work performance
According to professional duties, advertising specialist should supervise and coordinate the work of advertising agency's team, so advertising specialist should break-down project into smaller tasks, allocate them within team members and track if all tasks meet deadlines. The software used by advertising specialist should provide capabilities for small project management and allow him/her to track workflow of the tasks by clients and departments. The set of task statuses and grade of completeness in percents will be helpful for work performance observation, like it is shown on screen-shot.

Choosing the right software for Advertising specialist

VIP Organizer is a good solution for advertising specialist who wants to organize individual professional tasks. It is personal easy-to-use tasks management software which allows advertising specialist to plan and categorize tasks, set timelines and priorities, manage notes and documents, set task reminders, create printable checklists and so on.
VIP Team To Do List will be helpful for advertising specialists who would like to supervise creative team and contractors remotely by e-mail. It is team organizing easy-to-use software which allows assigning tasks and control small project execution by e-mail. Advertising specialist can create tasks, set timelines and priorities, assign tasks to executors and send/receive "to do lists" by e-mail. This product can be used for sending reports about advertising campaigns by e-mail to clients.
VIP Task Manager is most powerful task management product which can be used for management of advertising agency. It is a task management groupware which allows multiple users access one database via LAN or Internet. This software provides users with planning, tracking and reporting tasks, access rights management, instant notifications, customizable workflow and task attributes. This solution can help advertising specialists to coordinate and supervise in real-time regime the team of creative specialists, copywriters, graphic designers etc. working in one office or remotely by planning, delegating and controlling tasks, sharing documents and arranging of team collaboration between employees.

CentriQS Tasks Management Solution

Looking for multi-user task management software? Try CentriQS complete task management solution for planning, tracking and reporting tasks, projects, and schedules. Increase productivity of your small business or office by better organizing your employees' tasks and time.

FREE Download CentriQS
CentriQS -15% OFF
All-in-one business management software
for small and midsize enterprises

---

VIP Task Manager
Multi-user project management software
to plan, schedule and track project tasks.

---

VIP Checklists
More than 750 ready-to-use to-do lists
to plan your personal and business life

---

VIP Team To Do List
Professional task management software
to make and send team todo lists by email

---

VIP Organizer
Personal time management software
to organize time at home and at work

---

VIP Simple To Do List
Simple and effective to-do list software
to plan daily chores, trips, wedding, etc.