Task Management Software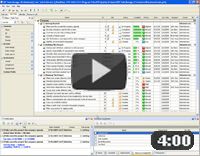 »

Authorization

TESTIMONIALS
"...This is an excellent program. I'm so glad that I stumbled on to this when researching for task management programs. Very low learning curv, quite flexible, and the price is right. Tried at least 20 other programs, either too complicated, too expensive, or poor documentation..."
Chad Lindsey -
Honolulu, HI
MORE FEEDBACKS

Credit Manager's Solution - To Do List for Credit Managers

Credit manager or credit officer is a specialist that examines, evaluates and processes applications for accounts, credit and loans. This person can work for a finance company or for any company that sells goods or services. The responsibility area of credit manager includes commercial credit and consumer credit. In both cases credit officer may perform the following tasks:

Plan new conditions of loans and rates of repayment for corporate customers
Build report of accounts which have unpaid amounts as of May
Prepare papers of outstanding debts and report them on Monday's meeting
Phone customer Mr. John Robertson to request payment
Forward statements of overdue accounts for legal action by Friday

Sorting tasks by categories
Credit manager has intensive workflow to track credit history, analyze customer applications for loan, prepare reports of unpaid debts and other. This requires good self-organization and convenient software tool. To arrange activities and make working process more organized, credit manager can use task management software. In this software he can create tasks and to-do lists and then systemize them by activity group or category. For example, credit manager can create such categories as "Customer credit" and "Commercial credit" which describe two main focuses of the manager's workflow. Each of the categories can be further divided into more subgroups. In the category "Customer credit" there can be created subgroups for customers, such as "John Robertson", "Lucas Wilson", and so on. In the category "Commercial credit" the credit officer can use subgroups to add companies' names.

Tasks planning through priorities and due dates
Effective working process cannot be organized if not to apply task planning instruments. In task management software credit manager can plan tasks by priorities and due dates. Prioritized to-do list allows to complete tasks step by step, starting from the most important and urgent and finishing with the lowest importance tasks. All tasks can be grouped by "Priority" column in task management software so that the credit manager gets convenient task list view for planning. For example, at the beginning of the week credit manager needs to plan out his weekly activities. The most urgent tasks like "Make phone call to request payment", "Prepare report of outstanding debts" and "Send payment notification letter to customers" should be done first of all, so credit manager marks them with Urgent and Highest priorities. If tasks are due to be completed till a definite date or within a predefined period of time, credit manger can use "Due Date" column in task management software.  For example, when giving a credit to customer John Smith, credit manager can use Due Date column to set payment date for the task "Check payment date". This column can be shown in task list view to track outstanding payments. To make due dates planning more effective, credit manage can use task reminders which will recall to check payment date of customer 3 day (or any period) before the due date.

File management
Credit officer has to deal with a lot of papers and documents in order to do his job well. To make flow of documents more organized, credit manager can use "Attachment" column. In task management software such documents as loan applications, payment papers, invoices, letters of credit, and other can be attached directly to tasks so credit officer can do his tasks more effectively. For example, at task planning stage credit officer can attach payment schedule to the task "Send payment notification letter to customer". When the payment date comes, he can use the attached file to send it to the customer in order to notify about necessity to make payment for credit.

Choosing the right software for credit manager
If you are a credit manager, you can choose one of the following task management products depending on your specific needs:

VIP Organizer is the best solution for the credit managers who need to organize and manage only their own tasks.
VIP Team To Do List If credit manager needs to share tasks and customer requests between employees of the Credit or Finance department, VIP Team To Do List allows assigning tasks to the team members and send them their tasks by email or give them a printable to do list.
VIP Task Manager The best solution for a company which needs to control Finance department and credit applications for employees, will be VIP Task Manager which features a centralized database each employee can enter and update his tasks in real time, and a supervisor will be immediately notified of any change with automatic notification system.

CentriQS Tasks Management Solution

Looking for multi-user task management software? Try CentriQS complete task management solution for planning, tracking and reporting tasks, projects, and schedules. Increase productivity of your small business or office by better organizing your employees' tasks and time.

FREE Download CentriQS
CentriQS -15% OFF
All-in-one business management software
for small and midsize enterprises

---

VIP Task Manager
Multi-user project management software
to plan, schedule and track project tasks.

---

VIP Checklists
More than 750 ready-to-use to-do lists
to plan your personal and business life

---

VIP Team To Do List
Professional task management software
to make and send team todo lists by email

---

VIP Organizer
Personal time management software
to organize time at home and at work

---

VIP Simple To Do List
Simple and effective to-do list software
to plan daily chores, trips, wedding, etc.