Task Management Software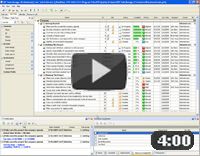 »

Authorization

TESTIMONIALS
"...This is an excellent program. I'm so glad that I stumbled on to this when researching for task management programs. Very low learning curv, quite flexible, and the price is right. Tried at least 20 other programs, either too complicated, too expensive, or poor documentation..."
Chad Lindsey -
Honolulu, HI
MORE FEEDBACKS

Research Scientist's Solution – To Do List For Research Scientists

Research scientists or researchers within any kind of science are primarily involved in creating, conducting and analyzing experiments, either with a definite end use (to develop a new product, processes or commercial computer application) or to extend scientific understanding in general. A research scientist studies the behaviour of the physical world, and then finds practical ways to apply new knowledge obtained from his researches in many areas of business and technology, so research scientist should organize his various tasks effectively. The research scientist's daily task list may contain the following tasks:

Propose a new theory at the Scientific Conference on Monday, 12th, January
Look through material of the gained research data
Prepare R&D report on the last research programme by 1st of March
Create a computer simulation to explore the consequences of the theory
Speak to the University audience on Tuesday, 13th, January

Managing research projects
As any project, the research project can be broken down into five major phases like planning, execution, control, reporting, and closure. The phase may vary depending on the project peculiarities. However, the point is to create a project structure which is convenient and best for achieving project expectations. The research scientist can use task management software to build the project structure. Task management software allows to organize research tasks into treelike view and build project structure by using categories and subcategories.

Using templates for periodic projects
For similar and frequently repeated projects and researches it is convenient to use project templates. In task management software the research scientist can create a new folder "Research Project Templates" and add some templates for the most periodic projects. For example it could be a project for research and development of a new product. Then, in the category "New product R&D" there could be the following tasks:

Developing new product concept

Conduct preliminary researches and evaluations of the market demand
Asses profitability and return on investment from new product concept
Generate product concept
Check concept for technical feasibility

Prototyping

Create specification for product prototype
Create prototype
Test prototype

Launching product

Conduct consumer testing
Receive and analyze costumer feedback
Make amendment to project specification
Map out marketing
Launch product
Provide product support

When the research scientist launches a new project for product R&D, he can duplicate the project template and paste the tasks into convenient category.

Attaching research documentation directly to tasks

Any research and development project includes documentation needed to maintain the project and keep on track its progress. For the research scientist it is important to have quick and easy access to the project documents to log research data, keep event schedule, retrieve materials and more. In task management software the research scientist can attach project documents directly to the tasks and save them as file or links. All attached documents can be displayed in the task list view what makes it convenient to retrieve materials and watch location path.

Choosing the right software for the research scientist
If you are a researcher, you can choose one of the following task management products depending on your specific needs:

VIP Organizer is the best solution for the researchers who work alone and need to manage only their own tasks.
VIP Team To Do List If R&D department needs that tasks and jobs should be assigned to a group of researchers and other R&D staff, VIP Team To Do List allows assigning tasks to the employees and send them their tasks by email or give them a printable to do list.
VIP Task Manager The best solution for R&D and engineering companies will be VIP Task Manager which features a centralized database each employee can enter and update his tasks in real time, and a supervisor will be immediately notified of any change with automatic notification system.

CentriQS Tasks Management Solution

Looking for multi-user task management software? Try CentriQS complete task management solution for planning, tracking and reporting tasks, projects, and schedules. Increase productivity of your small business or office by better organizing your employees' tasks and time.

FREE Download CentriQS
CentriQS -15% OFF
All-in-one business management software
for small and midsize enterprises

---

VIP Task Manager
Multi-user project management software
to plan, schedule and track project tasks.

---

VIP Checklists
More than 750 ready-to-use to-do lists
to plan your personal and business life

---

VIP Team To Do List
Professional task management software
to make and send team todo lists by email

---

VIP Organizer
Personal time management software
to organize time at home and at work

---

VIP Simple To Do List
Simple and effective to-do list software
to plan daily chores, trips, wedding, etc.