Task Management Software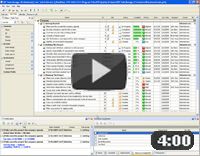 »

Authorization

TESTIMONIALS
"...This is an excellent program. I'm so glad that I stumbled on to this when researching for task management programs. Very low learning curv, quite flexible, and the price is right. Tried at least 20 other programs, either too complicated, too expensive, or poor documentation..."
Chad Lindsey -
Honolulu, HI
MORE FEEDBACKS

Office Administrator Solution - To Do List for Office Administrators

Office administrators are responsible for a wide range of functions and manage various organizational aspects to ensure proper running of business. Daily tasks of office administrator are related to fields such as supervision and coordination of staff, interviewing job applicants, maintaining budgetary and inventory controls, staff assessments and promotions and many other activities.

Office administrator plays one of the key roles within organization because he/she assists company management in office environment with various tactical and strategic tasks including general office administration and maintaining daily activities, that's why office administrator should be highly organized person. Proper task management software can help office administrator with organization of his/her labor.

Typical task list of office administrator may include such tasks:

Prepare job description for Web-designer (according to information received from IT department)
Meet Mr. Blake to explain terms of labor contract (mob. phone: 759 234-56-37)
Accomplish the list of new furniture required for Sales department
Send notification about annual bonus to Mr. Brown (e-mail:mrbrown@mail.com)
Prepare weekly report on staff trainings

Task and Time planning solution for Office Administrator

Office administrator should handle a lot of appointments, tasks and small projects. The software for office administrator should allow planning of Due dates for one-time or rarely performed tasks (such as "Send notification about annual bonus to Mr. Brown") and planning of recurring tasks (for example task "Prepare weekly report on staff trainings" that should be performed every week on Friday's morning). Moreover, it is important to range tasks by priority and set task reminders.

Workflow, business process, checklist management for Office Administrator

Office administrator needs to use software that allows him/her to track workflows of the tasks. The set of task statuses and grade of completeness in percents will be helpful for work performance observation. Another important feature that can be useful for office administrator is management of checklists and processes, like it is shown on the screen-shot. Office administrator can create templates of checklists/business processes and duplicate them each time when this is required.

Categorizing tasks: registering phone calls, management of links and documents

For effective organization of office administrator's work it is necessary to categorize tasks, in the way that fits his/her individual style of work. For example task "Prepare job description for Web-designer" can be referred to category "Personnel" and task "Accomplish the list of new furniture" can be referred to category "Furniture". Another software capability required by office administrator is keeping records on answered calls: caller's name, time when call was answered and notes about conversation (see screen-shot).


Office administrator needs to handle a number of various documents daily, so attachment of files to tasks can be very helpful. For example: it will be convenient to attach link to MS Word document to task "Meet Mr. Blake to explain terms of labor contract", so when it will be necessary to print out the contract the text document will be easily opened by one click on task's hyperlink.

Choosing the right software for Office Administrator

VIP Organizer software is a simple and effective solution for office administrator that can use it for planning and controlling tasks and appointments. It is individual tasks management product that can help office administrator to organize his/her workflow, register calls and mail, categorize and prioritize tasks, set due dates and reminders, manage notes, documents and create printable checklists.
VIP Team To Do List can be helpful for office administrator who want to delegate or receive tasks by e-mail. It is team organizing software which allows office administrator to plan and categorize tasks, set due dates and priorities, assign tasks to executers, control work performance and send "to do lists" by e-mail.
VIP Task Manager is most powerful task management product which can ensure instant real-time collaboration between office administrator and other members of office team. This groupware can be used by office administrator as effective business organizer, because it features Scheduler (Calendar) mode, Task List mode and Task Tree mode. This software provides users with features for planning, tracking and reporting tasks, access rights management, sending instant notifications, customization of workflows and task attributes. Multiple users can access one database via LAN or Internet

CentriQS Tasks Management Solution

Looking for multi-user task management software? Try CentriQS complete task management solution for planning, tracking and reporting tasks, projects, and schedules. Increase productivity of your small business or office by better organizing your employees' tasks and time.

FREE Download CentriQS
CentriQS -15% OFF
All-in-one business management software
for small and midsize enterprises

---

VIP Task Manager
Multi-user project management software
to plan, schedule and track project tasks.

---

VIP Checklists
More than 750 ready-to-use to-do lists
to plan your personal and business life

---

VIP Team To Do List
Professional task management software
to make and send team todo lists by email

---

VIP Organizer
Personal time management software
to organize time at home and at work

---

VIP Simple To Do List
Simple and effective to-do list software
to plan daily chores, trips, wedding, etc.