Task Management Software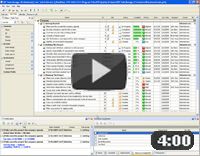 »

Authorization

TESTIMONIALS
"...This is an excellent program. I'm so glad that I stumbled on to this when researching for task management programs. Very low learning curv, quite flexible, and the price is right. Tried at least 20 other programs, either too complicated, too expensive, or poor documentation..."
Chad Lindsey -
Honolulu, HI
MORE FEEDBACKS

Procurement Manager's Solution – To Do List for Procurement Managers

The procurement manager is responsible for all procurement and purchasing activities in an organization. This person communicates with employees in response to purchase and procurement issues; communicates with vendors regarding goods and services; negotiates with agencies regarding management and sourcing of commodity materials. This position confirms that purchasing policies are being compiled with, and helps to design and implement commodity strategies and procedures relevant to the supplier management programs, contract management and supply chain management. The tasks of the procurement manager may be as follows:

Prepare a draft of Procurement Strategy for the next year by Monday's meeting
Update supplier profiles in corporate database – add all suppliers found in February
Develop plan for training of procurement staff – deadline May, 12 at 11.00 AM
Monitor current commodity market conditions and trends – use Internet resources
Discuss terms of treaty with new vendor company "Commodities & Trade, Inc."
Report and recommend Board of Directors the improvements in supply chain management

To manage and perform the tasks efficiently, the procurement manager needs to use task management software.

Managing workflow and collaborating with team
Procurement management provides control and timely delivery of products. The procurement manager takes care of controlling and maintaining multiple tasks in the supply chain at various levels across Procurement Department of the organization. Task management software allows the manager to control all aspects of procurement workflow, taking care of the quality and risk management related to the purchase tasks and operations. Such a software allows to organize transparent workflow within Procurement Department and manage multiple to-do lists of procurement staff members. Through sharing and supervising the workflow, the procurement manager can facilitate coordination for product purchasing and make group decisions for cutting costs, improving quality and managing price risk. Task management software allows to send to-do lists by email to all employees involved in purchasing and procurement process of the organization. To assign to-do lists to remote and off-site employees, the procurement manager can publish task lists on website so that the employees can get their tasks by entering to the website.

Managing purchase requests and orders
When Procurement Department gets purchase orders or requests, it should quickly and proactively organize negotiations with vendors and suppliers. The procurement manager needs to allocate purchase requests to the employees and create to-do lists for fulfilling the orders. In task management software, there can be created categories "Purchase request" (requests from organizational divisions on procuring products/spares/components) and "Purchase order" (orders to supplier and vendors on purchasing products/spares/components).  In each of the category there can be added subcategories and tasks that specify the orders and requests. The procurement manager can prioritize orders and requests, set due dates and control fulfilment. By using task attachment, the orders and requests can be enclosed directly to the tasks as file or link.

Overcoming procrastinated tasks
Task procrastinations and delays are inadmissible within the workflow of Procurement Department. The manager should care of timely deliveries, appropriate shipping dates and good task performance of the procurement staff members. In task management software, each task has the column "Due Date& Time". When obtaining a new purchase request, the procurement manager sets Due Date for appropriate task. The column "Time Left" shows within what time period this order should be fulfilled. To avoid missed events and delays, the manager can set up reminders per task so that the assigned employee will get a pop-window or an email message.

Choosing the right software for procurement managers
If you are a procurement manager, you can choose one of the following task management products depending on your specific needs:

VIP Organizer is the best solution for the procurement managers who need to manage only personal tasks and organize daily activates.
VIP Team To Do List If activities of Procurement Department require that tasks and purchase orders should be assigned to a group of operators, purchase specialists and shipping brokers, VIP Team To Do List allows to assign tasks to the employees and send them their tasks by email or give them a printable to do list.
VIP Task Manager The best solution for large procurement agencies will be VIP Task Manager which features a centralized database each employee can enter and update his tasks in real time, and a supervisor will be immediately notified of any change with automatic notification system.

CentriQS Tasks Management Solution

Looking for multi-user task management software? Try CentriQS complete task management solution for planning, tracking and reporting tasks, projects, and schedules. Increase productivity of your small business or office by better organizing your employees' tasks and time.

FREE Download CentriQS
CentriQS -15% OFF
All-in-one business management software
for small and midsize enterprises

---

VIP Task Manager
Multi-user project management software
to plan, schedule and track project tasks.

---

VIP Checklists
More than 750 ready-to-use to-do lists
to plan your personal and business life

---

VIP Team To Do List
Professional task management software
to make and send team todo lists by email

---

VIP Organizer
Personal time management software
to organize time at home and at work

---

VIP Simple To Do List
Simple and effective to-do list software
to plan daily chores, trips, wedding, etc.