Task Management Software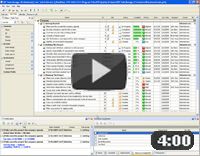 »

Authorization

TESTIMONIALS
"...This is an excellent program. I'm so glad that I stumbled on to this when researching for task management programs. Very low learning curv, quite flexible, and the price is right. Tried at least 20 other programs, either too complicated, too expensive, or poor documentation..."
Chad Lindsey -
Honolulu, HI
MORE FEEDBACKS

Marketing Specialist's Solution - To Do List for Marketing Specialists

The marketing specialist should process a lot of information of various kinds and operate with great amount of marketing data. His workflow includes performance of such functions as marketing researches, strategic planning of marketing, sales improvement and advertisement. This job requires task management application in order not to be lost in information chaos. First of all, it is necessary for any marketing specialist to be able to organize tasks and manage working hours.

Typical daily task list of marketing specialist may contain such tasks as:

Get the sales statistics for December
Prepare marketing plan for January
Discuss the current problem with product promotion
Approve the marketing budget for the next year

The task management application will help the marketing specialist arrange his tasks and provide him with effective solutions. Marketing specialist can consider the following tools and approaches in his work:

Building prioritized checklist

The first thing marketing specialist has to do is to build a task list according to the workflow and sort tasks according to due dates. For example, when the marketing specialist needs to launch the marketing program , h e can organize the campaign with the following checklist:

Conduct researches and define objectives
Investigate factors influencing on target audience
Set responsibilities and duties to employee
Create advertising concept
Define a list of optimal advertising media to be applied
Create advertising messages
Determine the budget
Make schedules and set due dates
Organize and implement publicity events
Assess efficiency of advertising campaign

The marketing specialist can use such common checklist to manage an advertising campaign and define the action plan. However, it could be more detailed and specified depending on particular needs and requirements of the organization the marketing specialist works at.

Organizing task into categories

The workflow of the marketing specialist can be divided into several major lines of activity. This will allow to structure the workflow and define specific action list for each of the lines. In the task organizer software the marketing specialist can organize his workflow into categories and specify task lists per category. If he works at various projects, he can apply multiple filters to filter t asks by Name, Number, Status, Priority, etc. Categorized task list allows the marketing specialist to be focused on particular tasks in large projects.

Project Management

The marketing specialist often participates in Marketing campaign or Customer survey which can be considered as projects require a project management software. Such marketing project software allows to c reate project tree and show hierarchy of project phases. According to his role in the project, the marketing specialist can be assigned to tasks and get appropriate permissions level. The marketing specialist can collaborate with the project team through sending tasks by email and getting printable to-do lists.

Setting reminders

The marketing specialist can improve his time management by setting reminders for tasks. The task reminder can be configured at date&time or some hours before the lead-time. This is helpful especially for those marketing specialists which take part in multiple projects and have large task lists. Reminder can be displayed as a pop-up window or email message.

Choosing the right software for marketing specialist

If you are a marketing specialist, you can choose one of the following task management products depending on your specific needs:

VIP Organizer. VIP Organizer is the best solution for the marketing specialists who work alone and need to manage only their own tasks.
VIP Team To Do List. If your marketing and advertising campaigns suppose that some tasks should be assigned to other professionals like sales manager or economist, VIP Team To Do List allows assigning tasks to other team members and send them their tasks by email or give them a printable to do list.
VIP Task Manager. The best solution for marketing and advertising companies will be VIP Task Manager which features a centralized database each employee can enter and update his tasks in real time and supervisor will be immediately notified of any change by automatic notification system.

CentriQS Tasks Management Solution

Looking for multi-user task management software? Try CentriQS complete task management solution for planning, tracking and reporting tasks, projects, and schedules. Increase productivity of your small business or office by better organizing your employees' tasks and time.

FREE Download CentriQS
CentriQS -15% OFF
All-in-one business management software
for small and midsize enterprises

---

VIP Task Manager
Multi-user project management software
to plan, schedule and track project tasks.

---

VIP Checklists
More than 750 ready-to-use to-do lists
to plan your personal and business life

---

VIP Team To Do List
Professional task management software
to make and send team todo lists by email

---

VIP Organizer
Personal time management software
to organize time at home and at work

---

VIP Simple To Do List
Simple and effective to-do list software
to plan daily chores, trips, wedding, etc.