Task Management Software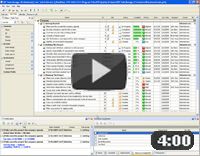 »

Authorization

TESTIMONIALS
"...This is an excellent program. I'm so glad that I stumbled on to this when researching for task management programs. Very low learning curv, quite flexible, and the price is right. Tried at least 20 other programs, either too complicated, too expensive, or poor documentation..."
Chad Lindsey -
Honolulu, HI
MORE FEEDBACKS

Customer Support Manager's Solution – To Do List For Customer Support Managers

Customer support manager plans and administers maintenance and use of computer software manufactured by the organization he or she works at. The customer support manager takes care of customers by receiving their feedback, request, suggestions and complaints. The Customer support department closely cooperates with QA department and brings customer request into consideration of product developers and product managers, so the task list of customer support manager should be highly organized. The Customer support manager's typical task list may have the following tasks:

Create a list of customer suggestions and recommendations
Conduct webinar with customer Mr. John Doe on Friday, 10th
Purchase software for online remote sections for customer support
Send product update newsletters to all customers and prospects within 19th week
Organize department staff training on 27th of January

Creating customer request list
Customer feedback and suggestions are, probably, one of the major sources for product enhancement and bugs and defects detection. The customer support manager is responsible for creating and updating a list of customer requests. In future, this list will be considered by product developers and marketing specialists in order to generate a new features requests. In task management software the customer support manager can use categories and subcategories to create the request list. The categories could be as "Detected bugs", "Suggestions", and other. In each subcategory there could be added tasks which describe a customer request and his recommendation. To describe the tasks more specifically, the customer support manager can use field "Notes" in task management software.

Using templates
Templates are the way to accelerate and simplify the workflow of the customer support department. The support manager can use them to create to-do lists which describe instructions and step-by-step guides. For example, to instruct employees of the department on how to conduct online remote session and webinars with a customer, the manager can create a new category "Instructions" with subcategory "Remote Session" included. In task management software it is possible to copy templates and send the remote session to-do lists to the involved employees via email. The template may have the following view:

Get customer request and add it to the request list
Consider the request with the department manager
Find solution and ways to assist customers
Contact customer and appoint the remote session date&time
Explain customer what he/she should do for remote session
Contact the customer and arrange remote session on the appointed date
Solve the issue
Ask for additional help and close the session
Build remote session report

Improved team collaboration

In the Customer support department the challenge of team building and improvement is vital as this department helps customers to understand the product better, satisfy their complaints and gather feedback for further product improvement and update. In the department there can be organized a group of support specialists and for the customer manager it is important to create conditions for good team collaboration. Each team members should receive his task list, easily communicate to colleagues and the manager should be able to track task performance and get feedback.

Task management software allows to improve team collaboration in the department activities through sending to-do lists via email to each team member. Customer support becomes more efficient if the support manager can easily communicate to the team members and share tasks related to the customer request list. In task management software the team collaboration is based on internet connection or/and local network.

Choosing the right software for the customer support manager

If you are a customer support manager, you can choose one of the following task management products depending on your specific needs:

VIP Organizer is the best solution for the customer support managers who need to manage only their own tasks.
VIP Team To Do List If the customer support manager needs to share tasks and customer requests between employees of the department, VIP Team To Do List allows assigning tasks to the team members and send them their tasks by email or give them a printable to do list.
VIP Task Manager The best solution for a product development company or manufacturer will be VIP Task Manager which features a centralized database each employee can enter and update his tasks in real time, and a supervisor will be immediately notified of any change with automatic notification system.

CentriQS Tasks Management Solution

Looking for multi-user task management software? Try CentriQS complete task management solution for planning, tracking and reporting tasks, projects, and schedules. Increase productivity of your small business or office by better organizing your employees' tasks and time.

FREE Download CentriQS
CentriQS -15% OFF
All-in-one business management software
for small and midsize enterprises

---

VIP Task Manager
Multi-user project management software
to plan, schedule and track project tasks.

---

VIP Checklists
More than 750 ready-to-use to-do lists
to plan your personal and business life

---

VIP Team To Do List
Professional task management software
to make and send team todo lists by email

---

VIP Organizer
Personal time management software
to organize time at home and at work

---

VIP Simple To Do List
Simple and effective to-do list software
to plan daily chores, trips, wedding, etc.