Task Management Software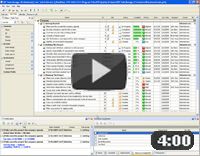 »

Authorization

TESTIMONIALS
"...This is an excellent program. I'm so glad that I stumbled on to this when researching for task management programs. Very low learning curv, quite flexible, and the price is right. Tried at least 20 other programs, either too complicated, too expensive, or poor documentation..."
Chad Lindsey -
Honolulu, HI
MORE FEEDBACKS

Architect's Solution - To Do List for Architects

The architect develops the basic concept and shape of buildings, and if our world did not know the profession of architect, the mankind would still take shelter in caves. The mission of the architect is to design a construction and meet requirements of the customer as much as possible. The architect is one of the major originators of any building project. He initiates a project and then the group of experts (designers, technologists, engineers, economists) continues to embody it. The architect remains with the project from the moment of planning and until its closure. Workday of the architect includes various tasks that he should perform. The architect's task list can be as follows:

Confirm the plan for building of water pipe
Prepare drawings for the project
Plan basement and make drafts
Discuss possibility to re-design the roof
Talk to Senior Engineer about external illumination

Checklist with categories and sub-categories

The main goal of the architect on initial stage of architectural project is to develop the concept of the project and draw up the architectural plan. The concept should be based on the requirements and specifications of the customer. When creating the plan, the architect should consider requests of the customer and technical capabilities of the project. Besides, t he architectural project may include such main elements as m easurement of the object, arrangement of building works, design drafting, conceptual solutions, heating, ventilation, a ir-conditioning, sewerage system, engineering networks and illumination. The best way to initiate and implement the architectural project is to divide it into several categories in task management software. The point is to get task list for each phase of the architectural project development. The checklist for architectural project can be as follows:

Staffing architectural project
Gather and document technical requirements
Review technical environment specifications
Develop architecture implications document
Design drawings
Create architecture model
Determine phases of implementation
Create the architecture plan
Design conceptual solutions
Develop configuration recommendations
User acceptance/ project review

This checklist represents a common structure of the architectural project. However, it can be specified and detailed with more specific sub-categories and tasks. The category bar of task management software allows to build hierarchical structure of the project and define the main phases of its implementation.

Attaching documents to tasks

Integral part of architect's workflow is drawings, schemes and photos. The architect uses these materials for processes of planning, designing and constructing. To improve task performance, he can attach materials to task as files and hyperlinks. In task management software the column "Attachment" will display the link or file path to the drawings or schemes in the task list view. The architect can open the file in one click and continue to work with the attached materials. If the architect works in the team, he can share his drawings with the team leader by giving the access to his files.

Specifying tasks with notes and comments

Architect can specify tasks with "Comments" and "Notes". This helps architect add notes to the tasks related to creation of drawings. Architect can also leave comment and recommendations for other participants of the project. Comments and Notes can be displayed in the task lists without opening a task. The software facilitates the management of team and increase collaboration.

Avoiding missed events

As architect works at projects, he needs for efficient time management software to avoid missed events, such as appointments, meetings, phone calls, etc. The way architect can improve his time management is to use reminders within his task list. Reminder can be set as a pop-up window at exact date and time or before some days/hours/minutes. Architect can define email recipients of reminders and configure reminder sound.

Choosing the right software for architect

If you are an architect, you can choose one of the following task management products depending on your specific needs:

VIP Organizer. VIP Organizer is the best solution for architects who work alone and need to manage only their own tasks.
VIP Team To Do List. If your architectural projects suppose that some tasks should be assigned to other professionals like constructor or design manager, VIP Team To Do List allows assigning tasks to other team members and send them their tasks by email or give them a printable to do list.
VIP Task Manager. For architecture companies the best solution will be VIP Task Manager which features a centralized database each employee can enter and update his tasks in real time and supervisor will be immediately notified of any change by automatic notification system.

CentriQS Tasks Management Solution

Looking for multi-user task management software? Try CentriQS complete task management solution for planning, tracking and reporting tasks, projects, and schedules. Increase productivity of your small business or office by better organizing your employees' tasks and time.

FREE Download CentriQS
CentriQS -15% OFF
All-in-one business management software
for small and midsize enterprises

---

VIP Task Manager
Multi-user project management software
to plan, schedule and track project tasks.

---

VIP Checklists
More than 750 ready-to-use to-do lists
to plan your personal and business life

---

VIP Team To Do List
Professional task management software
to make and send team todo lists by email

---

VIP Organizer
Personal time management software
to organize time at home and at work

---

VIP Simple To Do List
Simple and effective to-do list software
to plan daily chores, trips, wedding, etc.