Task Management Software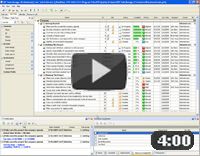 »

Authorization

TESTIMONIALS
"...This is an excellent program. I'm so glad that I stumbled on to this when researching for task management programs. Very low learning curv, quite flexible, and the price is right. Tried at least 20 other programs, either too complicated, too expensive, or poor documentation..."
Chad Lindsey -
Honolulu, HI
MORE FEEDBACKS

Lawyer's solution - To Do List for Lawyers

The working schedule of the lawyer is very strained and requires good arrangement. There are a lot of tasks such as court hearings, meetings, negotiations, and vital decisions the lawyer should take. The daily task list of the lawyer may have the following actions:

Provide legal advice for Mr. Brown this Friday
Prepare draft of legal documents for case #9012
Conduct divorce negotiations with husband of Mrs. Jay
Appear in courts on 25th of December for tribunal hearings on behalf of client John Smith
Find First amendment of Bill Of Rights
Discuss with Mr. Robertson the amount of fee
Be prepared for interview with clients on Monday, 22 nd of December
To organize his job duties and make daily tasks more manageable, the lawyer can use task management software.

Categories and tasks

In the daily activity, the lawyer faces the necessity to organize the working process and organize tasks into categories correctly. The question of the proper arrangement of tasks becomes especially important when the lawyer has extensive base of clients and an intense workflow schedule. He can use categories and subcategories to break all tasks into convenient view. For example, the task can be organized into months by using such categories as January, February, March, and so on. Since it is done, the lawyer can use subcategories to arrange the tasks by weeks, days, or even hours.

Using checklists and task templates

The way to simplify the work and make daily duties more arranged, the lawyer can use checklists or task templates which describe the steps the lawyer should do to complete one or another case. By using task manager software, the lawyer can create the category "Templates" which will contain subcategories for various action lists and checklists. For example, he can add a new subcategory "New case checklist" which may contain such tasks as follows:

Interview a new client and find out the main points of the new case
Evaluate jurisdiction and chances for success
Discuss amount of fee for the successful completion of the case
Examine all evidences and proofs
Talk to all concerned witnesses and consider all gained information during investigation
Prepare speech for the court audience
Appear in courts for tribunal hearings on behalf of a new client
Clearly state the attitude of a new client to the court and the jury
Be prepared to answer the questions of the opponents and the judge
Pronounce the final speech and wait for the judge decision

This checklist can be raised each time when the lawyer finds a new client and initiates a new legal case. By using task management software, he can duplicate the categories and use template action lists

Managing appointments

The lawyer may use task management software to organize his meetings and appointments with clients by due dates. When planning daily to-do list, the lawyer can define date and time for an appointment with client by setting due dates to appropriate tasks. In the field task "Notes" he can write down the place of the appointment and even a route how to get there. To-do list can be filtered and grouped by due dates so the lawyer will see only urgent or missed appointments.

Creating agendas for meetings

If the lawyer becomes a team leader, he needs to plan regular meetings and build agendas. By using task management software, he can create agendas and plan meetings. The lawyer can use reminder in order not to miss a meeting. The lawyer can also send agendas by email to all concerned team members, for example, his assistants or delegatee

Choosing the right software for lawyers

If you are a lawyer, you can choose one of the following task management products depending on your specific needs:

VIP Organizer.. VIP Organizer is the best solution for lawyers who work alone and need to manage only their own tasks.
VIP Team To Do List. If your legal activity supposes that some tasks should be assigned to other professionals, VIP Team To Do List allows assigning tasks to other team members and send them their tasks by email or give them a printable to do list.
VIP Task Manager. For legal agencies the best solution will be VIP Task Manager which features a centralized database each employee can enter and update his tasks in real time and supervisor will be immediately notified of any change by automatic notification system.

CentriQS Tasks Management Solution

Looking for multi-user task management software? Try CentriQS complete task management solution for planning, tracking and reporting tasks, projects, and schedules. Increase productivity of your small business or office by better organizing your employees' tasks and time.

FREE Download CentriQS
CentriQS -15% OFF
All-in-one business management software
for small and midsize enterprises

---

VIP Task Manager
Multi-user project management software
to plan, schedule and track project tasks.

---

VIP Checklists
More than 750 ready-to-use to-do lists
to plan your personal and business life

---

VIP Team To Do List
Professional task management software
to make and send team todo lists by email

---

VIP Organizer
Personal time management software
to organize time at home and at work

---

VIP Simple To Do List
Simple and effective to-do list software
to plan daily chores, trips, wedding, etc.