Task Management Software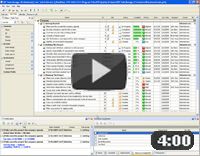 »

Authorization

TESTIMONIALS
"...This is an excellent program. I'm so glad that I stumbled on to this when researching for task management programs. Very low learning curv, quite flexible, and the price is right. Tried at least 20 other programs, either too complicated, too expensive, or poor documentation..."
Chad Lindsey -
Honolulu, HI
MORE FEEDBACKS

Accountant's Solution - To Do List for Accountants

The accountant is responsible for analysing, reporting and giving advice on financial matters of a company and individuals. Financial information provided by the accountant helps managers, business owners, tax authorities, investors and other decision makers to make right decisions on resource allocation. The accuracy and timeliness of the financial information depends on how the accountant is organized and whether he uses task management software to arrange his daily tasks and duties.The accountant may perform the following tasks:

Assist Financial Director in the formulation of new budgetary and accounting policies
Prepare financial statements for presentation to boards of directors on 10th of November
Examine operating costs, the income and expenditure for the 3rd Quarter
Assign employees to build financial reports for the 3rd Quarter
Check the reports and send them to Financial Director till November, 5
Talk to IT Manager about selection and functionality of a new computer-based accounting system
Appraise cash flow and financial risk of the new capital investment project

Organizing t ask into categories

Task and categories are the building mechanism which helps organize the workflow of the accountant. Daily tasks and duties should be organized into categories. This will allow the accountant to plan his work better and create a structured list of tasks. Task management software can be used as a daily organizer which allows to create categories and subcategories for the tasks of the accountant. For example, to the category "Reports" he can add a new subcategory "Financial report for the 3 rd Quarter". In this subcategory the accountant can specify tasks necessary for building the financial report.

Using checklists and task templates

The accountant can simplify his workflow by using checklists and templates . For standard and frequently repeated events, for example, filling tax return, he can use checklist/task template which shows action list the accountant should do to fill tax return. By using task management software, the accountant can create in the category "Templates" a new subcategory "Filling Tax Return" and add such checklist as follows:

Fill tax return online
Collect all necessary information
Add records of the company's income and expenses
Specify details of all purchases/sales of assets during reporting period
Specify details and sources of any other income the company gained
Point at information about any income from investments and savings
Complete the return
Calculate all taxes

The accountant can specify each of the tasks in the checklist by using Notes and Comments. When the accountant needs to fill tax return, he can copy the tasks in the checklist to a new category, for example, category "Tax Return 1 st Quarter 2009".

Human resource management

If accountant gets responsibilities of supervisor or team leader while a new investment project is running, he needs to organize the project team and create a list of human resources involved in the project. The way to add the team members in a single resource list is to use Resource List view of task management software. For each of the team members the accountant can specify such details as Name, Job Title, Department, Email Address and Phone. When the resource list is composed, the accountant can export it to MS Excel sheets and print it to get a hard copy.

Choosing the right software for the accountant

If you are an accountant, you can choose one of the following task management products depending on your specific needs:

VIP Organizer. VIP Organizer is the best solution for the private accountants who work alone and need to manage only their own tasks.
VIP Team To Do List If activity of a company supposes that tasks and jobs should be assigned to employees of Financial or Accounting Department, VIP Team To Do List allows assigning tasks to the department employees and send them their tasks by email or give them a printable to do list.
VIP Task Manager Thebest solution for agencies which offer accounting services, will be VIP Task Manager which features a centralized database each employee can enter and update his tasks in real time, and a supervisor will be immediately notified of any change with automatic notification system.

CentriQS Tasks Management Solution

Looking for multi-user task management software? Try CentriQS complete task management solution for planning, tracking and reporting tasks, projects, and schedules. Increase productivity of your small business or office by better organizing your employees' tasks and time.

FREE Download CentriQS
CentriQS -15% OFF
All-in-one business management software
for small and midsize enterprises

---

VIP Task Manager
Multi-user project management software
to plan, schedule and track project tasks.

---

VIP Checklists
More than 750 ready-to-use to-do lists
to plan your personal and business life

---

VIP Team To Do List
Professional task management software
to make and send team todo lists by email

---

VIP Organizer
Personal time management software
to organize time at home and at work

---

VIP Simple To Do List
Simple and effective to-do list software
to plan daily chores, trips, wedding, etc.