Task Management Software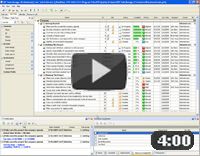 »

Authorization

TESTIMONIALS
"...This is an excellent program. I'm so glad that I stumbled on to this when researching for task management programs. Very low learning curv, quite flexible, and the price is right. Tried at least 20 other programs, either too complicated, too expensive, or poor documentation..."
Chad Lindsey -
Honolulu, HI
MORE FEEDBACKS

Debt Collector's Solution – To Do List for Debt Collectors

Services of the debt collector help organizations and individuals collect payments for overdue orders, loans, accounts and other debts. Usually the debt collector works in call centres or office environments. He may travel around the community and collect goods or money from debtors on behalf of his clients. The debt collector may perform such tasks as follows:

Create a list of debtors with the most overdue payments
Visit debtor Mrs. Gabriel Watson at her office on 20th of December
Track new addresses of debtors who have moved in November
Develop a plan for legal actions for debts which cannot be collected
Record all amounts collected in December and add any further action required
Notify creditor Mr. Jessica Brown on fully collected amount
Organise the sale and repossession of goods to clear off unpaid debts on 10th of January
The debt collector should use task management software that helps organize his workday and put in order his tasks.

Categorizing tasks and using templates

The workflow of the debt collector requires good organization and proper allocation of the tasks. These tasks should be organized into categories with possibility to add subcategories. Then, the debt collector will get task lists in task tree view. Such hierarchical task structure helps better manage the workflow, plan tasks and perform daily duties. By using task management software, debt collector can create task tree view and break tasks into categories and subcategories. The software allows to build any number of subcategories and add task lists according to the defined goals. For example, the debt collector can create a new category "Debt collection template" which contains an action list for debt collocation. The goal is to collect debts so he can use this template every time when receiving a new order from the client. The template may have the following tasks:

Creditor's name
Type of debt
Amount of the debt
How much is owed on the debt
Find out the last payment made on the debt
Reveal the reason for defaulting on the debt
Investigate whether the debt has been turned over to another collection agency

The debt collector can make templates for any kind of activity. He can create category "Templates" and put there all task templates, checklists and action lists. Task management software allows to copy tasks and to-do lists each time when the debt collector uses a template or checklist for a new client.

Creating debtor database

For the debt collectors and especially for debt collection agencies it is necessary to register incoming orders and create database which would contain detailed information about debtors and ongoing debts. By using categories and tasks in task management software, the debt collector can create debtor database and register new orders. For example, in the category "Debtors" he can add subcategories "Debtor 1", "Debtor 2", "Debtor 3", and so on. In each subcategory there can be specified a debt collection action list, attached to the tasks legal documentation, task comments, note, and other.

Tracking debts by due dates

To be always aware of payment due dates and debt deadlines, the debt collector needs to get the task list which displays detailed information about the debtors in the database. By tracking a debtor's payment due date and debt deadline, he can find tasks showing which debts are still outgoing, when actions were made to collect them and what he can do to settle the debts. The debt collector can use task management software to track tasks related to debts. Each task of the software has Due Date field which can be used as a payment due date; Estimated Time field which can be used as a debt deadline; Actual Time field which can be used as a pay-off date.

Choosing the right software for the debt collector

If you are a debt collector , you can choose one of the following task management products depending on your specific needs:

VIP Organizer. VIP Organizer is the best solution for the debt collectors who work alone and need to manage only their own tasks.
VIP Team To Do List If activity of a debt collection agency supposes that tasks and jobs should be assigned to a group of debt collectors, VIP Team To Do List allows assigning tasks to the employees and send them their tasks by email or give them a printable to do list.
VIP Task Manager. The best solution for debt collection agencies will be VIP Task Manager which features a centralized database each employee can enter and update his tasks in real time, and a supervisor will be immediately notified of any change with automatic notification system.

CentriQS Tasks Management Solution

Looking for multi-user task management software? Try CentriQS complete task management solution for planning, tracking and reporting tasks, projects, and schedules. Increase productivity of your small business or office by better organizing your employees' tasks and time.

FREE Download CentriQS
CentriQS -15% OFF
All-in-one business management software
for small and midsize enterprises

---

VIP Task Manager
Multi-user project management software
to plan, schedule and track project tasks.

---

VIP Checklists
More than 750 ready-to-use to-do lists
to plan your personal and business life

---

VIP Team To Do List
Professional task management software
to make and send team todo lists by email

---

VIP Organizer
Personal time management software
to organize time at home and at work

---

VIP Simple To Do List
Simple and effective to-do list software
to plan daily chores, trips, wedding, etc.