Task Management Software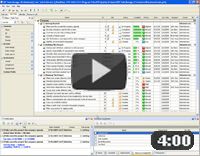 »

Authorization

TESTIMONIALS
"...This is an excellent program. I'm so glad that I stumbled on to this when researching for task management programs. Very low learning curv, quite flexible, and the price is right. Tried at least 20 other programs, either too complicated, too expensive, or poor documentation..."
Chad Lindsey -
Honolulu, HI
MORE FEEDBACKS

Cleaning Manager's Solution - To Do List for Cleaning Managers

The usual duties and responsibilities of the cleaning manager are to coordinate and manage the cleaning services in environments such as schools, hospitals, businesses, shops and factories. He controls the workflow of cleaning staff, assigns duties and ensures that the cleaning services are provided timely. These responsibilities require from the cleaning manager a good organization of his work. In other words, his work should be well-organized with task management software which allows to create actions lists for self-organization and assign tasks to cleaning staff.

Cleaning managers are usually office-based, but they may also visit sites to check the work of cleaning staff in progress. The typical list of daily duties of the cleaning manager can have such tasks as:

Send commercial offer to offices in business centre, 120 East 37th Street , NY
Organize collecting of refuse from building site, client Mr.Smith
Order cleaning materials : 40 mops, 10 cleanser pack age s, 5 vacuum cleaners
Inspect completed work in the building in 364 West 18th St , NY
Set due dates for cleaning services at public school #18
Place advertisement in Internet

Organizing task into categories

The cleaning manager can organize his tasks into categories. Task management software allows to create structured task lists by using categories and sub-categories. This functionality is helpful to manage cleaning services projects and programs. For regular projects the cleaner manager can use templates and checklists. Task management software allows to duplicate templates any time when a project is initiated. The sample template can be as follows:

Receiving customer order
Deterring the project goal
Establishing the project budget
Ordering necessary cleaning materials
Arranging transport for cleaning staff
Defining duties and roles
Assigning cleaning staff to jobs
Undertaking supervision and necessary administration
Tracking the project
Inspecting completed work in the site
Getting reports

Planning tasks by due date and priority

When the template is duplicated, the cleaning manager can plan the tasks by due dates or priorities. In the task management software any task has such parameters as Due Date and Priority. This helps to plan the project and set its deadlines. The software allows to group task list by Due Date or Priority columns and use filters which makes it easier to watch urgent and important tasks. This will save time and make the planning process easer. Besides, the software allows to organize the work of a group of cleaners and assign a team leader or supervisor.

Using documents in task lists

The cleaning manager ensures that cleaning services are done according to contract specification. When assigning tasks to the cleaners, he can attach specifications and instructions to the tasks.

For example, customer's order can be attached to the task list of the cleaners so they will be aware of the order details, whether to clean furniture and carpets, etc. With help of task management software the cleaning manager can send the task with attached documents to cleaning staff by email. When the task is received, the cleaner can print the attached documents and take a copy with him to the object. The documents can be attached to a task as file or hyperlink.

Choosing the right software for cleaning managers

If you are a cleaning manager , you can choose one of the following task management products depending on your specific needs:

VIP Organizer. VIP Organizer is the best solution for cleaning managers who work alone and need to manage only their own tasks .
VIP Team To Do List. If activity of the cleaning services agency supposes that tasks and jobs should be assigned to a group of employees or the cleaning service team, VIP Team To Do List allows assigning tasks to the team members and send them their tasks by email or give them a printable to do list.
VIP Task Manager. The best solution for cleaning services agencies is VIP Task Manager which features a centralized database each employee can enter and update his tasks in real time, and a supervisor will be immediately notified of any change with automatic notification system.

CentriQS Tasks Management Solution

Looking for multi-user task management software? Try CentriQS complete task management solution for planning, tracking and reporting tasks, projects, and schedules. Increase productivity of your small business or office by better organizing your employees' tasks and time.

FREE Download CentriQS
CentriQS -15% OFF
All-in-one business management software
for small and midsize enterprises

---

VIP Task Manager
Multi-user project management software
to plan, schedule and track project tasks.

---

VIP Checklists
More than 750 ready-to-use to-do lists
to plan your personal and business life

---

VIP Team To Do List
Professional task management software
to make and send team todo lists by email

---

VIP Organizer
Personal time management software
to organize time at home and at work

---

VIP Simple To Do List
Simple and effective to-do list software
to plan daily chores, trips, wedding, etc.