Task Management Software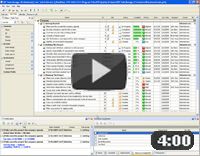 »

Authorization

TESTIMONIALS
"...This is an excellent program. I'm so glad that I stumbled on to this when researching for task management programs. Very low learning curv, quite flexible, and the price is right. Tried at least 20 other programs, either too complicated, too expensive, or poor documentation..."
Chad Lindsey -
Honolulu, HI
MORE FEEDBACKS

Auditor's Solution – To Do List for Auditors

Auditor examines and reviews the financial statements of various organizations and provides an opinion and expert advice on whether the statements give an accurate view of an organization's financial performance. Auditor also inspects the financial operations and the accounting systems of the organizations. An example of auditor's daily tasks may be as follows:

Inspect the accounting system of the company "Microsoft" on Tuesday, September, 12
Email expert judgment to the client Mr. John Smith, "RedStar" company
Examine the activities of Accounts department at the government-owned enterprise
Prepare financial report for senior management – deadline October, 10
Check accuracy of financial KPI and give expert judgment

To manage task efficiently and get things done, auditor should use task management software.

Creating categorized to-do list
To increase personal productivity and manage tasks more effectively, auditor's to-do list should be divided into several groups or categorized. It is very productive to organize to-do list into categories and subcategories which may be like "Meetings", "Reports", "Home chores", "Future plans", etc. Task management software allows to create categories and subcategories to structure to-do list and to use a tree-like view.

Setting task due dates
When to-do list is categorized and each task is allocated to a particular category, auditor will need to plan his tasks by setting due dates. Due date shows a deadline a task should be completed within, otherwise it will be procrastinated. In task management software auditor can plan to-do list by due dates and group it by the column Due Date. The software calculates time left till the task deadline, i.e. the column "Time Left" shows a time period within which auditor can compete the tasks. To avoid missed events and overdue tasks, auditor can use reminders. Task reminder can be set up as a pop-up window or email message.

Using checklists and task templates
Checklists and templates help speed up working process and simplify daily activities. Auditor can use them to specify tasks for frequently repeated activates. For example, it can be a list of documents required for conducting financial audit at enterprises. By using task management software, auditor can create category "Checklist&Templates" and add subcategory "Documents for financial audit". This may have the following items:

General Ledger
Bank Statements and Reconciliations
Budget Ordinance
Fixed Asset Detail
Payroll Tax Returns for four quarters of the audit year
Schedule of Taxes Received
Repayment Schedules
Current list of the Board of Directors
Detail on Deferred Revenue
Copy of prior audit and name of attorney(s)

Anytime when auditor starts financial inspection at an enterprise, he can use the tasks in the subcategory "Documents for financial audit". Task management software allows to duplicate tasks from one folder into another.

To-do list attachments
Sometimes it needs to add specific items to the tasks and make to-do list more comprehensive. Each task in to-do list can be linked with a file on auditor's computer, web address, a URL or a contact from the address book. In task management software the linked item can be opened directly from to-do list. The column "Hyperlink" shows links to attached files, URL, etc.  Auditor can run attached item just from the to-do list view what makes it convenient to perform the tasks.

Choosing the right software for auditors
If you are an auditor, you can choose one of the following task management products depending on your specific needs:

VIP Organizer is the best solution for the auditors who work alone and need to manage only personal tasks.
VIP Team To Do List If activities of an audit agency suppose that tasks and jobs should be assigned to a group of auditors and financial specialists, VIP Team To Do List allows to assign tasks to the employees and send them their tasks by email or give them a printable to do list.
VIP Task Manager The best solution for large audit agencies will be VIP Task Manager which features a centralized database each employee can enter and update his tasks in real time, and a supervisor will be immediately notified of any change with automatic notification system.

CentriQS Tasks Management Solution

Looking for multi-user task management software? Try CentriQS complete task management solution for planning, tracking and reporting tasks, projects, and schedules. Increase productivity of your small business or office by better organizing your employees' tasks and time.

FREE Download CentriQS
CentriQS -15% OFF
All-in-one business management software
for small and midsize enterprises

---

VIP Task Manager
Multi-user project management software
to plan, schedule and track project tasks.

---

VIP Checklists
More than 750 ready-to-use to-do lists
to plan your personal and business life

---

VIP Team To Do List
Professional task management software
to make and send team todo lists by email

---

VIP Organizer
Personal time management software
to organize time at home and at work

---

VIP Simple To Do List
Simple and effective to-do list software
to plan daily chores, trips, wedding, etc.