Task Management Software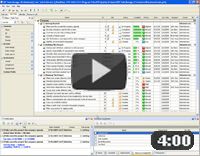 »

Authorization

TESTIMONIALS
"...This is an excellent program. I'm so glad that I stumbled on to this when researching for task management programs. Very low learning curv, quite flexible, and the price is right. Tried at least 20 other programs, either too complicated, too expensive, or poor documentation..."
Chad Lindsey -
Honolulu, HI
MORE FEEDBACKS

Journalist's solution to do list for journalist

Journalists write and edit news, articles, reports, commentaries, briefs and issues for newspapers, magazines and for radio or television. In other words they manage a lot of tasks associated with gathering, processing and interpreting the information about persons and events to create the "product" which can be presented to public. How can journalist handle all these tasks in order to make the "product" on time and according to the media requirements?

To be a good journalist means to be not only a creative person but also an organized person. Journalist should organize his various tasks if he doesn't want to procrastinate them and fail his editor. But what task management methods and tools can be used by a journalist to be professional in his job?

Let's take the typical journalist's to do list:

To make exclusive interview with Mr. J. Johnson, CEO of the "Company"
Visit the European state leaders summit dedicated to Economic crisis and make a report
Make research of the information about the Greenhouse effect within libraries and internet
Studying of documents from state organizations about increasing of rates for public utilities
Learning documents in archive about soldiers lost in second World War
Finalize articles and reports on materials gathered during the week

Task and Time planning

Journalist appoints meetings with interviewees, plans and schedules travels to locations where some interesting events took place in the past or will take place in nearest future, schedules appointments with authorities to obtain accreditation for work in archives and so on. For example making exclusive interview with J. Johnson can be scheduled on certain date, but the date and time need to be confirmed when three days left before this date, so journalist can plan task and set reminder to work when three days left before interview.

Prioritizing journalist's tasks

The specificity of journalist's work means that necessity to prepare some publications can appear suddenly and should be performed very quickly, because news can lose their topicality. Journalist needs to put different priorities for tasks according to time left before due date or to the importance of the publication. For example the publications which are related with political summit can change their priority to urgent at any moment if some loud statements are made.

Categorizing journalist's tasks and performance tracking

Distribution of tasks to different categories according to topics, events, persons, articles etc. is an essential part of proper work organizing, because it will facilitate tracking the progress of job execution within each category. For example journalist can keep tracking on how many sites and articles were learned in the context of the Greenhouse effect study or what arrangements has to be done for exclusive interview.

Notes, contacts, comments, files management within journalist's workflow

The workflow of journalists requires making a big number of notes and comments to tasks. Majority of journalist's tasks are related directly to gathering of information and writing of various publications, so it is obvious that management of text files is an essential part of journalist's profession. Journalist needs the software which can facilitate the management of files (articles, documents and so on), contacts of interviewees, comments, notes etc.

Choosing the right software for journalist

VIP Organizer software is a good solution for journalist which wants to organize individual professional activity. It is personal easy-to-use tasks management software which allows journalist to plan and categorize tasks, set timelines and priorities, manage notes and documents, set task reminders, create printable checklists and so on.

VIP Team To Do List can be helpful for journalists working remotely in different locations when they have access to e-mail. It is team organizing easy-to-use software which allows assigning tasks to members of journalists' team. Team leader can create tasks, set timelines and priorities, assign them to executers and send "to do lists" by e-mail.

VIP Task Manager is meant for media companies or departments. It is a task management groupware which allows multiple users access one database via LAN or Internet. This software provides users with planning, tracking and reporting tasks, access rights management, instant notifications, customizable workflow and task attributes. This solution can help to manage the editorial and journalists staff members which work in one office or remotely, share documents and arrange team collaboration.

CentriQS Tasks Management Solution

Looking for multi-user task management software? Try CentriQS complete task management solution for planning, tracking and reporting tasks, projects, and schedules. Increase productivity of your small business or office by better organizing your employees' tasks and time.

FREE Download CentriQS
CentriQS -15% OFF
All-in-one business management software
for small and midsize enterprises

---

VIP Task Manager
Multi-user project management software
to plan, schedule and track project tasks.

---

VIP Checklists
More than 750 ready-to-use to-do lists
to plan your personal and business life

---

VIP Team To Do List
Professional task management software
to make and send team todo lists by email

---

VIP Organizer
Personal time management software
to organize time at home and at work

---

VIP Simple To Do List
Simple and effective to-do list software
to plan daily chores, trips, wedding, etc.