Task Management Software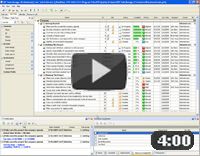 »

Authorization

TESTIMONIALS
"...This is an excellent program. I'm so glad that I stumbled on to this when researching for task management programs. Very low learning curv, quite flexible, and the price is right. Tried at least 20 other programs, either too complicated, too expensive, or poor documentation..."
Chad Lindsey -
Honolulu, HI
MORE FEEDBACKS

Training Manager's Solution – To Do List for Training Managers

The skill level and professionalism of employees in various organizations depends on whether there is a training manager involved in development, implementation and evaluation of different training programs and practices. The training manager takes care of staff development and makes sure that the employees gain and improve the skills they need to perform their jobs effectively. The usual tasks of the training manager may be as follows:

Go to meeting with managers and discuss training needs for personnel
Draw up and approve overall training plan for next year at Monday's meeting
Manage training budget for the current year
Produce materials for in-house training in February
Evaluate effectiveness of the previous training programme by using questionnaires and interviews
Conduct induction session for new employees on Tuesday, 10

In order to be well-organized and effectively manage the working process, the training manager should use task management software.

Making to do lists
To do list is a simple and effective technique that helps to increase productivity in two times or even more. It also has extra benefits of saving energy, avoiding stresses and clearing mind. The training manager can use task management software to create his to do lists. The software allows to add to do lists in categories and subcategories which makes it easer to manage tasks and the whole workflow of the training manager. The task can be grouped and sorted by columns in Task List view. For greater usability the training manager can save task column layout to a profile. For example, he can group a to-do list by column "Priority" and save the layout to a new profile "Prioritized to-do list". Then the training manager can simply choose this layout from the drop-down list in the tool bar of task management software every time when he needs to watch to do list ranked by importance.

Setting task priorities in to do lists
Making a to do list is not enough. All tasks in a to do list should be ranked and prioritized. The training manager should know which tasks are more important and urgent so he can be focused on them first of all. Then he will be able to effectively allocate available resources (such as time, money, labour force, etc.) to those tasks, measure the progress and even define reward for success. By using task management software, the training manager can arrange his tasks in to do lists by priorities and define which tasks should be accomplished first of all. For example, in the category "Meetings" the training manager can add agenda. The most important questions in the agenda can be prioritized so the training manager will know which questions should be emphasized. In order not to miss an event or not to forget to perform an important task, the training manager can set task reminder as a pop-up window or email message.

Checklists and task templates
The way to simplify the workflow is to use checklists and task templates which help to organize regular events. The training manager can use checklists to organize training programmes and practices. For example, in task management software he can create category "Checklists and Templates" which includes subcategories with tasks and action lists. The subcategory "Staff training" will include the task list the training manager should perform to organize and realize staff training programme. This checklist may contain the following tasks:

Estimate current skill level of staff
Define training goals and scope
Set training requirements
Select training techniques
Build training schedule and curriculum
Gather staff feedback

This example of staff straining checklist can be extended depending on particular needs of an organization. Task management software allows to duplicate tasks each time when the training manager uses a checklist.

Choosing the right software for the training manager

If you are a training manager, you can choose one of the following task management products depending on your specific needs:

VIP Organizer. VIP Organizer is the best solution for the training managers who need to manage only their own tasks.
VIP Team To Do List. If a training programme supposes that tasks and jobs should be assigned to participants of the training team, VIP Team To Do List allows assigning tasks to the team members and send them their tasks by email or give them a printable to do list.
VIP Task Manager. The best solution for training providers which offer training services and extension courses will be VIP Task Manager which features a centralized database each employee can enter and update his tasks in real time, and a supervisor will be immediately notified of any change with automatic notification system.

CentriQS Tasks Management Solution

Looking for multi-user task management software? Try CentriQS complete task management solution for planning, tracking and reporting tasks, projects, and schedules. Increase productivity of your small business or office by better organizing your employees' tasks and time.

FREE Download CentriQS
CentriQS -15% OFF
All-in-one business management software
for small and midsize enterprises

---

VIP Task Manager
Multi-user project management software
to plan, schedule and track project tasks.

---

VIP Checklists
More than 750 ready-to-use to-do lists
to plan your personal and business life

---

VIP Team To Do List
Professional task management software
to make and send team todo lists by email

---

VIP Organizer
Personal time management software
to organize time at home and at work

---

VIP Simple To Do List
Simple and effective to-do list software
to plan daily chores, trips, wedding, etc.