Task Management Software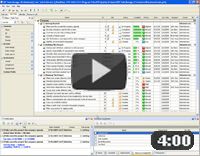 »

Authorization

TESTIMONIALS
"...This is an excellent program. I'm so glad that I stumbled on to this when researching for task management programs. Very low learning curv, quite flexible, and the price is right. Tried at least 20 other programs, either too complicated, too expensive, or poor documentation..."
Chad Lindsey -
Honolulu, HI
MORE FEEDBACKS

Investment Analyst's Solution - To Do List for Investment Analysts

Investment analyst is important person in Finance department or Accounts department who analyses and reports financial activity and gives advice on investment dealings of the organisation. Investment analyst plays central role in financial resource allocation and budget assignment and provides the organization with investment plan. Investment analyst may perform the following tasks:

Discuss budgetary and accounting policies on Monday's meeting
Report financial and investment statements for presentation to boards of directors, top management, and shareholders
Undertake financial investigations and give advise on merger with VIP Quality Software company
Negotiate with partner about possibility to initiate a new common investment project next year
Prepare cash flow and financial risk appraisal of investment projects pre-arranged in March

Use of checklists
Checklists or templates are the way to simplify and automate the work of investment analyst. As the work is built on tasks, checklist can be used as a set of tasks that describes an action list for regular events, such as initiation of project, investment risk appraisal, identification of investment opportunity and other. For example, to choose a new investment opportunity, the analyst can create a new category "Checklists and templates". In this category there can be added the checklist that shows an action list for choosing and evaluating investment project. The action list may have the following tasks:

Conduct competitor analysis
Identify barriers to entry a new market
Undertake a new market research
Creating a list of all potential market segments
Measure the market size
Create a business plan
Make presentation to board of Directors

Task management software allows to create such checklists and use task templates to make workflow of investment analyst more effective. The function Duplicate allows to create the checklists automatically from templates.

Task management in investment projects
Investment projects are integral and important part of investment analyst's work. In daily activity the analyst faces issues of task management in these projects so he should be sure that all tasks and activities are being executed according to scheduled project scope. If investment analyst is a leader in investment project, he needs also to manage the task of the team members. Effective task management in investment projects can be achieved by using task management tool.

This tool allows to create and manage individual tasks of investment analyst as well as the team members. For example, in the category "Investment Projects" the analyst can place all projects and tasks concerned investment activities. Task management software allows to build project group collaboration by emailing tasks to the team members. Investment analyst can supervise task performance of the team members and project status by getting notification messages. Task management software allows to create common workflow and make investment projects more successful.

Choosing the right software for investment analyst
If you are an investment analyst, you can choose one of the following task management products depending on your specific needs:

VIP Organizer is the best solution for the investment analysts who need to organize and manage only their own tasks.
VIP Team To Do List If an investment analyst needs to share tasks and action lists between employees of the Finance or Accounts department, VIP Team To Do List allows assigning tasks to the team members and send them their tasks by email or give them a printable to do list.
VIP Task Manager The best solution for an investment company which needs to run and control investment projects, will be VIP Task Manager which features a centralized database each employee can enter and update his tasks in real time, and a supervisor will be immediately notified of any change with automatic notification system.

CentriQS Tasks Management Solution

Looking for multi-user task management software? Try CentriQS complete task management solution for planning, tracking and reporting tasks, projects, and schedules. Increase productivity of your small business or office by better organizing your employees' tasks and time.

FREE Download CentriQS
CentriQS -15% OFF
All-in-one business management software
for small and midsize enterprises

---

VIP Task Manager
Multi-user project management software
to plan, schedule and track project tasks.

---

VIP Checklists
More than 750 ready-to-use to-do lists
to plan your personal and business life

---

VIP Team To Do List
Professional task management software
to make and send team todo lists by email

---

VIP Organizer
Personal time management software
to organize time at home and at work

---

VIP Simple To Do List
Simple and effective to-do list software
to plan daily chores, trips, wedding, etc.