Task Management Software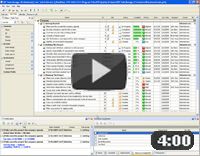 »

Authorization

TESTIMONIALS
"...This is an excellent program. I'm so glad that I stumbled on to this when researching for task management programs. Very low learning curv, quite flexible, and the price is right. Tried at least 20 other programs, either too complicated, too expensive, or poor documentation..."
Chad Lindsey -
Honolulu, HI
MORE FEEDBACKS

Travel Agent's Solution – To Do List for Travel Agents

The travel agent represents a travel company or agency and sells tours to clients, including individuals and families as well as businesses. The travel agent helps clients choose appropriate tour that suites their wishes. There are a lot of tasks that the travel agent should complete in order to find clients, conduct interviews and make successful deals. The workflow and daily tasks of the travel agent should be organized with task management software. Usual task list of the travel agent may have the following tasks:

Draw up a list of clients for Canaries tour
Make phone calls to potential clients from the client list and arrange interviews next Monday
Organize new tours and discover new directions
Identify wishes of the client Mr. David Robertson during interview on 20th, December
Keep records of payments from the clients attracted last week

Task and categories
The tasks of the travel agent should be organized into categories. This is the way to build hierarchical view of the tasks and allocate them by the travel agent's activity. Task management software allows to display tasks in tree view by using categories and subcategories. By using the software, the agent can break his tasks into such categories as "Tours & Travels", "Clients", "Reports", "Archive", and more. Each of the categories can be specified by any number of subcategories. For instance, the category "Reports" can be divided into subcategories organized by year, quarters, months or weeks.

Improving workflow by task templates
Task templates or checklists are the way to improve the workflow of the travel agent. Templates may include a list of actions for regular and usual events and processes, such as reporting, meetings, phone calls, interviews and more. By using task management software, the travel agent can create task templates and use checklists every time he or she initiates a usual event. For example, in the Category Bar of the task management software, travel agent can create subcategory "Instructions" which may contain the following checklist:

Think over a place and time for meeting with client. Office is the best, but meeting at a cafe is also applicable
Prepare booklets, photos and other materials for tours
Make phone call to a new client and appoint the interview
During the interview find out a client's wishes and travel preferences which include:
Destination (country, city)

Single or group travel
Period
Transportation (air, auto, sea)

Hotel, number of rooms, class
Select available tours according to the client needs
Discuss payments with the client and create new purchase order
Get payment receipt confirmation from accountant
Take care of necessary traveling documents (Visa, tickets)
Accompany a client from arrival to departure
Close PO and report to Manager

This checklist can be used as an instruction for just employed travel agents. They can duplicate tasks of the checklist and also create own task templates by using tools of task management software

Avoiding missed events through using reminders

The workday of the travel agent usually is filled with a lot of various events such as appointments, phone calls, meetings, interviews, negotiations and other. In variety of these events the travel agent can miss some of them and forget important actions he should do. The travel agent can use task reminders in task management software to prevent himself from missed appointments, forgotten phone calls, procrastinated tasks and delays. He can set reminder for an event at precise date/time or some weeks/days/hours/minutes before it happens. In task management software reminders can be set for each task whether it is appointment, phone call, or some another action. The travel agent can send task reminder by email to one or several recipients.

Choosing the right software for the travel agent
If you are a travel agent, you can choose one of the following task management products depending on your specific needs:

VIP Organizer VIP Organizer is the best solution for the travel agents who work alone and need to manage only their own tasks.
VIP Team To Do List If activity of a travel agency supposes that tasks and jobs should be assigned to a group of travel agents and guides, VIP Team To Do List allows assigning tasks to the employees and send them their tasks by email or give them a printable to do list.
VIP Task Manager The best solution for travel agencies will be VIP Task Manager which features a centralized database each employee can enter and update his tasks in real time, and a supervisor will be immediately notified of any change with automatic notification system.

CentriQS Tasks Management Solution

Looking for multi-user task management software? Try CentriQS complete task management solution for planning, tracking and reporting tasks, projects, and schedules. Increase productivity of your small business or office by better organizing your employees' tasks and time.

FREE Download CentriQS
CentriQS -15% OFF
All-in-one business management software
for small and midsize enterprises

---

VIP Task Manager
Multi-user project management software
to plan, schedule and track project tasks.

---

VIP Checklists
More than 750 ready-to-use to-do lists
to plan your personal and business life

---

VIP Team To Do List
Professional task management software
to make and send team todo lists by email

---

VIP Organizer
Personal time management software
to organize time at home and at work

---

VIP Simple To Do List
Simple and effective to-do list software
to plan daily chores, trips, wedding, etc.