Task Management Software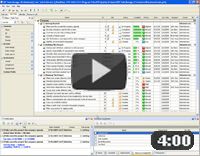 »

Authorization

TESTIMONIALS
"...This is an excellent program. I'm so glad that I stumbled on to this when researching for task management programs. Very low learning curv, quite flexible, and the price is right. Tried at least 20 other programs, either too complicated, too expensive, or poor documentation..."
Chad Lindsey -
Honolulu, HI
MORE FEEDBACKS

Engineer's solution - To Do List for Engineers

An engineer may take a central role in organizational chart of any company. This person provides technical services, keeps under control aggregates and machines, makes technical evaluation and estimates. Engineer helps managers from other departments to get accurate data and technical conclusion needed for various purposes and make efficient decisions in different situations. Effective work of engineer is a basis for technical support and maintenance of different projects, so the better engineer's to do list is organized the more effective he is.

Usually, the engineer operates the following functions:

Organizing production process
Providing technical assistance and resolution
Improvement of production quality
Drawing up plans of introducing new equipment and technologies
Developing specifications, instructions and other project documentation
Supervising quality control and conducting assurance programs
Providing reports and recommendations

These functions require intensive use of task management software in order to organize engineer's workflow in efficient manner.

According to these functions, the engineer gets his task list that defines the workflow and obligations. The best way to organize the task workflow of engineer is to arrange tasks by due dates and priorities. For this purpose he can use task list view. The most urgent and prioritized tasks should be done first of all. The task list view of a task management application allows to group tasks by any column, such as "Due date", "Priority", "Assignment", and other. With the task management software the engineer can improve his task workflow and do the following actions:

Grouping tasks
Setting filters by any task parameter
Using categories and sub-categories .
Creating daily agendas
Sending tasks by email to assigned resources
Setting reminders of appointments with technicians
Assigning tasks to resources

The strength of any engineer is mathematical calculations. On the their basis engineer is capable to calculate technical measures, such as density, durability, and other physical characteristics, that is to grant the information necessary for the further project development. Working side by side with architects and designers, the good engineer directs all his knowledge and experience on search of the most effective and elegant solutions, allowing to create the reliable project. The engineer can attach worksheets and calculation to tasks as notes and send them to assigned members of the team. This will allow to create continuous and unbroken relationships with the office and off-site employees and so to avoid procrastinations and delays.

Choosing the right software for engineer

If you are an engineer, you can choose one of the following task management products depending on your specific needs:

VIP Organizer. VIP Organizer is the best solution for engineers who work alone and need to manage only their own tasks.
VIP Team To Do List. If your engineering projects suppose that some tasks should be assigned to other professionals, VIP Team To Do List allows assigning tasks to other team members and send them their tasks by email or give them a printable to do list.
VIP Task Manager. For engineering companies the best solution will be VIP Task Manager which features a centralized database each employee can enter and update his tasks in real time and supervisor will be immediately notified of any change by automatic notification system.

CentriQS Tasks Management Solution

Looking for multi-user task management software? Try CentriQS complete task management solution for planning, tracking and reporting tasks, projects, and schedules. Increase productivity of your small business or office by better organizing your employees' tasks and time.

FREE Download CentriQS
CentriQS -15% OFF
All-in-one business management software
for small and midsize enterprises

---

VIP Task Manager
Multi-user project management software
to plan, schedule and track project tasks.

---

VIP Checklists
More than 750 ready-to-use to-do lists
to plan your personal and business life

---

VIP Team To Do List
Professional task management software
to make and send team todo lists by email

---

VIP Organizer
Personal time management software
to organize time at home and at work

---

VIP Simple To Do List
Simple and effective to-do list software
to plan daily chores, trips, wedding, etc.