Task Management Software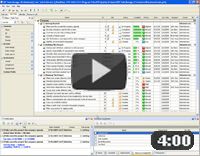 »

Authorization

TESTIMONIALS
"...This is an excellent program. I'm so glad that I stumbled on to this when researching for task management programs. Very low learning curv, quite flexible, and the price is right. Tried at least 20 other programs, either too complicated, too expensive, or poor documentation..."
Chad Lindsey -
Honolulu, HI
MORE FEEDBACKS

Editor's solution - to do list for Editor

Editors manage the day-to-day running of a newspaper or magazine. Main functions of editor include making decisions about the content of publications, supervision over team of journalists and photographers, controlling written material for publications and so on.
Editor should possess good organizational skills and be able to produce detailed and accurate work within tight deadlines. This means that editor should be highly disciplined person with appropriate task and time management skills. Special software can help editor to control his/her individual tasks and organize workflow of editorial staff.
Let's take a sample of editor's typical to-do-list:

Check the sales report to define how much advertising space from next month is already sold.
Assign journalist and photographer to article about IT Conference.
Check if all planned articles for next week's edition are ready.
Select 5 best photos from the available set for the front page article.
Select newsworthy releases and assign to journalists.
Finalize layout of news items for next week's edition.

Task and Time planning solution for Editor

Ensuring of day-to-day running of periodical requires from editor short and long-term planning of professional activities. The software for editor should provide capabilities for planning due dates of tasks (for one-time or rarely performed tasks, such as "Assign journalist and photographer to article about IT Conference") and setting recurring tasks (such as "Select newsworthy releases and assign to journalists"). To facilitate task grouping and tracking, software for editor should allow flexible categorizing of tasks, so editor can organize workflow according to personal style of work (for example categorize tasks by departments, like it is shown on screen-shot). Moreover, it is important to range tasks by priority and set task reminders.

Document management within Editor's workflow

Editor works with a big number of text (articles, documents, news releases, mails etc.), so he/she should use software that allows management of documents. The software which can be used by editor should allow attachment of files to tasks, so with grouping, sorting and categorizing tasks editor would be provided with convenient access to files by one click on hyperlink. For example task "Select 5 best photos from the available set for the front page article" can be supplemented with link to folder that contains these photos.

Assigning journalists to tasks, controlling the work performance

According to professional duties, editor should assign journalists to news releases in order to work out articles and control the process of article writing. The software used by editor should provide capabilities of small project management and team coordination. The software should provide capabilities for assignment of subject editors to specific departments and assignment of journalists to stories. Editor needs to use software that allows him/her to track workflows of the tasks. The set of task statuses and grade of completeness in percents will be helpful for work performance observation, like it is shown on screen-shot.

Choosing the right software for Editor

VIP Organizer software is a good solution for an editor who wants to organize individual professional activity. It is personal easy-to-use tasks management software which allows editor to plan and categorize tasks, set timelines and priorities, manage notes and documents, set task reminders, create printable checklists and so on.
VIP Team To Do List will be helpful for editors who would like to manage editorial staff remotely by e-mail. It is team organizing easy-to-use software which allows assigning tasks and control small project execution by e-mail. Editor can create tasks, set timelines and priorities, assign tasks to journalists and send "to do lists" by e-mail and control execution of tasks by receiving reports by e-mail.
VIP Task Manager is most powerful task management product which can be used for management of editorial team. It is a task management groupware which allows multiple users access one database via LAN or Internet. This software provides users with planning, tracking and reporting tasks, access rights management, instant notifications, customizable workflow and task attributes. This solution can help editors to manage in real-time regime the team of reporters, freelancer writers, photographers, copy writers, copy editors, etc. working in one office or remotely by planning, delegating and controlling tasks, sharing documents and arranging of team collaboration between employees.

CentriQS Tasks Management Solution

Looking for multi-user task management software? Try CentriQS complete task management solution for planning, tracking and reporting tasks, projects, and schedules. Increase productivity of your small business or office by better organizing your employees' tasks and time.

FREE Download CentriQS
CentriQS -15% OFF
All-in-one business management software
for small and midsize enterprises

---

VIP Task Manager
Multi-user project management software
to plan, schedule and track project tasks.

---

VIP Checklists
More than 750 ready-to-use to-do lists
to plan your personal and business life

---

VIP Team To Do List
Professional task management software
to make and send team todo lists by email

---

VIP Organizer
Personal time management software
to organize time at home and at work

---

VIP Simple To Do List
Simple and effective to-do list software
to plan daily chores, trips, wedding, etc.