Task Management Software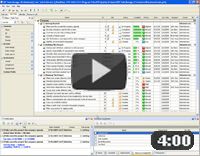 Authorization

TESTIMONIALS
"...This is an excellent program. I'm so glad that I stumbled on to this when researching for task management programs. Very low learning curv, quite flexible, and the price is right. Tried at least 20 other programs, either too complicated, too expensive, or poor documentation..."
Chad Lindsey -
Honolulu, HI
MORE FEEDBACKS

Export/Import Manager's Solution - To Do List for Export/Import Managers

Export/import manager takes care of selling and purchasing goods, such as raw materials, food products, and manufactured goods. Export/import manager works in companies (they are called importers and exporters) which conduct business for exporting products to overseas markets, or importing goods produced overseas to domestic markets. The work of export/import manager is very responsible as deliveries on time and proper shipment depends on export/import manager's actions. He can perform the following tasks:

Arrange online session for overseas agents to discus issues with shipment of PO#105
Talk to supplier to discus arrangement for the production of goods by next week
Arrange payment for all goods dispatched last December
Talk to freight forwarder to arrange freight and space bookings for purchase order #102
Report to management on shipments and deliveries in March

To organize his tasks and build effective workflow, Export/Import manager can use task management software.

Using to-do lists and categories
Any work can be more effective and well organized if it is broken down into simple tasks and activities that are easy to manage and control. The way to get it is to use to-do lists. The work of export/import manager can be organized by using to-do lists. For each job he can create a list of tasks that should be done within a definite term. In task management software export/import manager can use to-do lists as a tool for organizing his jobs. To-do lists can be organized into categories. For example, in task management software there can be created such categories as "Export operations", "Import operations", "Payments", "Debts", etc. Export/import manager can add to-do lists to these categories to specify step by step action plan. As an example, in category "Payments" he can specify such tasks as "Check outstanding payments for December", "Prepare invoice for payment", "Check payment date for all unshipped orders" and other. Task management software allows to use subgroups and so create tree-like structure for to-do lists. This makes the work of export/import manager more organized and effective.

File management
In his daily activities export/import manager needs to manage many various papers and documents. Sometimes it becomes not to easy to find one or another invoice or bill of lading, and export/import manager has to waste time to find needed document. The way to avoid this and organize files is to attach documents in electronic format directly to appropriate tasks. For example, to perform the task "Check delivery status of PO#120", export/import manager needs to look through such documents as Bill of lading, Invoice, and also Insurance Certificates and Specifications, if needed. In task management software he can attach all these documents to the task as files or links. The "Attachment" column allows to show these files in task list view, so export/import manager can open needed document just by one click.

Choosing the right software for export/import managers
If you are an export/import manager, you can choose one of the following task management products depending on your specific needs:

VIP Organizer is the best solution for the export/import managers who need to manage only personal tasks and organize daily activates.
VIP Team To Do List. If export/import manager wants to arrange activities of Overseas Department, all tasks and jobs can be assigned to a group of overseas agents, forwarders, operators, and shipping clerks by using VIP Team To Do List. It allows to assign tasks to the employees and send them their tasks by email or give them a printable to do list.
VIP Task Manager. The best solution for large companies with Transportation or Overseas department will be VIP Task Manager which features a centralized database each employee can enter and update his tasks in real time, and a supervisor will be immediately notified of any change with automatic notification system

CentriQS Tasks Management Solution

Looking for multi-user task management software? Try CentriQS complete task management solution for planning, tracking and reporting tasks, projects, and schedules. Increase productivity of your small business or office by better organizing your employees' tasks and time.

FREE Download CentriQS
CentriQS -15% OFF
All-in-one business management software
for small and midsize enterprises

---

VIP Task Manager
Multi-user project management software
to plan, schedule and track project tasks.

---

VIP Checklists
More than 750 ready-to-use to-do lists
to plan your personal and business life

---

VIP Team To Do List
Professional task management software
to make and send team todo lists by email

---

VIP Organizer
Personal time management software
to organize time at home and at work

---

VIP Simple To Do List
Simple and effective to-do list software
to plan daily chores, trips, wedding, etc.