Task Management Software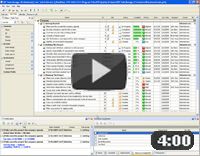 Authorization

TESTIMONIALS
"...This is an excellent program. I'm so glad that I stumbled on to this when researching for task management programs. Very low learning curv, quite flexible, and the price is right. Tried at least 20 other programs, either too complicated, too expensive, or poor documentation..."
Chad Lindsey -
Honolulu, HI
MORE FEEDBACKS

Hotel Manager's Solution - To Do List for Hotel Managers

Hotel managers (also called Resort managers) are responsible for planning and controlling operations at hotels and motels and organizing accommodation for the guests. Hotel manager takes care of management at hotels and motels and has responsibility for planning and providing all hotel services, including reception, reservations, food and beverage operations and housekeeping. Hotel managers may perform the following tasks:

Plan budget for hotel services in March
Prepare documents for passing through licensing regulations inspection by next Monday
Place advertisement for rooms, conventions, banquets and conferences in weekly digest
Order new furniture for rooms at second floor
Build capital and operational expenditure report for hotel owner by this Friday

Tasks and categories
Most hotel managers have a broad set of usual tasks and responsibilities, from greeting new guests to managing financial resources. The manager of a large hotel may have to coordinate and monitor the progress of reception duties or serving meals if the need arises. He has intensive workday which requires good organization of tasks. Task management software helps to arrange workday by organizing all tasks into categories and subcategories. Hotel manager can break down his workday into several categories with tasks that should be completed during the day. For example, the category "Hotel Services" may include such tasks as "Call to furniture supplier to order new chairs and tables", "Check food furnishing", etc. Filter Panel allows to filter tasks by date range and priority so hotel manager will easily find tasks assigned for today, tomorrow, etc.

Event management
Often companies conduct various business conferences, meetings, corporate parties and other formal and informal events in hotels. As a rule, hotel manager is assigned to organization and management of the events. For example, he can be assigned to arrangement of the official reception. To organize the official reception, hotel manager may need to manage such tasks as "Notify guests about the event", "Assign tasks and obligations to hotel staff", "Organize food and beverage deliveries", "Prepare rooms for guests", and other. For best performance, the tasks for event organization can be organized into categories so that it will be easer to manage and track them. Then, the categories can be further organized into checklist for the official reception. In general, checklists are convenient and effective tool of event management that hotel manager can apply to managing the official reception. The checklist may have the following categories:

Guest invitation
Hotel's hall preparation
Food and beverage deliveries
Main menu
Decoration and design
Music accommodation

Hotel manager can create such checklists by using task management software. Certainly the checklist for the official reception may be larger and include more tasks. However, this example obviously demonstrates that event management can be efficient, and hotel manager can do his best with task management software to arrange events in hotel.

Choosing the right software for hotel managers
If you are a hotel manager, you can choose one of the following task management products depending on your specific needs:

VIP Organizer is the best solution for the hotel managers who need to manage only personal tasks and organize daily activates.
VIP Team To Do List If a hotel manager needs to share tasks between the hotel staff, all tasks and jobs can be assigned to a group of receptionists, concierges, doormen, and other staff members by using VIP Team To Do List. It allows to assign tasks to the employees and send them their tasks by email or give them a printable to do list.
VIP Task Manager The best solution for large hotels will be VIP Task Manager which features a centralized database each employee can enter and update his tasks in real time, and a supervisor will be immediately notified of any change with automatic notification system.

CentriQS Tasks Management Solution

Looking for multi-user task management software? Try CentriQS complete task management solution for planning, tracking and reporting tasks, projects, and schedules. Increase productivity of your small business or office by better organizing your employees' tasks and time.

FREE Download CentriQS
CentriQS -15% OFF
All-in-one business management software
for small and midsize enterprises

---

VIP Task Manager
Multi-user project management software
to plan, schedule and track project tasks.

---

VIP Checklists
More than 750 ready-to-use to-do lists
to plan your personal and business life

---

VIP Team To Do List
Professional task management software
to make and send team todo lists by email

---

VIP Organizer
Personal time management software
to organize time at home and at work

---

VIP Simple To Do List
Simple and effective to-do list software
to plan daily chores, trips, wedding, etc.