Task Management Software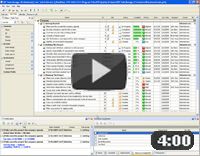 Authorization

TESTIMONIALS
"...This is an excellent program. I'm so glad that I stumbled on to this when researching for task management programs. Very low learning curv, quite flexible, and the price is right. Tried at least 20 other programs, either too complicated, too expensive, or poor documentation..."
Chad Lindsey -
Honolulu, HI
MORE FEEDBACKS

Property Appraiser's Solution – To Do List for Property Appraisers

The property appraiser or property valuer assesses land and property and provides an expert judgment on the administration and commercial use of land and property. Appraisals can be made for many different purposes, such as investment, rating and taxing, insurance, financial reporting, rental, sale and purchase. The property appraiser may perform the following tasks on daily basis:

Meeting with Mr.Brown on Wednesday, 20 at 2.00 PM
Select measures for appraisal: location, size, condition of items, future trends, zoning legislation and the availability of services
Submit written assessment of property value to client Margaret Johnson
Give client John Smith a consultancy advice on valuation of property: 9246 Sunset Boulevard, Beverly Hills, CA
Create quarter report on rental valuations

To create and manage to-do lists efficiently, the property appraiser should use task management software.

Creating to-do list

The way the property appraiser can organize efficient workflow is to use daily to-do lists and to set task priorities according to importance. The property appraiser can use to-do list as a central repository for all the tasks, thoughts, and plans needed to be accomplished. The categories allow to organize to-do list into hierarchical structure and keep on target. For example, the property valuer can create the category "Plans" and divide it into several subcategories which specify particular plans for appraisal activities. In task management software there can be created multiple to-do lists organised into categories and subcategories. The property valuer can break complex tasks into small actions, and plan action lists by priorities to reach goals.

Using task notes and comments

Often tasks are needed to be specified with more detailed information. It may need to highlight several important actions or events with appraisal activities, e.g. which measured are due to be used in evaluation, address of property, name of client. If the property appraiser works in a team, he may need to leave comments and recommendations for shared tasks. Task management software allows to add notes in the tasks and comment each step of a team member. There are fields "Comments" and "Notes" in task.

Enclosing documents to tasks

As the property appraiser deals with land, houses, cottages, villas and other residencies, he needs the property photos, pictures, assessment, summary report and other documents to be close at hand when performing his tasks. The files concerned with the property appraisal should be enclosed to the tasks so that the appraisal could easily raise and use them anytime. For example, to perform the task "Appraise property", the property appraiser may need to prepare summary report including the property location and size, description of available services, a list of appraisal measures to be used, and other. In task management software he can attach necessary documents to this task as file or link. In task list view the column "Hyperlink" shows path to attached documents so that the property appraiser can open them through his to-do list view.

Choosing the right software for property appraisers

If you are an appraisal or valuer, you can choose one of the following task management products depending on your specific needs:

VIP Organizer is the best solution for the valuers who work alone and need to manage only personal tasks.
VIP Team To Do List. If appraisal activities within a real estate agency suppose that tasks and jobs should be assigned to a group of appraisals and property agents, VIP Team To Do List allows to assign tasks to the employees and send them their tasks by email or give them a printable to do list.
VIP Task ManagerThe best solution for appraisal agencies will be VIP Task Manager which features a centralized database each employee can enter and update his tasks in real time, and a supervisor will be immediately notified of any change with automatic notification system.

CentriQS Tasks Management Solution

Looking for multi-user task management software? Try CentriQS complete task management solution for planning, tracking and reporting tasks, projects, and schedules. Increase productivity of your small business or office by better organizing your employees' tasks and time.

FREE Download CentriQS
CentriQS -15% OFF
All-in-one business management software
for small and midsize enterprises

---

VIP Task Manager
Multi-user project management software
to plan, schedule and track project tasks.

---

VIP Checklists
More than 750 ready-to-use to-do lists
to plan your personal and business life

---

VIP Team To Do List
Professional task management software
to make and send team todo lists by email

---

VIP Organizer
Personal time management software
to organize time at home and at work

---

VIP Simple To Do List
Simple and effective to-do list software
to plan daily chores, trips, wedding, etc.