Task Management Software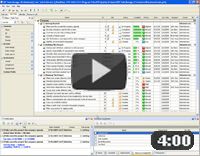 Authorization

TESTIMONIALS
"...This is an excellent program. I'm so glad that I stumbled on to this when researching for task management programs. Very low learning curv, quite flexible, and the price is right. Tried at least 20 other programs, either too complicated, too expensive, or poor documentation..."
Chad Lindsey -
Honolulu, HI
MORE FEEDBACKS

Web Designer's Solution - To Do List for Web Designers

The aim of any web designer is to make the particular client's order within limited time and limited number of changes within web design project. To be competitive, web designer should provide good and innovative design of sites that encourages the viewer to explore the site. The more effectively web designer works, the more profits he gains. The effective work can be reached in case the web designer can arrange his tasks and organize his workflow. The usual tasks of the web designer may be as follows:

Discuss with client Mr. Winston Milton the concept of new website and requirements
Create outline for internet portal by next Monday
Update the content of website www.todolistsoft.com
Coordinate designers and copywriters to maintain the website ordered by Mrs. Jessica Clifford

Managing workflow and projects through categories

Workflow of the web designer should be well organized by task management software which allows to break the working processes into categories and tasks. Tree structure of the workflow helps the web designer perform his tasks step by step and effectively manage projects. The web designer can use categories and subcategories in task management software to divide projects into phases. For example, a project for designing web site can have the following structure:

1. First meeting with the customer

Discuss type of website and requirements: online business card, online shop, corporate site, portal etc.
Define number of pages and website structure
Discuss the web design concept
Discuss the order value

2. Making website outline

Make rough draw of the website in graphics editor software
Create main menu and navigation bar based upon obtained website structure
Select appropriate content management system (CMS) for the website
Prepare the website outline for presentation to the customer

3. Second meeting with the customer

Discuss the website outline with the customer
Get his amendments/remarks

4. Making up the website

Make up the web site template
Fill the website with content: text, images, links etc
Check up the website on errors, usability and proper functionality in different browsers

5. Final phase

Present complete website to the customer
Get approval from the customer
Receive payment for the order

Web designer can use subcategories and tasks to break his projects further down to the lowest level. Task management software allows to manage project teams and control task performance of the team members such as copy writers, SEO specialists, system administrators and other IT staff.

Using hyperlinks in tasks

It is extremely helpful for the web designers to make direct task attachment to hyperlinks to files or web pages. The web designer can use such links to speed up his work and get quick access to the web design projects published in the internet or to content materials used while designing a web page. Task management software allows to use hyperlinks and local links in task list. The software gives direct access to the web resource from the task list and can be used as a links library.

Choosing the right software for web designer

If you are a web designer, you can choose one of the following task management products depending on your specific needs:

VIP Organizer. VIP Organizer is the best solution for freelance web designers who work alone and need to manage only their own tasks.
VIP Team To Do List. If your web design projects suppose that some tasks should be assigned to other professionals like content manager or art designer, VIP Team To Do List allows assigning tasks to other team members and send them their tasks by email or give them a printable to do list.
VIP Task Manager. Thebest solution for web design companies will be VIP Task Manager which features a centralized database each employee can enter and update his tasks in real time, and a supervisor will be immediately notified of any change with automatic notification system.

CentriQS Tasks Management Solution

Looking for multi-user task management software? Try CentriQS complete task management solution for planning, tracking and reporting tasks, projects, and schedules. Increase productivity of your small business or office by better organizing your employees' tasks and time.

FREE Download CentriQS
CentriQS -15% OFF
All-in-one business management software
for small and midsize enterprises

---

VIP Task Manager
Multi-user project management software
to plan, schedule and track project tasks.

---

VIP Checklists
More than 750 ready-to-use to-do lists
to plan your personal and business life

---

VIP Team To Do List
Professional task management software
to make and send team todo lists by email

---

VIP Organizer
Personal time management software
to organize time at home and at work

---

VIP Simple To Do List
Simple and effective to-do list software
to plan daily chores, trips, wedding, etc.